Filters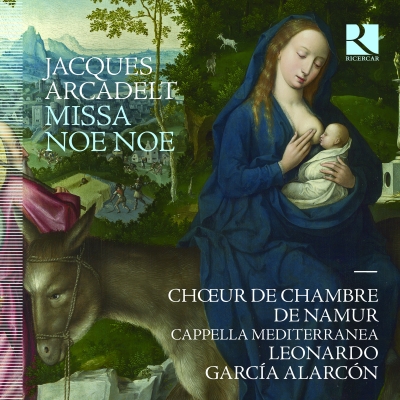 Inlay available for download
Booklet available for download
Illibata Dei Virgo nutrix

Composer(s)

Josquin Desprez

Artist(s)

Chœur de Chambre de Namur

Leonardo García Alarcón

Cappella Mediterranea

Illibata Dei Virgo nutrix

$2.30

Missa Noe Noe: I. Kyrie

Composer(s)

Jacques Arcadelt

Artist(s)

Chœur de Chambre de Namur

Leonardo García Alarcón

Cappella Mediterranea

Missa Noe Noe: I. Kyrie

$2.30

Missa Noe Noe: II. Gloria

Composer(s)

Jacques Arcadelt

Artist(s)

Leonardo García Alarcón

Cappella Mediterranea

Missa Noe Noe: II. Gloria

$2.30

Noe Noe

Artist(s)

Chœur de Chambre de Namur

Leonardo García Alarcón

Cappella Mediterranea

Noe Noe

$2.30

Missa Noe Noe: III. Credo

Composer(s)

Jacques Arcadelt

Artist(s)

Chœur de Chambre de Namur

Leonardo García Alarcón

Cappella Mediterranea

Missa Noe Noe: III. Credo

$3.40

Hodie beata Virgo Maria

Composer(s)

Jacques Arcadelt

Artist(s)

Chœur de Chambre de Namur

Leonardo García Alarcón

Cappella Mediterranea

Hodie beata Virgo Maria

$2.30

Missa Noe Noe: IV. Sanctus

Composer(s)

Jacques Arcadelt

Artist(s)

Chœur de Chambre de Namur

Leonardo García Alarcón

Cappella Mediterranea

Missa Noe Noe: IV. Sanctus

$2.30

Missa Noe Noe: V. Agnus Dei

Composer(s)

Jacques Arcadelt

Artist(s)

Chœur de Chambre de Namur

Leonardo García Alarcón

Cappella Mediterranea

Missa Noe Noe: V. Agnus Dei

$2.30

Regina coeli laetare

Composer(s)

Jacques Arcadelt

Artist(s)

Chœur de Chambre de Namur

Leonardo García Alarcón

Cappella Mediterranea

Les Pastoureaux

Regina coeli laetare

$2.30

Magnificat primi toni

Composer(s)

Jacques Arcadelt

Artist(s)

Chœur de Chambre de Namur

Leonardo García Alarcón

Cappella Mediterranea

Magnificat primi toni

$3.40

Dont vient l'esjouissance

Composer(s)

Jacques Arcadelt

Artist(s)

Leonardo García Alarcón

Chœur de Chambre de Namur

Dont vient l'esjouissance

$2.30

Benedicta es coelorum regina

Composer(s)

Josquin Desprez

Artist(s)

Chœur de Chambre de Namur

Leonardo García Alarcón

Cappella Mediterranea

Benedicta es coelorum regina

$3.40
Total running time: 62 minutes.
Album information

After revealing Jacques Arcadelt's immense musical personality to the world, Leonardo García Alarcón, together with the Chœur de Chambre de Namur and Cappella Mediterranea, present an indispensable addition to its previous recordings: the Missa Noe Noe, which is presented here in the context of the Christmas liturgy. 

The recording includes motets, not only by Arcadelt but also by Josquin Desprez, as he was the great model for musicians of his generation. It ends resoundingly with Josquin's imposing Benedicta es coelorum regina for six voices, although in an expanded version for twelve voices by Jean Guyot de Châtelet (1512 – 1588): another Walloon composer to be discovered!
Related Artists