Filters
Bach: Complete Lute Works
Bach: Complete Lute Works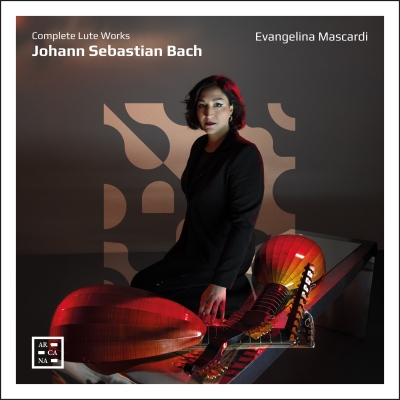 Inlay available for download
Booklet available for download
Suite in G Minor, BWV 995: I. Prélude

Composer(s)

Johann Sebastian Bach

Artist(s)

Evangelina Mascardi

Suite in G Minor, BWV 995: I. Prélude

$2.30

Suite in G Minor, BWV 995: II. Allemande

Composer(s)

Johann Sebastian Bach

Artist(s)

Evangelina Mascardi

Suite in G Minor, BWV 995: II. Allemande

$2.30

Suite in G Minor, BWV 995: III. Courante

Composer(s)

Johann Sebastian Bach

Artist(s)

Evangelina Mascardi

Suite in G Minor, BWV 995: III. Courante

$2.30

Suite in G Minor, BWV 995: IV. Sarabande

Composer(s)

Johann Sebastian Bach

Artist(s)

Evangelina Mascardi

Suite in G Minor, BWV 995: IV. Sarabande

$2.30

Suite in G Minor, BWV 995: V. Gavotte I - Gavotte II en Rondeaux

Composer(s)

Johann Sebastian Bach

Artist(s)

Evangelina Mascardi

Suite in G Minor, BWV 995: V. Gavotte I - Gavotte II en Rondeaux

$2.30

Suite in G Minor, BWV 995: VI. Gigue

Composer(s)

Johann Sebastian Bach

Artist(s)

Evangelina Mascardi

Suite in G Minor, BWV 995: VI. Gigue

$2.30

Prelude, Fugue and Allegro in E-Flat Major, BWV 998: I. Prélude

Composer(s)

Johann Sebastian Bach

Artist(s)

Evangelina Mascardi

Prelude, Fugue and Allegro in E-Flat Major, BWV 998: I. Prélude

$2.30

Prelude, Fugue and Allegro in E-Flat Major, BWV 998: II. Fuga

Composer(s)

Johann Sebastian Bach

Artist(s)

Evangelina Mascardi

Prelude, Fugue and Allegro in E-Flat Major, BWV 998: II. Fuga

$3.40

Prelude, Fugue and Allegro in E-Flat Major, BWV 998: III. Allegro

Composer(s)

Johann Sebastian Bach

Artist(s)

Evangelina Mascardi

Prelude, Fugue and Allegro in E-Flat Major, BWV 998: III. Allegro

$2.30

Prelude in C Minor, BWV 999

Composer(s)

Johann Sebastian Bach

Artist(s)

Evangelina Mascardi

Prelude in C Minor, BWV 999

$2.30

Suite in E Minor, BWV 996: I. Praeludio

Composer(s)

Johann Sebastian Bach

Artist(s)

Evangelina Mascardi

Suite in E Minor, BWV 996: I. Praeludio

$2.30

Suite in E Minor, BWV 996: II. Allemande

Composer(s)

Johann Sebastian Bach

Artist(s)

Evangelina Mascardi

Suite in E Minor, BWV 996: II. Allemande

$2.30

Suite in E Minor, BWV 996: III. Courante

Composer(s)

Johann Sebastian Bach

Artist(s)

Evangelina Mascardi

Suite in E Minor, BWV 996: III. Courante

$2.30

Suite in E Minor, BWV 996: IV. Sarabande

Composer(s)

Johann Sebastian Bach

Artist(s)

Evangelina Mascardi

Suite in E Minor, BWV 996: IV. Sarabande

$2.30

Suite in E Minor, BWV 996: V. Bourée

Composer(s)

Johann Sebastian Bach

Artist(s)

Evangelina Mascardi

Suite in E Minor, BWV 996: V. Bourée

$2.30

Suite in E Minor, BWV 996: VI. Giga

Composer(s)

Johann Sebastian Bach

Artist(s)

Evangelina Mascardi

Suite in E Minor, BWV 996: VI. Giga

$2.30

Suite in E Major, BWV 1006a: I. Prélude

Composer(s)

Johann Sebastian Bach

Artist(s)

Evangelina Mascardi

Suite in E Major, BWV 1006a: I. Prélude

$2.30

Suite in E Major, BWV 1006a: II. Loure

Composer(s)

Johann Sebastian Bach

Artist(s)

Evangelina Mascardi

Suite in E Major, BWV 1006a: II. Loure

$2.30

Suite in E Major, BWV 1006a: III. Gavotte en Rondeaux

Composer(s)

Johann Sebastian Bach

Artist(s)

Evangelina Mascardi

Suite in E Major, BWV 1006a: III. Gavotte en Rondeaux

$2.30

Suite in E Major, BWV 1006a: IV. Menuet I - Menuet II

Composer(s)

Johann Sebastian Bach

Artist(s)

Evangelina Mascardi

Suite in E Major, BWV 1006a: IV. Menuet I - Menuet II

$2.30

Suite in E Major, BWV 1006a: V. Bourrée

Composer(s)

Johann Sebastian Bach

Artist(s)

Evangelina Mascardi

Suite in E Major, BWV 1006a: V. Bourrée

$2.30

Suite in E Major, BWV 1006a: VI. Gigue

Composer(s)

Johann Sebastian Bach

Artist(s)

Evangelina Mascardi

Suite in E Major, BWV 1006a: VI. Gigue

$2.30

Suite in C Minor, BWV 997: I. Prélude

Composer(s)

Johann Sebastian Bach

Artist(s)

Evangelina Mascardi

Suite in C Minor, BWV 997: I. Prélude

$2.30

Suite in C Minor, BWV 997: II. Fuga

Composer(s)

Johann Sebastian Bach

Artist(s)

Evangelina Mascardi

Suite in C Minor, BWV 997: II. Fuga

$3.40

Suite in C Minor, BWV 997: III. Sarabande

Composer(s)

Johann Sebastian Bach

Artist(s)

Evangelina Mascardi

Suite in C Minor, BWV 997: III. Sarabande

$2.30

Suite in C Minor, BWV 997: IV. Gigue

Composer(s)

Johann Sebastian Bach

Artist(s)

Evangelina Mascardi

Suite in C Minor, BWV 997: IV. Gigue

$2.30

Suite in C Minor, BWV 997: V. Double

Composer(s)

Johann Sebastian Bach

Artist(s)

Evangelina Mascardi

Suite in C Minor, BWV 997: V. Double

$2.30

Fugue in G Minor, BWV 1000

Composer(s)

Johann Sebastian Bach

Artist(s)

Evangelina Mascardi

Fugue in G Minor, BWV 1000

$2.30
Total running time: 110 minutes.



Album information

With this recording of Bach's complete works for lute, Evangelina Mascardi presents an interpretation that is the result of artistic maturity, critical rethinking and original instrumental research. 

The seven compositions commonly called works for lute by Johann Sebastian Bach, despite more than a century of studies, do not seem to want to completely reveal the mystery of their birth, of their real instrumental destination and of Bach's decidedly abstract concept of the instrument, the lute, which in its latest evolution continued after almost three centuries of glory to attract the attention of the highest musical lineage. The mystery did not distance the interpreters from these compositions, which Bach did not collect in a single cycle, as he did for the works for solo violin and cello, and indeed it has made them perhaps more stimulating, especially if we consider that in the turn of seventy years the lute was destined to disappear from the music scene.

There are moments in which, to discover or define who we are, we must confront ourselves with the unknown. Performing on three different lutes, Evangelina leaves her mark with this extraordinary performance, which in addition to being the first Bach complete lute works recorded by a woman, writes a new important interpretative chapter.
Related Artists
Reviews