Filters
Bach: 'Meins Lebens Licht' Cantata BWV 45-198 & Motet BWV 118
Bach: 'Meins Lebens Licht' Cantata BWV 45-198 & Motet BWV 118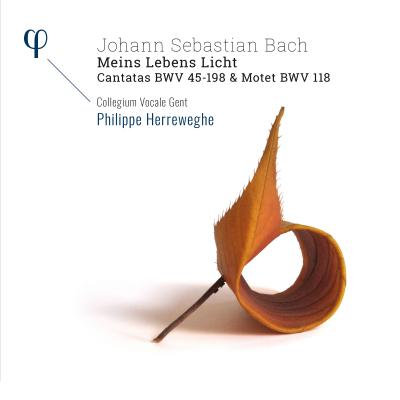 Inlay available for download
Booklet available for download
Cantata, BWV 45: I. Coro "Es ist dir gesagt, Mensch, was gut ist"

Composer(s)

Johann Sebastian Bach

Artist(s)

Philippe Herreweghe

Collegium Vocale Gent

Cantata, BWV 45: I. Coro "Es ist dir gesagt, Mensch, was gut ist"

$2.30

Cantata, BWV 45: II. Recitativo "Der Höchste läßt mich seinen Willen wissen"

Composer(s)

Johann Sebastian Bach

Artist(s)

Philippe Herreweghe

Thomas Hobbs

Collegium Vocale Gent

Cantata, BWV 45: II. Recitativo "Der Höchste läßt mich seinen Willen wissen"

$2.30

Cantata, BWV 45: III. Aria "Weiß ich Gottes Rechte"

Composer(s)

Johann Sebastian Bach

Artist(s)

Philippe Herreweghe

Thomas Hobbs

Collegium Vocale Gent

Cantata, BWV 45: III. Aria "Weiß ich Gottes Rechte"

$2.30

Cantata, BWV 45: IV. Arioso "Es werden viele zu mir sagen an jenem Tage"

Composer(s)

Johann Sebastian Bach

Artist(s)

Philippe Herreweghe

Peter Kooij

Collegium Vocale Gent

Cantata, BWV 45: IV. Arioso "Es werden viele zu mir sagen an jenem Tage"

$2.30

Cantata, BWV 45: V. Aria "Wer Gott bekennt"

Composer(s)

Johann Sebastian Bach

Artist(s)

Philippe Herreweghe

Alex Potter

Collegium Vocale Gent

Cantata, BWV 45: V. Aria "Wer Gott bekennt"

$2.30

Cantata, BWV 45: VI. Recitativo "So wird denn Herz und mund"

Composer(s)

Johann Sebastian Bach

Artist(s)

Philippe Herreweghe

Alex Potter

Collegium Vocale Gent

Cantata, BWV 45: VI. Recitativo "So wird denn Herz und mund"

$2.30

Cantata, BWV 45: VII. Choral "Gib, daß ich tu mit fleiß"

Composer(s)

Johann Sebastian Bach

Artist(s)

Philippe Herreweghe

Collegium Vocale Gent

Cantata, BWV 45: VII. Choral "Gib, daß ich tu mit fleiß"

$2.30

Motet in B-Flat Major "O Jesu Christ, mein's Lebens Licht", BWV 118

Composer(s)

Johann Sebastian Bach

Artist(s)

Philippe Herreweghe

Collegium Vocale Gent

Motet in B-Flat Major "O Jesu Christ, mein's Lebens Licht", BWV 118

$3.40

Cantata, BWV 198: I. Coro "Laß, Fürstin, laß noch einen Strahl"

Composer(s)

Johann Sebastian Bach

Artist(s)

Philippe Herreweghe

Collegium Vocale Gent

Cantata, BWV 198: I. Coro "Laß, Fürstin, laß noch einen Strahl"

$2.30

Cantata, BWV 198: II. Recitativo "Dein Sachsen, dein bestürztes Meißen"

Composer(s)

Johann Sebastian Bach

Artist(s)

Philippe Herreweghe

Dorothee Mields

Collegium Vocale Gent

Cantata, BWV 198: II. Recitativo "Dein Sachsen, dein bestürztes Meißen"

$2.30

Cantata, BWV 198: III. Aria "Verstummt, verstummt, ihr holden Saiten!"

Composer(s)

Johann Sebastian Bach

Artist(s)

Philippe Herreweghe

Collegium Vocale Gent

Cantata, BWV 198: III. Aria "Verstummt, verstummt, ihr holden Saiten!"

$2.30

Cantata, BWV 198: IV. Recitativo "Der Glocken bebendes Getön"

Composer(s)

Johann Sebastian Bach

Artist(s)

Philippe Herreweghe

Alex Potter

Collegium Vocale Gent

Cantata, BWV 198: IV. Recitativo "Der Glocken bebendes Getön"

$2.30

Cantata, BWV 198: V. Aria "Wie starb die Heldin so vergnügt!"

Composer(s)

Johann Sebastian Bach

Artist(s)

Philippe Herreweghe

Alex Potter

Collegium Vocale Gent

Cantata, BWV 198: V. Aria "Wie starb die Heldin so vergnügt!"

$3.40

Cantata, BWV 198: VI. Recitativo "Ihr Leben ließ die Kunst zu sterben"

Composer(s)

Johann Sebastian Bach

Artist(s)

Philippe Herreweghe

Thomas Hobbs

Collegium Vocale Gent

Cantata, BWV 198: VI. Recitativo "Ihr Leben ließ die Kunst zu sterben"

$2.30

Cantata, BWV 198: VII. Coro "An dir, du Fürbild großer Frauen"

Composer(s)

Johann Sebastian Bach

Artist(s)

Philippe Herreweghe

Collegium Vocale Gent

Cantata, BWV 198: VII. Coro "An dir, du Fürbild großer Frauen"

$2.30

Cantata, BWV 198: VIII. Aria "Der Ewigkeit saphirnes Haus"

Composer(s)

Johann Sebastian Bach

Artist(s)

Philippe Herreweghe

Thomas Hobbs

Collegium Vocale Gent

Cantata, BWV 198: VIII. Aria "Der Ewigkeit saphirnes Haus"

$2.30

Cantata, BWV 198: IX. "Recitativo Was Wunder ists? Du bist es wert"

Composer(s)

Johann Sebastian Bach

Artist(s)

Philippe Herreweghe

Collegium Vocale Gent

Cantata, BWV 198: IX. "Recitativo Was Wunder ists? Du bist es wert"

$2.30

Cantata, BWV 198: X. Coro "Doch, Königin! du stirbest nicht"

Composer(s)

Johann Sebastian Bach

Artist(s)

Philippe Herreweghe

Collegium Vocale Gent

Cantata, BWV 198: X. Coro "Doch, Königin! du stirbest nicht"

$2.30
Total running time: 56 minutes.


Album information

After a widely acclaimed St John Passion in 2020 (Gramophone Editor's Choice, BBC Music Magazine Choice, Trophée Radio Classique), Philippe Herreweghe and his Collegium Vocale Gent continue their in-depth exploration of the works of the composer who has earned them worldwide fame. 

Of the two cantatas recorded here, Es ist dir gesagt, Mensch, was gut ist BWV 45, written in 1726, is built around a very virtuosic, almost operatic bass solo setting scriptural words of Christ. Laß, Fürstin, laß noch einen Strahl, BWV 198, which dates from the following year, was composed for the funeral of Christiane Eberhardine, Electress of Saxony and titular Queen of Poland, the daughter of the Margrave of Brandenburg-Bayreuth and an ardent Lutheran, whose death had deeply affected the people of Leipzig.

These works are accompanied by the soothing, luminous motet O Jesu Christ, meins Lebens Licht (BWV118), also composed for a funeral service in 1736 or 1737.
Related Artists
Reviews