Filters
A Bach Notebook for Trumpet
A Bach Notebook for Trumpet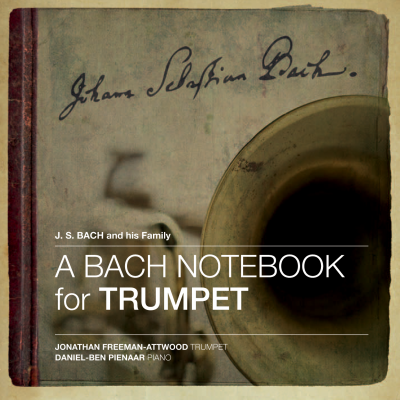 Inlay available for download
Booklet available for download
Prelude and Fugue in G Major, BWV 541

Composer(s)

Johann Sebastian Bach

Artist(s)

Jonathan Freeman-Attwood

Prelude and Fugue in G Major, BWV 541

$2.30

An Wasserflussen Babylon, BWV 653b

Composer(s)

Johann Sebastian Bach

Artist(s)

Jonathan Freeman-Attwood

An Wasserflussen Babylon, BWV 653b

$2.30

Sonata in F Major

Composer(s)

Johann Heinrich Bach

Artist(s)

Jonathan Freeman-Attwood

Sonata in F Major

$2.30

Ach, wie sehnlich wart ich der Zeit (Aria)

Composer(s)

Johann Michael Bach

Artist(s)

Jonathan Freeman-Attwood

Ach, wie sehnlich wart ich der Zeit (Aria)

$2.30

Wer an ihn glaubet, BWV 68 (v)

Composer(s)

Johann Sebastian Bach

Artist(s)

Jonathan Freeman-Attwood

Wer an ihn glaubet, BWV 68 (v)

$2.30

Ich lasse dich nicht, BWV Anh.159

Composer(s)

Johann Christoph Bach

Artist(s)

Jonathan Freeman-Attwood

Ich lasse dich nicht, BWV Anh.159

$2.30

Overture in G Major

Composer(s)

Johann Ludwig Bach

Artist(s)

Jonathan Freeman-Attwood

Overture in G Major

$2.30

Concerto in A Major, III, BWV 1055

Composer(s)

Johann Sebastian Bach

Artist(s)

Jonathan Freeman-Attwood

Concerto in A Major, III, BWV 1055

$2.30

Seht, was der Liebe tut, BWV 85 (v)

Composer(s)

Johann Sebastian Bach

Artist(s)

Jonathan Freeman-Attwood

Seht, was der Liebe tut, BWV 85 (v)

$2.30

O Mensch, bewein' dein Sunde Gross, BWV 622

Composer(s)

Johann Sebastian Bach

Artist(s)

Jonathan Freeman-Attwood

O Mensch, bewein' dein Sunde Gross, BWV 622

$2.30

Von Gott kommt, BWV 172 (vi)

Composer(s)

Johann Sebastian Bach

Artist(s)

Jonathan Freeman-Attwood

Von Gott kommt, BWV 172 (vi)

$2.30

O Lamm Gottes, unschuldig, BWV 656

Composer(s)

Johann Sebastian Bach

Artist(s)

Jonathan Freeman-Attwood

O Lamm Gottes, unschuldig, BWV 656

$2.30

So oft ich meine Tobackspfeife

Composer(s)

Gottfried Heinrich Bach

Artist(s)

Jonathan Freeman-Attwood

So oft ich meine Tobackspfeife

$2.30

Prelude: English Suite No. 2 in A minor, BWV 807

Composer(s)

Johann Sebastian Bach

Artist(s)

Jonathan Freeman-Attwood

Prelude: English Suite No. 2 in A minor, BWV 807

$2.30

Rondo Allegretto: Sonata, F.X/2

Composer(s)

Johann Christoph Friedrich Bach

Artist(s)

Jonathan Freeman-Attwood

Rondo Allegretto: Sonata, F.X/2

$2.30

Sonata in G minor III, Wq 65/17 (H47)

Composer(s)

Carl Philipp Emanuel Bach

Artist(s)

Jonathan Freeman-Attwood

Sonata in G minor III, Wq 65/17 (H47)

$2.30

La Joye (from Suite no. 4 in C)

Composer(s)

Johann Bernhard Bach

Artist(s)

Jonathan Freeman-Attwood

La Joye (from Suite no. 4 in C)

$2.30

Polonaise No. 10 in F minor (Falck 12)

Composer(s)

Wilhelm Friedemann Bach

Artist(s)

Jonathan Freeman-Attwood

Polonaise No. 10 in F minor (Falck 12)

$2.30

Sinfonia (Overture, Amadis des Gaules), W.G39

Composer(s)

Johann Christian Bach

Artist(s)

Jonathan Freeman-Attwood

Sinfonia (Overture, Amadis des Gaules), W.G39

$2.30

Sarabande (Cello Suite no. 6, arr. Fryer), BWV 1012

Composer(s)

Johann Sebastian Bach

Artist(s)

Jonathan Freeman-Attwood

Sarabande (Cello Suite no. 6, arr. Fryer), BWV 1012

$2.30
Total running time: 71 minutes.
Album information

Jonathan Freeman-Attwood's A Bach Notebook for Trumpet is a celebration of the music of the famous Johann Sebastian and ten other lesser-known Bachs, re-imagined for the combination of trumpet and piano.

Bach specialist Daniel-Ben Pienaar has arranged music from a great uncle, close cousins, distant cousins, and five sons, all related to the great J. S. Bach in a wholly unique recital programme.

Aesthetic passions drive the repertoire and performance choices as the duo explore vocabularies not usually associated with trumpet and piano chamber music: brushing up against 'period' gesture, ornamentation and articulation, whilst also co-referencing less fashionable inspirations from the past, including those judged 'romantic' in coloration, whether in the use of the pedal, rubati or articulation.

Jonathan Freeman-Attwood's is an established authority on Bach interpretation, particularly as it challenges and refocuses historical perspectives on 'performance practices' and how recordings of the past can influence current priorities and tastes.

Sheet music for tracks on this album are available from Resonata Music here. 
Related Artists
Reviews