Filters
Berg, Webern & Schonberg: Chamber Music
Berg, Webern & Schonberg: Chamber Music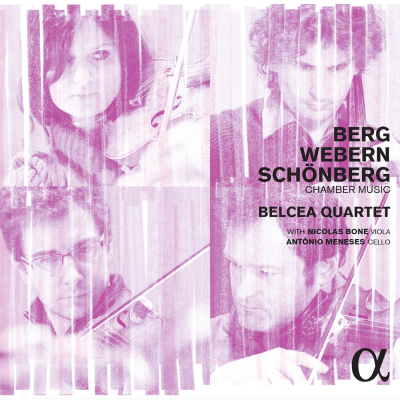 Booklet available for download
Langsamer Satz fur Streichquartett

Langsamer Satz fur Streichquartett

$3.40

Funf Satze fur Streichquartett, Op. 5: I. Heftig bewegt

Funf Satze fur Streichquartett, Op. 5: I. Heftig bewegt

$2.30

Funf Satze fur Streichquartett, Op. 5: II. Sehr langsam

Funf Satze fur Streichquartett, Op. 5: II. Sehr langsam

$2.30

Funf Satze fur Streichquartett, Op. 5: III. Sehr lebhaft

Funf Satze fur Streichquartett, Op. 5: III. Sehr lebhaft

$2.30

Funf Satze fur Streichquartett, Op. 5: IV. Sehr langsam

Funf Satze fur Streichquartett, Op. 5: IV. Sehr langsam

$2.30

Funf Satze fur Streichquartett, Op. 5: V. In zarter Bewegung

Funf Satze fur Streichquartett, Op. 5: V. In zarter Bewegung

$2.30

Lyrische Suite: I. Allegretto gioviale

Lyrische Suite: I. Allegretto gioviale

$2.30

Lyrische Suite: II. Andante amoroso

Lyrische Suite: II. Andante amoroso

$2.30

Lyrische Suite: III. Allegro Misterioso

Lyrische Suite: III. Allegro Misterioso

$2.30

Lyrische Suite: IV. Adagio appassionato

Lyrische Suite: IV. Adagio appassionato

$2.30

Lyrische Suite: V. Presto delirando

Lyrische Suite: V. Presto delirando

$2.30

Lyrische Suite: VI. Largo desolato

Lyrische Suite: VI. Largo desolato

$3.40

Verklarte Nacht, Op. 4: I. Sehr langsam

Composer(s)

Arnold Schonberg

Artist(s)

Belcea Quartet

Nicolas Bone, Antonio Meneses

Verklarte Nacht, Op. 4: I. Sehr langsam

$2.30

Verklarte Nacht, Op. 4: II. Breiter

Composer(s)

Arnold Schonberg

Artist(s)

Belcea Quartet

Nicolas Bone, Antonio Meneses

Verklarte Nacht, Op. 4: II. Breiter

$2.30

Verklarte Nacht, Op. 4: III. Schwer betont

Composer(s)

Arnold Schonberg

Artist(s)

Belcea Quartet

Nicolas Bone, Antonio Meneses

Verklarte Nacht, Op. 4: III. Schwer betont

$2.30

Verklarte Nacht, Op. 4: IV. Sehr breit und langsam

Composer(s)

Arnold Schonberg

Artist(s)

Belcea Quartet

Nicolas Bone, Antonio Meneses

Verklarte Nacht, Op. 4: IV. Sehr breit und langsam

$3.40

Verklarte Nacht, Op. 4: V. Sehr ruhig

Composer(s)

Arnold Schonberg

Artist(s)

Belcea Quartet

Nicolas Bone, Antonio Meneses

Verklarte Nacht, Op. 4: V. Sehr ruhig

$2.30
Total running time: 79 minutes.


Album information

With this new recording, the Quartet tackles another summit of chamber music: the Second Viennese School.

With a complete recording of the Beethoven quartets that caused a stir and enchanted concert halls everywhere, the Belcea Quartet is henceforth considered one of the finest quartets in the world. 'The principle characteristic of their playing is [...] intensity,' wrote BBC Music Magazine in 2013.

With their passion and technical abilities, this breathtaking music, which drastically changed the history of music, rings out in all its force and mystery.
Related Artists
Reviews