Filters
Brahms: String Quartets & Piano Quintet
Brahms: String Quartets & Piano Quintet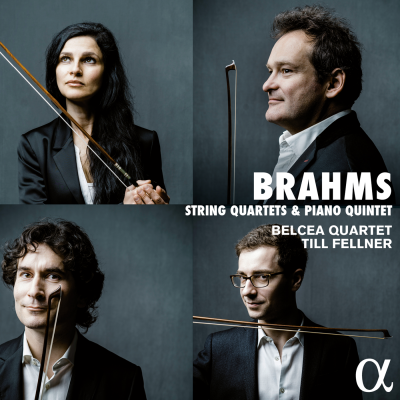 Booklet available for download
String Quartet No. 1 in C Minor, Op. 51: I. Allegro

Composer(s)

Johannes Brahms

String Quartet No. 1 in C Minor, Op. 51: I. Allegro

$4.60

String Quartet No. 1 in C Minor, Op. 51: II. Romanze (Poco adagio)

Composer(s)

Johannes Brahms

String Quartet No. 1 in C Minor, Op. 51: II. Romanze (Poco adagio)

$3.40

String Quartet No. 1 in C Minor, Op. 51: III. Allegretto molto moderato e comodo

Composer(s)

Johannes Brahms

String Quartet No. 1 in C Minor, Op. 51: III. Allegretto molto moderato e comodo

$3.40

String Quartet No. 1 in C Minor, Op. 51: IV. Allegro

Composer(s)

Johannes Brahms

String Quartet No. 1 in C Minor, Op. 51: IV. Allegro

$2.30

String Quartet No. 2 in A Minor, Op. 51: I. Allegro non troppo

Composer(s)

Johannes Brahms

String Quartet No. 2 in A Minor, Op. 51: I. Allegro non troppo

$4.60

String Quartet No. 2 in A Minor, Op. 51: II. Andante

Composer(s)

Johannes Brahms

String Quartet No. 2 in A Minor, Op. 51: II. Andante

$3.40

String Quartet No. 2 in A Minor, Op. 51: III. Quasi minuetto, moderato

Composer(s)

Johannes Brahms

String Quartet No. 2 in A Minor, Op. 51: III. Quasi minuetto, moderato

$2.30

String Quartet No. 2 in A Minor, Op. 51: IV. Finale (Allegro non assai)

Composer(s)

Johannes Brahms

String Quartet No. 2 in A Minor, Op. 51: IV. Finale (Allegro non assai)

$3.40

String Quartet No. 3 in B-Flat Major, Op. 67: I. Vivace

Composer(s)

Johannes Brahms

String Quartet No. 3 in B-Flat Major, Op. 67: I. Vivace

$3.40

String Quartet No. 3 in B-Flat Major, Op. 67: II. Andante

Composer(s)

Johannes Brahms

String Quartet No. 3 in B-Flat Major, Op. 67: II. Andante

$3.40

String Quartet No. 3 in B-Flat Major, Op. 67: III. Agitato (Allegretto non troppo)

Composer(s)

Johannes Brahms

String Quartet No. 3 in B-Flat Major, Op. 67: III. Agitato (Allegretto non troppo)

$3.40

String Quartet No. 3 in B-Flat Major, Op. 67: IV. Poco allegretto con variazioni

Composer(s)

Johannes Brahms

String Quartet No. 3 in B-Flat Major, Op. 67: IV. Poco allegretto con variazioni

$3.40

Piano Quintet in F Minor, Op. 34: I. Allegro non troppo

Composer(s)

Johannes Brahms

Artist(s)

Belcea Quartet

Till Fellner

Piano Quintet in F Minor, Op. 34: I. Allegro non troppo

$5.75

Piano Quintet in F Minor, Op. 34: II. Andante, un poco adagio

Composer(s)

Johannes Brahms

Artist(s)

Belcea Quartet

Till Fellner

Piano Quintet in F Minor, Op. 34: II. Andante, un poco adagio

$3.40

Piano Quintet in F Minor, Op. 34: III. Scherzo (Allegro)

Composer(s)

Johannes Brahms

Artist(s)

Belcea Quartet

Till Fellner

Piano Quintet in F Minor, Op. 34: III. Scherzo (Allegro)

$3.40

Piano Quintet in F Minor, Op. 34: IV. Finale (Poco sostenuto - Allegro non troppo)

Composer(s)

Johannes Brahms

Artist(s)

Belcea Quartet

Till Fellner

Piano Quintet in F Minor, Op. 34: IV. Finale (Poco sostenuto - Allegro non troppo)

$3.40
Total running time: 149 minutes.


Album information

More than twelve years after its initial incursion into the music of Brahms, the Belcea Quartet now presents the eagerly awaited complete recording of his string quartets.

A powerful style and a sense of musical architecture are the two qualities most often attributed to the Belcea, which is now one of the top international quartets. And those characteristics blossom to the full in Brahms.

For the Piano Quintet, its members are joined by Till Fellner. This Austrian former student of Alfred Brendel is one of today's most respected pianists, combining grace, rigour and musical intelligence.

 
Related Artists
Reviews