Filters
Artist
Tabea Zimmermann
Jean-Guihen Queyras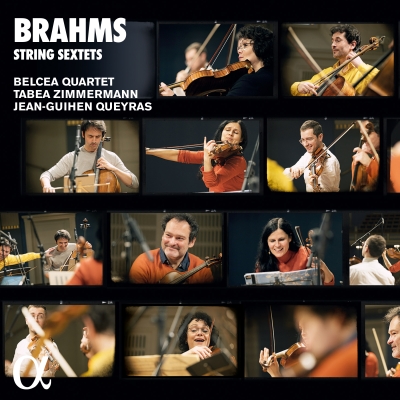 Inlay available for download
Booklet available for download
String Sextet No. 1, Op. 18: I. Allegro ma non troppo

Composer(s)

Johannes Brahms

Artist(s)

Jean-Guihen Queyras

Tabea Zimmermann

Belcea Quartet

String Sextet No. 1, Op. 18: I. Allegro ma non troppo

$4.60

String Sextet No. 1, Op. 18: II. Andante ma moderato

Composer(s)

Johannes Brahms

Artist(s)

Jean-Guihen Queyras

Tabea Zimmermann

Belcea Quartet

String Sextet No. 1, Op. 18: II. Andante ma moderato

$3.40

String Sextet No. 1, Op. 18: III. Scherzo. Allegro molto

Composer(s)

Johannes Brahms

Artist(s)

Jean-Guihen Queyras

Tabea Zimmermann

Belcea Quartet

String Sextet No. 1, Op. 18: III. Scherzo. Allegro molto

$2.30

String Sextet No. 1, Op. 18: IV. Rondo. Poco allegretto e grazioso

Composer(s)

Johannes Brahms

Artist(s)

Jean-Guihen Queyras

Tabea Zimmermann

Belcea Quartet

String Sextet No. 1, Op. 18: IV. Rondo. Poco allegretto e grazioso

$3.40

String Sextet No. 2, Op. 36: I. Allegro non troppo

Composer(s)

Johannes Brahms

Artist(s)

Jean-Guihen Queyras

Tabea Zimmermann

Belcea Quartet

String Sextet No. 2, Op. 36: I. Allegro non troppo

$4.60

String Sextet No. 2, Op. 36: II. Scherzo. Allegro non troppo — Presto giocoso

Composer(s)

Johannes Brahms

Artist(s)

Jean-Guihen Queyras

Tabea Zimmermann

Belcea Quartet

String Sextet No. 2, Op. 36: II. Scherzo. Allegro non troppo — Presto giocoso

$3.40

String Sextet No. 2, Op. 36: III. Poco adagio

Composer(s)

Johannes Brahms

Artist(s)

Jean-Guihen Queyras

Tabea Zimmermann

Belcea Quartet

String Sextet No. 2, Op. 36: III. Poco adagio

$3.40

String Sextet No. 2, Op. 36: IV. Poco allegro

Composer(s)

Johannes Brahms

Artist(s)

Jean-Guihen Queyras

Tabea Zimmermann

Belcea Quartet

String Sextet No. 2, Op. 36: IV. Poco allegro

$3.40
Total running time: 75 minutes.





Album information

The award-winning Belcea Quartet are joined by Tabea Zimmermann and Jean-Guihen Queyras to perform two masterpieces of the chamber music repertory. This album was nominated for a 2022 Edison Classical Chamber Music Award and a 2023 BBC Music Magazine Chamber Award.

Brahms was one of the first composers to write for pairs of violins, violas and cellos, blazing the trail for Dvořák, Tchaikovsky, Korngold and Schoenberg. His two sextets are early works, composed in 1860 and 1865 respectively. Brahms wrote to his publisher that the second was in 'the same joyful vein' as the first. Yet the composer's life was sombre at this time: his mother died suddenly and his romantic relationship with the soprano Agathe von Siebold ended in failure; indeed, the first movement of the sextet opens with a viola motif on the notes A-G-A-D-B-E (AGADHE in German notation).

The Belcea Quartet performed these works in a concert tour to some of Europe's major venues, and called in their friends Tabea Zimmermann and Jean-Guihen Queyras for this recording. The continued popularity of the two sextets is demonstrated by their highly estimable discography; an ilustrious lineage which is carried on today by the Belcea Quartet.
Related Artists
Reviews