Filters
Britten: Les Illuminations
Britten: Les Illuminations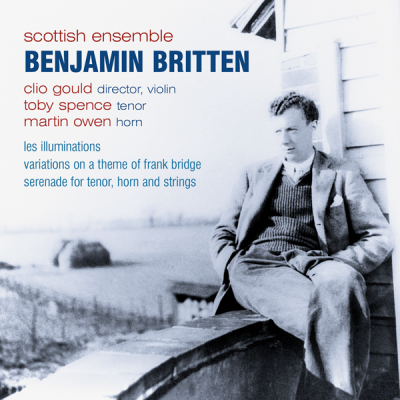 Inlay available for download
Booklet available for download
Les Illuminations, Op.18: Fanfare

Composer(s)

Benjamin Britten

Artist(s)

Clio Gould

Toby Spence - tenor

Les Illuminations, Op.18: Fanfare

$1.80

Les Illuminations, Op.18: Villes

Composer(s)

Benjamin Britten

Artist(s)

Clio Gould

Toby Spence - tenor

Les Illuminations, Op.18: Villes

$1.80

Les Illuminations, Op.18: Phrase

Composer(s)

Benjamin Britten

Artist(s)

Clio Gould

Toby Spence - tenor

Les Illuminations, Op.18: Phrase

$1.80

Les Illuminations, Op.18: Antique

Composer(s)

Benjamin Britten

Artist(s)

Clio Gould

Toby Spence - tenor

Les Illuminations, Op.18: Antique

$1.80

Les Illuminations, Op.18: Royaute

Composer(s)

Benjamin Britten

Artist(s)

Clio Gould

Toby Spence - tenor

Les Illuminations, Op.18: Royaute

$1.80

Les Illuminations, Op.18: Marine

Composer(s)

Benjamin Britten

Artist(s)

Clio Gould

Toby Spence - tenor

Les Illuminations, Op.18: Marine

$1.80

Les Illuminations, Op.18: Interlude

Composer(s)

Benjamin Britten

Artist(s)

Clio Gould

Toby Spence - tenor

Les Illuminations, Op.18: Interlude

$1.80

Les Illuminations, Op.18: Being Beauteous

Composer(s)

Benjamin Britten

Artist(s)

Clio Gould

Toby Spence - tenor

Les Illuminations, Op.18: Being Beauteous

$1.80

Les Illuminations, Op.18: Parade

Composer(s)

Benjamin Britten

Artist(s)

Clio Gould

Toby Spence - tenor

Les Illuminations, Op.18: Parade

$1.80

Les Illuminations, Op.18: Depart

Composer(s)

Benjamin Britten

Artist(s)

Clio Gould

Toby Spence - tenor

Les Illuminations, Op.18: Depart

$1.80

Variations on a Theme of Frank Bridge, Op. 10: Introduction and Theme

Composer(s)

Benjamin Britten

Variations on a Theme of Frank Bridge, Op. 10: Introduction and Theme

$1.80

Variations on a Theme of Frank Bridge, Op. 10: Variation I. Adagio

Composer(s)

Benjamin Britten

Variations on a Theme of Frank Bridge, Op. 10: Variation I. Adagio

$1.80

Variations on a Theme of Frank Bridge, Op. 10: Variation II. March

Composer(s)

Benjamin Britten

Variations on a Theme of Frank Bridge, Op. 10: Variation II. March

$1.80

Variations on a Theme of Frank Bridge, Op. 10: Variation III. Romance

Composer(s)

Benjamin Britten

Variations on a Theme of Frank Bridge, Op. 10: Variation III. Romance

$1.80

Variations on a Theme of Frank Bridge, Op. 10: Variation IV. Aria Italiana

Composer(s)

Benjamin Britten

Variations on a Theme of Frank Bridge, Op. 10: Variation IV. Aria Italiana

$1.80

Variations on a Theme of Frank Bridge, Op. 10: Variation V. Bourree classique

Composer(s)

Benjamin Britten

Variations on a Theme of Frank Bridge, Op. 10: Variation V. Bourree classique

$1.80

Variations on a Theme of Frank Bridge, Op. 10: Variation VI. Wiener Walzer

Composer(s)

Benjamin Britten

Variations on a Theme of Frank Bridge, Op. 10: Variation VI. Wiener Walzer

$1.80

Variations on a Theme of Frank Bridge, Op. 10: Variation VII. Moto perpetuo

Composer(s)

Benjamin Britten

Variations on a Theme of Frank Bridge, Op. 10: Variation VII. Moto perpetuo

$1.80

Variations on a Theme of Frank Bridge, Op. 10: Variation VIII. Funeral March

Composer(s)

Benjamin Britten

Variations on a Theme of Frank Bridge, Op. 10: Variation VIII. Funeral March

$1.80

Variations on a Theme of Frank Bridge, Op. 10: Variation IX. Chant

Composer(s)

Benjamin Britten

Variations on a Theme of Frank Bridge, Op. 10: Variation IX. Chant

$1.80

Variations on a Theme of Frank Bridge, Op. 10: Variation X. Fugue and Finale

Composer(s)

Benjamin Britten

Variations on a Theme of Frank Bridge, Op. 10: Variation X. Fugue and Finale

$2.70

Serenade for tenor, horn and strings, Op. 31: Prologue

Composer(s)

Benjamin Britten

Artist(s)

Clio Gould

Toby Spence - tenor, Martin Owen - horn

Serenade for tenor, horn and strings, Op. 31: Prologue

$1.80

Serenade for tenor, horn and strings, Op. 31: Pastoral

Composer(s)

Benjamin Britten

Artist(s)

Clio Gould

Toby Spence - tenor, Martin Owen - horn

Serenade for tenor, horn and strings, Op. 31: Pastoral

$1.80

Serenade for tenor, horn and strings, Op. 31: Nocturne

Composer(s)

Benjamin Britten

Artist(s)

Clio Gould

Toby Spence - tenor, Martin Owen - horn

Serenade for tenor, horn and strings, Op. 31: Nocturne

$1.80

Serenade for tenor, horn and strings, Op. 31: Elegy

Composer(s)

Benjamin Britten

Artist(s)

Clio Gould

Toby Spence - tenor, Martin Owen - horn

Serenade for tenor, horn and strings, Op. 31: Elegy

$1.80

Serenade for tenor, horn and strings, Op. 31: Dirge

Composer(s)

Benjamin Britten

Artist(s)

Clio Gould

Toby Spence - tenor, Martin Owen - horn

Serenade for tenor, horn and strings, Op. 31: Dirge

$1.80

Serenade for tenor, horn and strings, Op. 31: Hymn

Composer(s)

Benjamin Britten

Artist(s)

Clio Gould

Toby Spence - tenor, Martin Owen - horn

Serenade for tenor, horn and strings, Op. 31: Hymn

$1.80

Serenade for tenor, horn and strings, Op. 31: Sonnet

Composer(s)

Benjamin Britten

Artist(s)

Clio Gould

Toby Spence - tenor, Martin Owen - horn

Serenade for tenor, horn and strings, Op. 31: Sonnet

$1.80

Serenade for tenor, horn and strings, Op. 31: Epilogue

Composer(s)

Benjamin Britten

Artist(s)

Clio Gould

Toby Spence - tenor, Martin Owen - horn

Serenade for tenor, horn and strings, Op. 31: Epilogue

$1.80
Total running time: 72 minutes.

Album information

This recording brings together three youthful masterworks all composed by Benjamin Britten before his 30th birthday.

These are highly insightful performances, widely considered to be modern reference versions to set next to Britten's own. Clio Gould and the ensemble demonstrate playing of impressive unanimity of purpose, joyous intensity and clarity of detail.

The ensemble is joined by the Royal Philharmonic Society's 2012 'Singer of the Year' Toby Spence, for two of Britten's most popular song cycles. Toby Spence's voice is ideally suited to the wide-ranging demands that Britten makes on it; his tonal freshness and acutely observed articulation of the words are absorbing. Martin Owen, whose horn playing has drawn comparisons with Dennis Brain, is equal to every one of the near-impossible tasks set him by Britten in the Serenade.
Related Artists
Reviews