Filters
Bruckner: Quintet & Quartet
Bruckner: Quintet & Quartet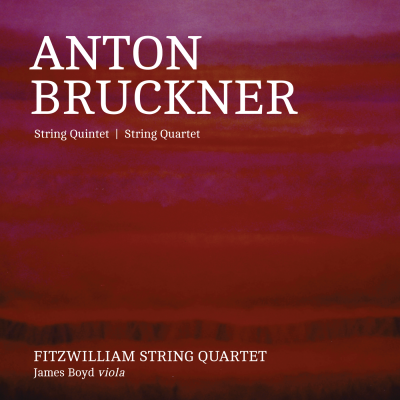 Inlay available for download
Booklet available for download
Quintet in F Major, WAB 112: I. Gemassigt

Composer(s)

Anton Bruckner

Artist(s)

Fitzwilliam String Quartet

James Boyd: viola

Quintet in F Major, WAB 112: I. Gemassigt

$4.60

Quintet in F Major, WAB 112: II. Scherzo. Schnell - Trio. Langsamer

Composer(s)

Anton Bruckner

Artist(s)

Fitzwilliam String Quartet

James Boyd: viola

Quintet in F Major, WAB 112: II. Scherzo. Schnell - Trio. Langsamer

$3.40

Quintet in F Major, WAB 112: III. Adagio

Composer(s)

Anton Bruckner

Artist(s)

Fitzwilliam String Quartet

James Boyd: viola

Quintet in F Major, WAB 112: III. Adagio

$4.60

Quintet in F Major, WAB 112: IV. Finale. Lebhaft bewegt

Composer(s)

Anton Bruckner

Artist(s)

Fitzwilliam String Quartet

James Boyd: viola

Quintet in F Major, WAB 112: IV. Finale. Lebhaft bewegt

$3.40

Intermezzo in D Minor, WAB 113

Composer(s)

Anton Bruckner

Artist(s)

Fitzwilliam String Quartet

James Boyd: viola

Intermezzo in D Minor, WAB 113

$3.40

Quartet in C Minor, WAB 111: I. Allegro moderato

Composer(s)

Anton Bruckner

Artist(s)

Fitzwilliam String Quartet

Quartet in C Minor, WAB 111: I. Allegro moderato

$3.40

Quartet in C Minor, WAB 111: II. Andante

Composer(s)

Anton Bruckner

Artist(s)

Fitzwilliam String Quartet

Quartet in C Minor, WAB 111: II. Andante

$2.30

Quartet in C Minor, WAB 111: IIII. Scherzo. Presto - Trio: Langsamer

Composer(s)

Anton Bruckner

Artist(s)

Fitzwilliam String Quartet

Quartet in C Minor, WAB 111: IIII. Scherzo. Presto - Trio: Langsamer

$2.30

Quartet in C Minor, WAB 111: IV. Rondo. Schnell

Composer(s)

Anton Bruckner

Artist(s)

Fitzwilliam String Quartet

Quartet in C Minor, WAB 111: IV. Rondo. Schnell

$2.30
Total running time: 76 minutes.


Album information

The Fitzwilliam String Quartet, together with violist James Boyd (of the London Haydn Quartet) presents a historically informed performance of Bruckner's String Quintet and Quartet.

This is the first recording to use gut strings (a special set from Dan Larsen in Minnesota was obtained specially for this recording) and original instruments at the correct pitch for the time. Having first tackled the Bruckner Quintet nearly forty years ago, the Fitzwilliam's starting point was achieving the famous 'Bruckner sound' as well as considering tempo, bow strokes, use of vibrato and portamento in the performance. With many great moments (such as the Adagio) the Quintet is guaranteed an exalted place in the hierarchy of chamber masterworks.

Upon hearing the performance The Bruckner Journal wrote: "It was a revelation to hear Bruckner's quintet played on instruments with this gut string set-up appropriate to the time of its composition, and to hear it performed with a flexible lyricism that has become a rare thing in Bruckner performance."
Related Artists
Reviews