Filters
Debussy - Chopin - Mussorgsky
Debussy - Chopin - Mussorgsky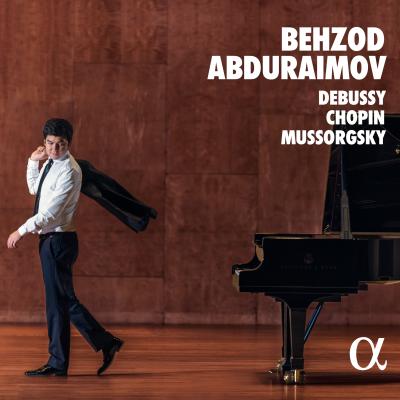 Inlay available for download
Booklet available for download
Children's Corner, L. 113: I. Doctor Gradus ad Parnassum

Composer(s)

Claude Debussy

Artist(s)

Behzod Abduraimov

Children's Corner, L. 113: I. Doctor Gradus ad Parnassum

$2.30

Children's Corner, L. 113: II. Jimbo's Lullaby

Composer(s)

Claude Debussy

Artist(s)

Behzod Abduraimov

Children's Corner, L. 113: II. Jimbo's Lullaby

$2.30

Children's Corner, L. 113: III. Serenade for the Doll

Composer(s)

Claude Debussy

Artist(s)

Behzod Abduraimov

Children's Corner, L. 113: III. Serenade for the Doll

$2.30

Children's Corner, L. 113: IV. The Snow Is Dancing

Composer(s)

Claude Debussy

Artist(s)

Behzod Abduraimov

Children's Corner, L. 113: IV. The Snow Is Dancing

$2.30

Children's Corner, L. 113: V. The Little Shepherd

Composer(s)

Claude Debussy

Artist(s)

Behzod Abduraimov

Children's Corner, L. 113: V. The Little Shepherd

$2.30

Children's Corner, L. 113: VI. Golliwog's Cake-walk

Composer(s)

Claude Debussy

Artist(s)

Behzod Abduraimov

Children's Corner, L. 113: VI. Golliwog's Cake-walk

$2.30

24 Préludes, Op. 28: No.1 in C Major - Agitato

Composer(s)

Frédéric Chopin

Artist(s)

Behzod Abduraimov

24 Préludes, Op. 28: No.1 in C Major - Agitato

$2.30

24 Préludes, Op. 28: No.2 in A Minor - Lento

Composer(s)

Frédéric Chopin

Artist(s)

Behzod Abduraimov

24 Préludes, Op. 28: No.2 in A Minor - Lento

$2.30

24 Préludes, Op. 28: No.3 in G Major - Vivace

Composer(s)

Frédéric Chopin

Artist(s)

Behzod Abduraimov

24 Préludes, Op. 28: No.3 in G Major - Vivace

$2.30

24 Préludes, Op. 28: No.4 in E Minor - Largo

Composer(s)

Frédéric Chopin

Artist(s)

Behzod Abduraimov

24 Préludes, Op. 28: No.4 in E Minor - Largo

$2.30

24 Préludes, Op. 28: No.5 in D Major - Allegro Molto

Composer(s)

Frédéric Chopin

Artist(s)

Behzod Abduraimov

24 Préludes, Op. 28: No.5 in D Major - Allegro Molto

$2.30

24 Préludes, Op. 28: No.6 in B Minor - Lento Assai

Composer(s)

Frédéric Chopin

Artist(s)

Behzod Abduraimov

24 Préludes, Op. 28: No.6 in B Minor - Lento Assai

$2.30

24 Préludes, Op. 28: No.7 in A Major - Andantino

Composer(s)

Frédéric Chopin

Artist(s)

Behzod Abduraimov

24 Préludes, Op. 28: No.7 in A Major - Andantino

$2.30

24 Préludes, Op. 28: No.8 in F -Sharp Minor - Molto Agitato

Composer(s)

Frédéric Chopin

Artist(s)

Behzod Abduraimov

24 Préludes, Op. 28: No.8 in F -Sharp Minor - Molto Agitato

$2.30

24 Préludes, Op. 28: No.9 in E Major - Largo

Composer(s)

Frédéric Chopin

Artist(s)

Behzod Abduraimov

24 Préludes, Op. 28: No.9 in E Major - Largo

$2.30

24 Préludes, Op. 28: No.10 in C -Sharp Minor - Allegro Molto

Composer(s)

Frédéric Chopin

Artist(s)

Behzod Abduraimov

24 Préludes, Op. 28: No.10 in C -Sharp Minor - Allegro Molto

$2.30

24 Préludes, Op. 28: No.11 in B Major - Vivace

Composer(s)

Frédéric Chopin

Artist(s)

Behzod Abduraimov

24 Préludes, Op. 28: No.11 in B Major - Vivace

$2.30

24 Préludes, Op. 28: No.12 in G -Sharp Minor - Presto

Composer(s)

Frédéric Chopin

Artist(s)

Behzod Abduraimov

24 Préludes, Op. 28: No.12 in G -Sharp Minor - Presto

$2.30

24 Préludes, Op. 28: No.13 in F -Sharp Major - Lento

Composer(s)

Frédéric Chopin

Artist(s)

Behzod Abduraimov

24 Préludes, Op. 28: No.13 in F -Sharp Major - Lento

$2.30

24 Préludes, Op. 28: No.14 in E-Flat Minor - Allegro

Composer(s)

Frédéric Chopin

Artist(s)

Behzod Abduraimov

24 Préludes, Op. 28: No.14 in E-Flat Minor - Allegro

$2.30

24 Préludes, Op. 28: No.15 in D-Flat Major - Sostenuto

Composer(s)

Frédéric Chopin

Artist(s)

Behzod Abduraimov

24 Préludes, Op. 28: No.15 in D-Flat Major - Sostenuto

$2.30

24 Préludes, Op. 28: No.16 in B-Flat Minor - Presto Con Fuoco

Composer(s)

Frédéric Chopin

Artist(s)

Behzod Abduraimov

24 Préludes, Op. 28: No.16 in B-Flat Minor - Presto Con Fuoco

$2.30

24 Préludes, Op. 28: No.17 in A-Flat Major - Allegretto

Composer(s)

Frédéric Chopin

Artist(s)

Behzod Abduraimov

24 Préludes, Op. 28: No.17 in A-Flat Major - Allegretto

$2.30

24 Préludes, Op. 28: No.18 in F Minor - Allegro Molto

Composer(s)

Frédéric Chopin

Artist(s)

Behzod Abduraimov

24 Préludes, Op. 28: No.18 in F Minor - Allegro Molto

$2.30

24 Préludes, Op. 28: No.19 in E-Flat Major - Vivace

Composer(s)

Frédéric Chopin

Artist(s)

Behzod Abduraimov

24 Préludes, Op. 28: No.19 in E-Flat Major - Vivace

$2.30

24 Préludes, Op. 28: No.20 in C Minor - Largo

Composer(s)

Frédéric Chopin

Artist(s)

Behzod Abduraimov

24 Préludes, Op. 28: No.20 in C Minor - Largo

$2.30

24 Préludes, Op. 28: No.21 in B-Flat Major - Cantabile

Composer(s)

Frédéric Chopin

Artist(s)

Behzod Abduraimov

24 Préludes, Op. 28: No.21 in B-Flat Major - Cantabile

$2.30

24 Préludes, Op. 28: No.22 in G Minor - Molto Agitato

Composer(s)

Frédéric Chopin

Artist(s)

Behzod Abduraimov

24 Préludes, Op. 28: No.22 in G Minor - Molto Agitato

$2.30

24 Préludes, Op. 28: No.23 in F Major - Moderato

Composer(s)

Frédéric Chopin

Artist(s)

Behzod Abduraimov

24 Préludes, Op. 28: No.23 in F Major - Moderato

$2.30

24 Préludes, Op. 28: No.24 in D Minor - Allegro Appassionato

Composer(s)

Frédéric Chopin

Artist(s)

Behzod Abduraimov

24 Préludes, Op. 28: No.24 in D Minor - Allegro Appassionato

$2.30

Pictures at an Exhibition: Promenade I

Composer(s)

Modest Mussorgsky

Artist(s)

Behzod Abduraimov

Pictures at an Exhibition: Promenade I

$2.30

Pictures at an Exhibition: 1. Gnomus

Composer(s)

Modest Mussorgsky

Artist(s)

Behzod Abduraimov

Pictures at an Exhibition: 1. Gnomus

$2.30

Pictures at an Exhibition: Promenade II

Composer(s)

Modest Mussorgsky

Artist(s)

Behzod Abduraimov

Pictures at an Exhibition: Promenade II

$2.30

Pictures at an Exhibition: 2. Il Vecchio Castello

Composer(s)

Modest Mussorgsky

Artist(s)

Behzod Abduraimov

Pictures at an Exhibition: 2. Il Vecchio Castello

$2.30

Pictures at an Exhibition: Promenade III

Composer(s)

Modest Mussorgsky

Artist(s)

Behzod Abduraimov

Pictures at an Exhibition: Promenade III

$2.30

Pictures at an Exhibition: 3. Tuileries (Dispute d'enfants après jeux)

Composer(s)

Modest Mussorgsky

Artist(s)

Behzod Abduraimov

Pictures at an Exhibition: 3. Tuileries (Dispute d'enfants après jeux)

$2.30

Pictures at an Exhibition: 4. Bydło

Composer(s)

Modest Mussorgsky

Artist(s)

Behzod Abduraimov

Pictures at an Exhibition: 4. Bydło

$2.30

Pictures at an Exhibition: Promenade IV

Composer(s)

Modest Mussorgsky

Artist(s)

Behzod Abduraimov

Pictures at an Exhibition: Promenade IV

$2.30

Pictures at an Exhibition: 5. Ballet of the Unhatched Chicks

Composer(s)

Modest Mussorgsky

Artist(s)

Behzod Abduraimov

Pictures at an Exhibition: 5. Ballet of the Unhatched Chicks

$2.30

Pictures at an Exhibition: 6. « Samuel » Goldenberg und « Schmuÿle »

Composer(s)

Modest Mussorgsky

Artist(s)

Behzod Abduraimov

Pictures at an Exhibition: 6. « Samuel » Goldenberg und « Schmuÿle »

$2.30

Pictures at an Exhibition: 7. Limoges, le marché (La grande nouvelle)

Composer(s)

Modest Mussorgsky

Artist(s)

Behzod Abduraimov

Pictures at an Exhibition: 7. Limoges, le marché (La grande nouvelle)

$2.30

Pictures at an Exhibition: 8. Catacombae (Sepulcrum romanum)

Composer(s)

Modest Mussorgsky

Artist(s)

Behzod Abduraimov

Pictures at an Exhibition: 8. Catacombae (Sepulcrum romanum)

$2.30

Pictures at an Exhibition: 9. The Hut on Fowl's Legs (Baba-Yagá)

Composer(s)

Modest Mussorgsky

Artist(s)

Behzod Abduraimov

Pictures at an Exhibition: 9. The Hut on Fowl's Legs (Baba-Yagá)

$2.30

Pictures at an Exhibition: 10. The Great Gate of Kiev

Composer(s)

Modest Mussorgsky

Artist(s)

Behzod Abduraimov

Pictures at an Exhibition: 10. The Great Gate of Kiev

$2.30
Total running time: 79 minutes.





Album information

Behzod Abduraimov joins Alpha for several recordings, starting with this 'kaleidoscope of miniatures' – miniatures that are in fact fairly gigantic, and showcase the Uzbek pianist's extreme virtuosity and sensitivity.

'Each movement is in itself a miniature, and taken together they form a kaleidoscope of human emotions and images of all kinds', says Behzod Abduraimov. In his view, the pieces in Debussy's Children's Corner are not intended for young piano students, but 'for adults, so that they can immerse themselves in the world of children with a little nostalgia and a lot of humour'.

When it comes to Chopin, 'each prelude has a different musical essence, creates its own atmosphere. Together they form an arc spanning the distance from the first prelude to the last. So I tried to consider them as a whole'. Finally, Mussorgsky evokes in ten highly expressive movements the paintings at an exhibition held in posthumous tribute to his friend Viktor Hartmann. A 'Promenade' heard several times suggests Mussorgsky himself strolling through the exhibition. For Behzod Abduraimov, 'the "Promenades" play a key role in this cycle: they create the atmosphere before each painting'. 
Related Artists
Reviews