Filters
Debussy: Pelléas et Mélisande
Debussy: Pelléas et Mélisande
Artist
Stanislas de Barbeyrac
Chiara Skerath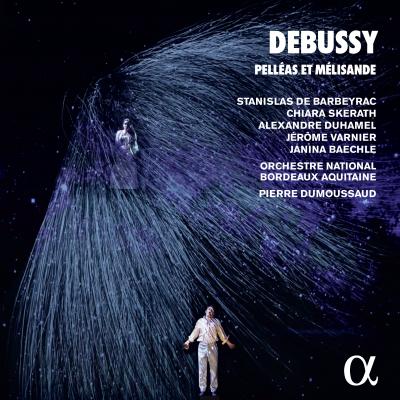 Inlay available for download
Booklet available for download
Pelléas et Mélisande, Act I Scene 1: No. 1, "Je ne pourrai plus sortir de cette forêt"

Composer(s)

Claude Debussy

Artist(s)

Pierre Dumoussaud

Alexandre Duhamel

Orchestre National Bordeaux Aquitaine

Pelléas et Mélisande, Act I Scene 1: No. 1, "Je ne pourrai plus sortir de cette forêt"

$2.30

Pelléas et Mélisande, Act I Scene 1: No. 2, "Pourquoi pleures-tu ?"

Composer(s)

Claude Debussy

Artist(s)

Pierre Dumoussaud

Alexandre Duhamel

Orchestre National Bordeaux Aquitaine

Chiara Skerath

Pelléas et Mélisande, Act I Scene 1: No. 2, "Pourquoi pleures-tu ?"

$2.30

Pelléas et Mélisande, Act I Scene 1: No. 3, "Je suis perdu aussi"

Composer(s)

Claude Debussy

Artist(s)

Pierre Dumoussaud

Alexandre Duhamel

Orchestre National Bordeaux Aquitaine

Pelléas et Mélisande, Act I Scene 1: No. 3, "Je suis perdu aussi"

$2.30

Pelléas et Mélisande, Act I Scene 2: No. 1, "Voici ce qu'il écrit à son frère"

Composer(s)

Claude Debussy

Artist(s)

Pierre Dumoussaud

Orchestre National Bordeaux Aquitaine

Stanislas de Barbeyrac

Pelléas et Mélisande, Act I Scene 2: No. 1, "Voici ce qu'il écrit à son frère"

$2.30

Pelléas et Mélisande, Act I Scene 2: No. 2, "Qu'en dites-vous ?"

Composer(s)

Claude Debussy

Artist(s)

Pierre Dumoussaud

Jérôme Varnier

Orchestre National Bordeaux Aquitaine

Stanislas de Barbeyrac

Janina Baechle

Pelléas et Mélisande, Act I Scene 2: No. 2, "Qu'en dites-vous ?"

$2.30

Pelléas et Mélisande, Act I Scene 2: No. 3, Interlude

Composer(s)

Claude Debussy

Artist(s)

Pierre Dumoussaud

Orchestre National Bordeaux Aquitaine

Pelléas et Mélisande, Act I Scene 2: No. 3, Interlude

$2.30

Pelléas et Mélisande, Act I Scene 3: No. 1, "Il fait sombre dans les jardins"

Composer(s)

Claude Debussy

Artist(s)

Pierre Dumoussaud

Janina Baechle

Orchestre National Bordeaux Aquitaine

Stanislas de Barbeyrac

Chiara Skerath

Pelléas et Mélisande, Act I Scene 3: No. 1, "Il fait sombre dans les jardins"

$2.30

Pelléas et Mélisande, Act I Scene 3: No. 2, "Hoé ! Hisse Hoé !"

Composer(s)

Claude Debussy

Artist(s)

Pierre Dumoussaud

Orchestre National Bordeaux Aquitaine

Stanislas de Barbeyrac

Chiara Skerath

Pelléas et Mélisande, Act I Scene 3: No. 2, "Hoé ! Hisse Hoé !"

$2.30

Pelléas et Mélisande, Act II Scene 1: No. 1, "Vous ne savez pas où je vous ai menée ?"

Composer(s)

Claude Debussy

Artist(s)

Pierre Dumoussaud

Orchestre National Bordeaux Aquitaine

Stanislas de Barbeyrac

Chiara Skerath

Pelléas et Mélisande, Act II Scene 1: No. 1, "Vous ne savez pas où je vous ai menée ?"

$2.30

Pelléas et Mélisande, Act II Scene 1: No. 2, "C'est au bord d'une fontaine"

Composer(s)

Claude Debussy

Artist(s)

Pierre Dumoussaud

Orchestre National Bordeaux Aquitaine

Stanislas de Barbeyrac

Chiara Skerath

Pelléas et Mélisande, Act II Scene 1: No. 2, "C'est au bord d'une fontaine"

$2.30

Pelléas et Mélisande, Act II Scene 1: No. 3, Interlude

Composer(s)

Claude Debussy

Artist(s)

Pierre Dumoussaud

Orchestre National Bordeaux Aquitaine

Pelléas et Mélisande, Act II Scene 1: No. 3, Interlude

$2.30

Pelléas et Mélisande, Act II Scene 2: No. 1, "Ah ! Ah ! Tu vas bien"

Composer(s)

Claude Debussy

Artist(s)

Pierre Dumoussaud

Alexandre Duhamel

Orchestre National Bordeaux Aquitaine

Chiara Skerath

Pelléas et Mélisande, Act II Scene 2: No. 1, "Ah ! Ah ! Tu vas bien"

$3.40

Pelléas et Mélisande, Act II Scene 2: No. 2, "Voyons, donne-moi ta main"

Composer(s)

Claude Debussy

Artist(s)

Pierre Dumoussaud

Alexandre Duhamel

Orchestre National Bordeaux Aquitaine

Chiara Skerath

Pelléas et Mélisande, Act II Scene 2: No. 2, "Voyons, donne-moi ta main"

$2.30

Pelléas et Mélisande, Act II Scene 2: No. 3, Interlude

Composer(s)

Claude Debussy

Artist(s)

Pierre Dumoussaud

Orchestre National Bordeaux Aquitaine

Pelléas et Mélisande, Act II Scene 2: No. 3, Interlude

$2.30

Pelléas et Mélisande, Act II Scene 3: No. 1, "Oui, c'est ici, nous y sommes"

Composer(s)

Claude Debussy

Artist(s)

Pierre Dumoussaud

Orchestre National Bordeaux Aquitaine

Stanislas de Barbeyrac

Chiara Skerath

Pelléas et Mélisande, Act II Scene 3: No. 1, "Oui, c'est ici, nous y sommes"

$2.30

Pelléas et Mélisande, Act III Scene 1: No. 1, "Mes longs cheveux descendent jusqu'au seuil de la tour"

Composer(s)

Claude Debussy

Artist(s)

Pierre Dumoussaud

Orchestre National Bordeaux Aquitaine

Stanislas de Barbeyrac

Chiara Skerath

Pelléas et Mélisande, Act III Scene 1: No. 1, "Mes longs cheveux descendent jusqu'au seuil de la tour"

$2.30

Pelléas et Mélisande, Act III Scene 1: No. 2, "Je les tiens dans les mains"

Composer(s)

Claude Debussy

Artist(s)

Pierre Dumoussaud

Orchestre National Bordeaux Aquitaine

Stanislas de Barbeyrac

Chiara Skerath

Pelléas et Mélisande, Act III Scene 1: No. 2, "Je les tiens dans les mains"

$2.30

Pelléas et Mélisande, Act III Scene 1: No. 3, "Que faites-vous ici ?"

Composer(s)

Claude Debussy

Artist(s)

Pierre Dumoussaud

Alexandre Duhamel

Orchestre National Bordeaux Aquitaine

Chiara Skerath

Pelléas et Mélisande, Act III Scene 1: No. 3, "Que faites-vous ici ?"

$2.30

Pelléas et Mélisande, Act III Scene 2: No. 1, "Prenez garde ; par ici, par ici"

Composer(s)

Claude Debussy

Artist(s)

Pierre Dumoussaud

Alexandre Duhamel

Orchestre National Bordeaux Aquitaine

Stanislas de Barbeyrac

Chiara Skerath

Pelléas et Mélisande, Act III Scene 2: No. 1, "Prenez garde ; par ici, par ici"

$2.30

Pelléas et Mélisande, Act III Scene 3: No. 1, Interlude / "Ah ! Je respire enfin !"

Composer(s)

Claude Debussy

Artist(s)

Pierre Dumoussaud

Alexandre Duhamel

Orchestre National Bordeaux Aquitaine

Stanislas de Barbeyrac

Pelléas et Mélisande, Act III Scene 3: No. 1, Interlude / "Ah ! Je respire enfin !"

$2.30

Pelléas et Mélisande, Act III Scene 3: No. 2, Interlude

Composer(s)

Claude Debussy

Artist(s)

Pierre Dumoussaud

Orchestre National Bordeaux Aquitaine

Pelléas et Mélisande, Act III Scene 3: No. 2, Interlude

$2.30

Pelléas et Mélisande, Act III Scene 4: No. 1, "Viens, nous allons nous asseoir ici"

Composer(s)

Claude Debussy

Artist(s)

Pierre Dumoussaud

Alexandre Duhamel

Orchestre National Bordeaux Aquitaine

Maëlig Querré

Pelléas et Mélisande, Act III Scene 4: No. 1, "Viens, nous allons nous asseoir ici"

$2.30

Pelléas et Mélisande, Act III Scene 4: No. 2, "Qu'ils s'embrassent, petit père ?"

Composer(s)

Claude Debussy

Artist(s)

Pierre Dumoussaud

Alexandre Duhamel

Orchestre National Bordeaux Aquitaine

Maëlig Querré

Pelléas et Mélisande, Act III Scene 4: No. 2, "Qu'ils s'embrassent, petit père ?"

$2.30

Pelléas et Mélisande, Act IV Scene 1: No. 1, "Où vas-tu ?"

Composer(s)

Claude Debussy

Artist(s)

Pierre Dumoussaud

Orchestre National Bordeaux Aquitaine

Stanislas de Barbeyrac

Chiara Skerath

Pelléas et Mélisande, Act IV Scene 1: No. 1, "Où vas-tu ?"

$2.30

Pelléas et Mélisande, Act IV Scene 2: No. 1, "Maintenant que le père de Pelléas est sauvé"

Composer(s)

Claude Debussy

Artist(s)

Pierre Dumoussaud

Jérôme Varnier

Orchestre National Bordeaux Aquitaine

Chiara Skerath

Pelléas et Mélisande, Act IV Scene 2: No. 1, "Maintenant que le père de Pelléas est sauvé"

$2.30

Pelléas et Mélisande, Act IV Scene 2: No. 2, "Pelléas part ce soir"

Composer(s)

Claude Debussy

Artist(s)

Pierre Dumoussaud

Alexandre Duhamel

Orchestre National Bordeaux Aquitaine

Jérôme Varnier

Chiara Skerath

Pelléas et Mélisande, Act IV Scene 2: No. 2, "Pelléas part ce soir"

$2.30

Pelléas et Mélisande, Act IV Scene 2: No. 3, "Ne mettez pas ainsi votre main à la gorge"

Composer(s)

Claude Debussy

Artist(s)

Pierre Dumoussaud

Alexandre Duhamel

Orchestre National Bordeaux Aquitaine

Jérôme Varnier

Chiara Skerath

Pelléas et Mélisande, Act IV Scene 2: No. 3, "Ne mettez pas ainsi votre main à la gorge"

$2.30

Pelléas et Mélisande, Act IV Scene 2: No. 4, Interlude

Composer(s)

Claude Debussy

Artist(s)

Pierre Dumoussaud

Orchestre National Bordeaux Aquitaine

Pelléas et Mélisande, Act IV Scene 2: No. 4, Interlude

$2.30

Pelléas et Mélisande, Act IV Scene 3: No. 1, "Oh ! Cette pierre est lourde"

Composer(s)

Claude Debussy

Artist(s)

Pierre Dumoussaud

Maëlig Querré

Orchestre National Bordeaux Aquitaine

Damien Pass

Pelléas et Mélisande, Act IV Scene 3: No. 1, "Oh ! Cette pierre est lourde"

$2.30

Pelléas et Mélisande, Act IV Scene 4: No. 1, "C'est le dernier soir"

Composer(s)

Claude Debussy

Artist(s)

Pierre Dumoussaud

Orchestre National Bordeaux Aquitaine

Stanislas de Barbeyrac

Chiara Skerath

Pelléas et Mélisande, Act IV Scene 4: No. 1, "C'est le dernier soir"

$2.30

Pelléas et Mélisande, Act IV Scene 4: No. 2, "Nous sommes venus ici il y a bien longtemps"

Composer(s)

Claude Debussy

Artist(s)

Pierre Dumoussaud

Orchestre National Bordeaux Aquitaine

Stanislas de Barbeyrac

Chiara Skerath

Pelléas et Mélisande, Act IV Scene 4: No. 2, "Nous sommes venus ici il y a bien longtemps"

$2.30

Pelléas et Mélisande, Act IV Scene 4: No. 3, "On dirait que ta voix a passé sur la mer au printemps"

Composer(s)

Claude Debussy

Artist(s)

Pierre Dumoussaud

Orchestre National Bordeaux Aquitaine

Stanislas de Barbeyrac

Chiara Skerath

Pelléas et Mélisande, Act IV Scene 4: No. 3, "On dirait que ta voix a passé sur la mer au printemps"

$2.30

Pelléas et Mélisande, Act IV Scene 4: No. 4, "Quel est ce bruit ?"

Composer(s)

Claude Debussy

Artist(s)

Pierre Dumoussaud

Orchestre National Bordeaux Aquitaine

Stanislas de Barbeyrac

Chiara Skerath

Pelléas et Mélisande, Act IV Scene 4: No. 4, "Quel est ce bruit ?"

$2.30

Pelléas et Mélisande, Act V Scene 1: No. 1, "Ce n'est pas de cette petite blessure qu'elle peut mourir"

Composer(s)

Claude Debussy

Artist(s)

Pierre Dumoussaud

Alexandre Duhamel

Orchestre National Bordeaux Aquitaine

Damien Pass

Jérôme Varnier

Pelléas et Mélisande, Act V Scene 1: No. 1, "Ce n'est pas de cette petite blessure qu'elle peut mourir"

$2.30

Pelléas et Mélisande, Act V Scene 1: No. 2, "Attention ; je crois qu'elle s'éveille"

Composer(s)

Claude Debussy

Artist(s)

Pierre Dumoussaud

Alexandre Duhamel

Orchestre National Bordeaux Aquitaine

Jérôme Varnier

Chiara Skerath

Pelléas et Mélisande, Act V Scene 1: No. 2, "Attention ; je crois qu'elle s'éveille"

$2.30

Pelléas et Mélisande, Act V Scene 1: No. 3, "Mélisande, as-tu pitié de moi comme j'ai pitié de toi ?"

Composer(s)

Claude Debussy

Artist(s)

Pierre Dumoussaud

Alexandre Duhamel

Orchestre National Bordeaux Aquitaine

Chiara Skerath

Pelléas et Mélisande, Act V Scene 1: No. 3, "Mélisande, as-tu pitié de moi comme j'ai pitié de toi ?"

$2.30

Pelléas et Mélisande, Act V Scene 1: No. 4, "Non, non, nous n'avons pas été coupables"

Composer(s)

Claude Debussy

Artist(s)

Pierre Dumoussaud

Alexandre Duhamel

Orchestre National Bordeaux Aquitaine

Chiara Skerath

Pelléas et Mélisande, Act V Scene 1: No. 4, "Non, non, nous n'avons pas été coupables"

$2.30

Pelléas et Mélisande, Act V Scene 1: No. 5, "Qu'avez-vous fait ?"

Composer(s)

Claude Debussy

Artist(s)

Pierre Dumoussaud

Alexandre Duhamel

Orchestre National Bordeaux Aquitaine

Jérôme Varnier

Chiara Skerath

Pelléas et Mélisande, Act V Scene 1: No. 5, "Qu'avez-vous fait ?"

$2.30

Pelléas et Mélisande, Act V Scene 1: No. 6, "Qu'y a-t-il ?"

Composer(s)

Claude Debussy

Artist(s)

Pierre Dumoussaud

Alexandre Duhamel

Orchestre National Bordeaux Aquitaine

Damien Pass

Jérôme Varnier

Pelléas et Mélisande, Act V Scene 1: No. 6, "Qu'y a-t-il ?"

$2.30

Pelléas et Mélisande, Act V Scene 1: No. 7, "Attention ... attention. Il faut parler à voix basse, maintenant"

Composer(s)

Claude Debussy

Artist(s)

Pierre Dumoussaud

Jérôme Varnier

Orchestre National Bordeaux Aquitaine

Damien Pass

Pelléas et Mélisande, Act V Scene 1: No. 7, "Attention ... attention. Il faut parler à voix basse, maintenant"

$2.30
Total running time: 148 minutes.



Album information

The highly anticipated revival of Debussy's Pelléas et Mélisande at the Opéra National de Bordeaux found a partner in Alpha who welcomed the invitation to record this masterpiece. This recording won the Opera Award at the 2021 Record Academy Awards in Japan.

The exceptional cast (Stanislas de Barbeyrac as Pelléas and Chiara Skerath as Mélisande) is led by Pierre Dumoussaud, a young conductor who is fast becoming synonymous with its success: 'His conducting calls for nothing but praise, striking a fine balance between analytical clarity and theatrical life, while at the same time bringing out the extraordinary modernity of this intoxicating music', wrote Christian Merlin in Le Figaro of one of his staged performances.

The 'disarming sincerity' of Pelléas (Stanislas de Barbeyrac), the 'constant emotion' of Mélisande (Chiara Skerath), the 'bitingly intense singing' of Golaud (Alexandre Duhamel) – these are some of the comments elicited by the 2018 performances in the staging of Philippe Béziat and Florent Siaud, the intended revival of which this year was prevented by the health emergency. The album cover features a photo from that memorable production.
Related Artists
Reviews