Filters
Debussy & Takemitsu for strings
Debussy & Takemitsu for strings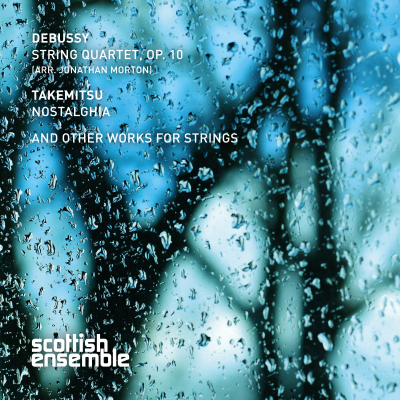 Inlay available for download
Booklet available for download
String Quartet in G Minor, Op. 10: I. Anime et tres decide (arr. Jonathan Morton)

Composer(s)

Claude Debussy

Artist(s)

Jonathan Morton

Scottish Ensemble

String Quartet in G Minor, Op. 10: I. Anime et tres decide (arr. Jonathan Morton)

$2.30

String Quartet in G Minor, Op. 10: II. Assez vif et bien rythme (arr. Jonathan Morton)

Composer(s)

Claude Debussy

Artist(s)

Jonathan Morton

Scottish Ensemble

String Quartet in G Minor, Op. 10: II. Assez vif et bien rythme (arr. Jonathan Morton)

$2.30

String Quartet in G Minor, Op. 10: III. Andantino, doucement expressif (arr. Jonathan Morton)

Composer(s)

Claude Debussy

Artist(s)

Jonathan Morton

Scottish Ensemble

String Quartet in G Minor, Op. 10: III. Andantino, doucement expressif (arr. Jonathan Morton)

$3.40

String Quartet in G Minor, Op. 10: IV. Tres modere (arr. Jonathan Morton)

Composer(s)

Claude Debussy

Artist(s)

Jonathan Morton

Scottish Ensemble

String Quartet in G Minor, Op. 10: IV. Tres modere (arr. Jonathan Morton)

$3.40

Three Film Scores, Black Rain: II. Funeral Music

Composer(s)

Toru Takemitsu

Artist(s)

Jonathan Morton

Scottish Ensemble

Three Film Scores, Black Rain: II. Funeral Music

$2.30

Preludes, Book 1, L. 117: VIII. The Girl with the Flaxen Hair (arr. Colin Matthews)

Composer(s)

Claude Debussy

Artist(s)

Jonathan Morton

Scottish Ensemble

Preludes, Book 1, L. 117: VIII. The Girl with the Flaxen Hair (arr. Colin Matthews)

$2.30

Three Film Scores, Jose Torres: I. Music of Training and Rest

Composer(s)

Toru Takemitsu

Artist(s)

Jonathan Morton

Scottish Ensemble

Three Film Scores, Jose Torres: I. Music of Training and Rest

$2.30

Children's Corner, L. 113: II. Jimbo's Lullaby (arr. James Manson)

Composer(s)

Claude Debussy

Artist(s)

Jonathan Morton

Scottish Ensemble

Children's Corner, L. 113: II. Jimbo's Lullaby (arr. James Manson)

$2.30

Nostalghia

Composer(s)

Toru Takemitsu

Artist(s)

Jonathan Morton

Scottish Ensemble

Nostalghia

$4.60
Total running time: 55 minutes.
Album information

Fusing French and Japanese influences, SE's new recording features works by Takemitsu and Debussy, two composers who share an instinctive feeling for instrumental colour and sensuous textures. SE combines the intimacy and unity of a string quartet with the force and power of an ensemble in this unique and beautiful recording.

SE's reputation for excellent string arrangements (established with important commissions from the late Rudolph Barshai) continues with Jonathan Morton's arrangement of Debussy's String Quartet. The variety of string techniques and the wide palette of instrumental colours Debussy employed are all enhanced by the larger string ensemble, particularly in the sumptuously beautiful slow movement.

In addition, the attractively lyrical Girl with the Flaxen Hair has been orchestrated for string ensemble and two harps by Colin Matthews.

Takemitsu's contribution to the string orchestra repertoire includes two contrasting film scores inspired by the French Impressionists. Finishing the album is Takemitsu's hauntingly melancholic Nostalghia, with a heartfelt solo violin melody by Jonathan Morton.
Related Artists
Reviews