Filters
Dussek: Complete Original Works for Piano Four-Hands
Dussek: Complete Original Works for Piano Four-Hands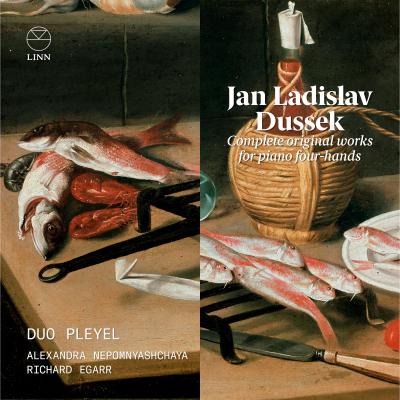 Inlay available for download
Booklet available for download
Grand Overture in C Major, Op. 32 C. 144: I. Largo; Molto allegro

Composer(s)

Jan Ladislav Dussek

Grand Overture in C Major, Op. 32 C. 144: I. Largo; Molto allegro

$3.40

Grand Overture in C Major, Op. 32 C. 144: II. Larghetto non tanto

Composer(s)

Jan Ladislav Dussek

Grand Overture in C Major, Op. 32 C. 144: II. Larghetto non tanto

$2.30

Grand Overture in C Major, Op. 32 C. 144: III. Rondo (Allegretto)

Composer(s)

Jan Ladislav Dussek

Grand Overture in C Major, Op. 32 C. 144: III. Rondo (Allegretto)

$2.30

Fuga in D Major, Op. 64 No. 1 C. 227

Composer(s)

Jan Ladislav Dussek

Fuga in D Major, Op. 64 No. 1 C. 227

$2.30

Sonata in C Major, Op. 67 No. 1 C. 230: I. Andantino con moto

Composer(s)

Jan Ladislav Dussek

Sonata in C Major, Op. 67 No. 1 C. 230: I. Andantino con moto

$2.30

Sonata in C Major, Op. 67 No. 1 C. 230: II. Rondo (Allegro)

Composer(s)

Jan Ladislav Dussek

Sonata in C Major, Op. 67 No. 1 C. 230: II. Rondo (Allegro)

$2.30

Fuga in G Minor, Op. 64 No. 2 C. 228

Composer(s)

Jan Ladislav Dussek

Fuga in G Minor, Op. 64 No. 2 C. 228

$2.30

Sonata in F Major, Op. 67 No. 2 C. 231: I. [Larghetto]

Composer(s)

Jan Ladislav Dussek

Sonata in F Major, Op. 67 No. 2 C. 231: I. [Larghetto]

$2.30

Sonata in F Major, Op. 67 No. 2 C. 231: II. Rondo (Allegro)

Composer(s)

Jan Ladislav Dussek

Sonata in F Major, Op. 67 No. 2 C. 231: II. Rondo (Allegro)

$2.30

Fuga in F Major, Op. 64 No. 3 C. 229

Composer(s)

Jan Ladislav Dussek

Fuga in F Major, Op. 64 No. 3 C. 229

$3.40

Sonata in B Flat Major, Op. 67 No. 3 C. 232: I. Allegro moderato

Composer(s)

Jan Ladislav Dussek

Sonata in B Flat Major, Op. 67 No. 3 C. 232: I. Allegro moderato

$2.30

Sonata in B Flat Major, Op. 67 No. 3 C. 232: II. Polonaise

Composer(s)

Jan Ladislav Dussek

Sonata in B Flat Major, Op. 67 No. 3 C. 232: II. Polonaise

$2.30

Duo à quatre mains in C Major "Grande Sonate", Op. 48 (C. 186): I. Allegro

Composer(s)

Jan Ladislav Dussek

Duo à quatre mains in C Major "Grande Sonate", Op. 48 (C. 186): I. Allegro

$2.30

Duo à quatre mains in C Major "Grande Sonate", Op. 48 (C. 186): II. Larghetto affettuoso e non troppo lento

Composer(s)

Jan Ladislav Dussek

Duo à quatre mains in C Major "Grande Sonate", Op. 48 (C. 186): II. Larghetto affettuoso e non troppo lento

$2.30

Duo à quatre mains in C Major "Grande Sonate", Op. 48 (C. 186): III. Intermezzo (Allegretto moderato ma energico) - Rondo (Allegretto moderato)

Composer(s)

Jan Ladislav Dussek

Duo à quatre mains in C Major "Grande Sonate", Op. 48 (C. 186): III. Intermezzo (Allegretto moderato ma energico) - Rondo (Allegretto moderato)

$2.30
Total running time: 79 minutes.
Album information

Duo Pleyel follows its widely recommended Schubert debut with music for piano four-hands by the unjustly neglected composer Jan Ladislav Dussek. Richard Egarr and Alexandra Nepomnyashchaya present the complete original works for piano four-hands.

Born into a Bohemian musical family, Jan Ladislav led a colourful life, both personally and as a virtuoso. He was a much sought-after teacher and helped push forward the development of the piano. Before his death in 1812 (perhaps helped by a fondness for strong drink and rich food) he enjoyed the company of the great and the good from all walks of life and travelled widely throughout Europe. His somewhat roguish character led to him having to flee for his safety on at least two occasions. Once from Russia, where he was accused of participating in a plot against the Empress, and again from London, where a joint publishing venture (with his father-in-law and a certain Lorenzo Da Ponte) went bankrupt. Despite these dubious personal flaws, Dussek was an acclaimed and hugely important composer and pianist during his lifetime.

Duo Pleyel offers you a delicious and hearty musical feast – it is time for Dussek to be back on the world's musical menu.
Related Artists
Reviews