Filters
Eugène Godecharle: Sei quartetti per harpa, violino, viola e basso, Op. IV
Eugène Godecharle: Sei quartetti per harpa, violino, viola e basso, Op. IV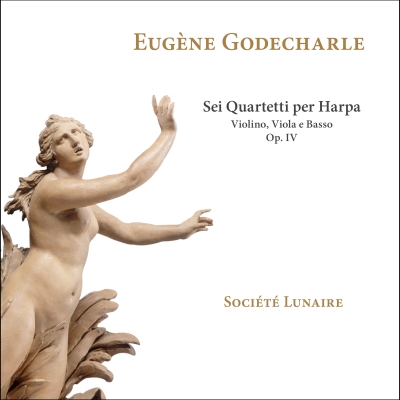 Inlay available for download
Booklet available for download
Quartetto I in A Major: I. Moderato

Composer(s)

Eugène Godecharle

Artist(s)

Société Lunaire

Quartetto I in A Major: I. Moderato

$2.30

Quartetto I in A Major: II. Rondo Allegretto

Composer(s)

Eugène Godecharle

Artist(s)

Société Lunaire

Quartetto I in A Major: II. Rondo Allegretto

$2.30

Quartetto I in A Major: III. Allegro

Composer(s)

Eugène Godecharle

Artist(s)

Société Lunaire

Quartetto I in A Major: III. Allegro

$2.30

Quartetto II in F Major: I. Allegro non troppo

Composer(s)

Eugène Godecharle

Artist(s)

Société Lunaire

Quartetto II in F Major: I. Allegro non troppo

$2.30

Quartetto II in F Major: II. Rondo Andantino

Composer(s)

Eugène Godecharle

Artist(s)

Société Lunaire

Quartetto II in F Major: II. Rondo Andantino

$2.30

Quartetto II in F Major: III. Allegro

Composer(s)

Eugène Godecharle

Artist(s)

Société Lunaire

Quartetto II in F Major: III. Allegro

$2.30

Quartetto III in B-Flat Major: I. Moderato

Composer(s)

Eugène Godecharle

Artist(s)

Société Lunaire

Quartetto III in B-Flat Major: I. Moderato

$2.30

Quartetto III in B-Flat Major: II. Rondo Cantabile

Composer(s)

Eugène Godecharle

Artist(s)

Société Lunaire

Quartetto III in B-Flat Major: II. Rondo Cantabile

$2.30

Quartetto III in B-Flat Major: III. Fugetta

Composer(s)

Eugène Godecharle

Artist(s)

Société Lunaire

Quartetto III in B-Flat Major: III. Fugetta

$2.30

Quartetto IV in C Major: I. Moderato

Composer(s)

Eugène Godecharle

Artist(s)

Société Lunaire

Quartetto IV in C Major: I. Moderato

$2.30

Quartetto IV in C Major: II. Rondo Andantino

Composer(s)

Eugène Godecharle

Artist(s)

Société Lunaire

Quartetto IV in C Major: II. Rondo Andantino

$2.30

Quartetto IV in C Major: III. Allegro assai

Composer(s)

Eugène Godecharle

Artist(s)

Société Lunaire

Quartetto IV in C Major: III. Allegro assai

$2.30

Quartetto V in G Major: I. Allegro

Composer(s)

Eugène Godecharle

Artist(s)

Société Lunaire

Quartetto V in G Major: I. Allegro

$2.30

Quartetto V in G Major: II. Menuetto

Composer(s)

Eugène Godecharle

Artist(s)

Société Lunaire

Quartetto V in G Major: II. Menuetto

$2.30

Quartetto V in G Major: III. Allegro

Composer(s)

Eugène Godecharle

Artist(s)

Société Lunaire

Quartetto V in G Major: III. Allegro

$2.30

Quartetto VI in E-Flat Major: I. Allegro

Composer(s)

Eugène Godecharle

Artist(s)

Société Lunaire

Quartetto VI in E-Flat Major: I. Allegro

$2.30

Quartetto VI in E-Flat Major: II. Menuetto

Composer(s)

Eugène Godecharle

Artist(s)

Société Lunaire

Quartetto VI in E-Flat Major: II. Menuetto

$2.30

Quartetto VI in E-Flat Major: III. Allemande

Composer(s)

Eugène Godecharle

Artist(s)

Société Lunaire

Quartetto VI in E-Flat Major: III. Allemande

$2.30
Total running time: 73 minutes.
Album information

Eugène Godecharle was director of music at the church of Saint-Géry in Brussels before his appointment as first violinist in the court orchestra.

He was not only an outstanding violinist and violist, but seems also to have mastered the pedal harp; he subsequently made brilliant use of the tonal and technical possibilities that the newly invented pedal mechanism had enabled. His Sei Quartetti Op. IV are notable for their musical and tonal diversity as well as for the particular textures that Godecharle employed in their composition. In these harp quartets, recorded here for the first time, Société Lunaire explores a particularly fascinating sound world; their energetic allegros as well as melancholy and galant movements enrich the chamber music repertoire of the second half of the 18th century in a most elegant and charming manner.
Related Artists