Filters
Felix Mendelssohn: Symphonies Nos. 3 & 5
Felix Mendelssohn: Symphonies Nos. 3 & 5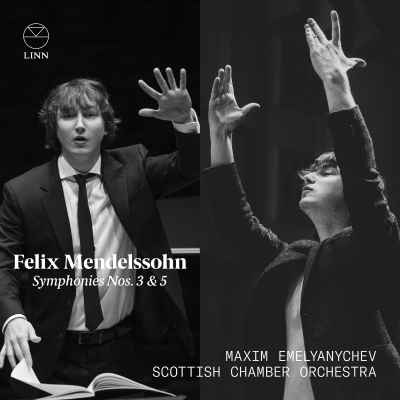 Inlay available for download
Booklet available for download
Symphony No. 3 in A Minor "Scottish", Op. 56: I. Andante con moto - Allegro un poco agitato

Composer(s)

Felix Mendelssohn

Artist(s)

Maxim Emelyanychev

Scottish Chamber Orchestra

Symphony No. 3 in A Minor "Scottish", Op. 56: I. Andante con moto - Allegro un poco agitato

$5.75

Symphony No. 3 in A Minor "Scottish", Op. 56: II. Vivace non troppo

Composer(s)

Felix Mendelssohn

Artist(s)

Maxim Emelyanychev

Scottish Chamber Orchestra

Symphony No. 3 in A Minor "Scottish", Op. 56: II. Vivace non troppo

$2.30

Symphony No. 3 in A Minor "Scottish", Op. 56: III. Adagio

Composer(s)

Felix Mendelssohn

Artist(s)

Maxim Emelyanychev

Scottish Chamber Orchestra

Symphony No. 3 in A Minor "Scottish", Op. 56: III. Adagio

$3.40

Symphony No. 3 in A Minor "Scottish", Op. 56: IV. Allegro vivacissimo - Allegro maestoso assai

Composer(s)

Felix Mendelssohn

Artist(s)

Maxim Emelyanychev

Scottish Chamber Orchestra

Symphony No. 3 in A Minor "Scottish", Op. 56: IV. Allegro vivacissimo - Allegro maestoso assai

$3.40

Symphony No. 5 "Reformation", Op. 107: I. Andante - Allegro con fuoco

Composer(s)

Felix Mendelssohn

Artist(s)

Maxim Emelyanychev

Scottish Chamber Orchestra

Symphony No. 5 "Reformation", Op. 107: I. Andante - Allegro con fuoco

$3.40

Symphony No. 5 "Reformation", Op. 107: II. Allegro vivace

Composer(s)

Felix Mendelssohn

Artist(s)

Maxim Emelyanychev

Scottish Chamber Orchestra

Symphony No. 5 "Reformation", Op. 107: II. Allegro vivace

$2.30

Symphony No. 5 "Reformation", Op. 107: III. Andante

Composer(s)

Felix Mendelssohn

Artist(s)

Maxim Emelyanychev

Scottish Chamber Orchestra

Symphony No. 5 "Reformation", Op. 107: III. Andante

$2.30

Symphony No. 5 "Reformation", Op. 107: IV. Andante con moto - Allegro vivace - Allegro maestoso

Composer(s)

Felix Mendelssohn

Artist(s)

Maxim Emelyanychev

Scottish Chamber Orchestra

Symphony No. 5 "Reformation", Op. 107: IV. Andante con moto - Allegro vivace - Allegro maestoso

$3.40
Total running time: 64 minutes.


Album information

Following their much-praised Schubert recording ('the most thrilling account of Schubert's last symphony', BBC Music Magazine), Maxim Emelyanychev and the Scottish Chamber Orchestra are reunited for their highly anticipated second album on Linn, this time performing Mendelssohn's Symphonies Nos. 3 & 5. 

Inspired by the natural beauty of Scotland – and what better way to celebrate SCO's 50th anniversary in 2023 than the 'Scottish' Symphony! – No. 3 has a fiery character well suited for the 'dynamic, energetic and exciting to watch' conductor Maxim (The Guardian). Despite its numbering, No. 5 (known as the 'Reformation') is an early work which evokes the struggles and triumph of Protestantism. Its final chorale based on Luther's much celebrated 'Ein feste Burg' draws the album to a reaffirming end.
Related Artists
Reviews