Filters
Gesualdo: Dolcissima mia vita. Madrigali a cinque voci, Libro quinto (1611)
Gesualdo: Dolcissima mia vita. Madrigali a cinque voci, Libro quinto (1611)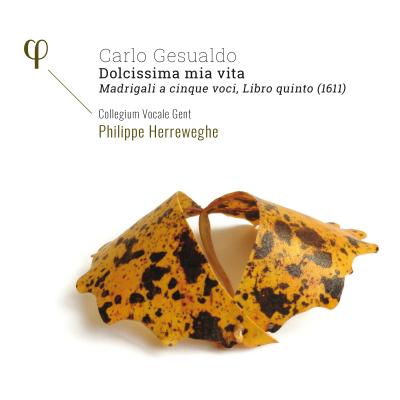 Inlay available for download
Booklet available for download
Madrigali a cinque voci, Libro quinto: No. 1, Gioite voi col canto

Composer(s)

Carlo Gesualdo

Artist(s)

Philippe Herreweghe

Collegium Vocale Gent

Madrigali a cinque voci, Libro quinto: No. 1, Gioite voi col canto

$2.30

Madrigali a cinque voci, Libro quinto: No. 2, S'io non miro, non moro

Composer(s)

Carlo Gesualdo

Artist(s)

Philippe Herreweghe

Collegium Vocale Gent

Madrigali a cinque voci, Libro quinto: No. 2, S'io non miro, non moro

$2.30

Madrigali a cinque voci, Libro quinto: No. 3, Itene, o miei sospiri

Composer(s)

Carlo Gesualdo

Artist(s)

Philippe Herreweghe

Collegium Vocale Gent

Madrigali a cinque voci, Libro quinto: No. 3, Itene, o miei sospiri

$2.30

Madrigali a cinque voci, Libro quinto: No. 4, Dolcissima mia vita

Composer(s)

Carlo Gesualdo

Artist(s)

Philippe Herreweghe

Collegium Vocale Gent

Madrigali a cinque voci, Libro quinto: No. 4, Dolcissima mia vita

$2.30

Madrigali a cinque voci, Libro quinto: No. 5, O dolorosa gioia

Composer(s)

Carlo Gesualdo

Artist(s)

Philippe Herreweghe

Collegium Vocale Gent

Madrigali a cinque voci, Libro quinto: No. 5, O dolorosa gioia

$2.30

Madrigali a cinque voci, Libro quinto: No. 6, Qual fora, donna

Composer(s)

Carlo Gesualdo

Artist(s)

Philippe Herreweghe

Collegium Vocale Gent

Madrigali a cinque voci, Libro quinto: No. 6, Qual fora, donna

$2.30

Madrigali a cinque voci, Libro quinto: No. 7, Felicissimo sonno

Composer(s)

Carlo Gesualdo

Artist(s)

Philippe Herreweghe

Collegium Vocale Gent

Madrigali a cinque voci, Libro quinto: No. 7, Felicissimo sonno

$2.30

Madrigali a cinque voci, Libro quinto: No. 8, Se vi duol il mio duolo

Composer(s)

Carlo Gesualdo

Artist(s)

Philippe Herreweghe

Collegium Vocale Gent

Madrigali a cinque voci, Libro quinto: No. 8, Se vi duol il mio duolo

$2.30

Madrigali a cinque voci, Libro quinto: No. 9, Occhi del mio cor vita

Composer(s)

Carlo Gesualdo

Artist(s)

Philippe Herreweghe

Collegium Vocale Gent

Madrigali a cinque voci, Libro quinto: No. 9, Occhi del mio cor vita

$2.30

Madrigali a cinque voci, Libro quinto: No. 10, Languisce al fin

Composer(s)

Carlo Gesualdo

Artist(s)

Philippe Herreweghe

Collegium Vocale Gent

Madrigali a cinque voci, Libro quinto: No. 10, Languisce al fin

$2.30

Madrigali a cinque voci, Libro quinto: No. 11, Mercé grido piangendo

Composer(s)

Carlo Gesualdo

Artist(s)

Philippe Herreweghe

Collegium Vocale Gent

Madrigali a cinque voci, Libro quinto: No. 11, Mercé grido piangendo

$2.30

Madrigali a cinque voci, Libro quinto: No. 12, O voi troppo felici_

Composer(s)

Carlo Gesualdo

Artist(s)

Philippe Herreweghe

Collegium Vocale Gent

Madrigali a cinque voci, Libro quinto: No. 12, O voi troppo felici_

$2.30

Madrigali a cinque voci, Libro quinto: No. 13, Correte, amanti, a prova

Composer(s)

Carlo Gesualdo

Artist(s)

Philippe Herreweghe

Collegium Vocale Gent

Madrigali a cinque voci, Libro quinto: No. 13, Correte, amanti, a prova

$2.30

Madrigali a cinque voci, Libro quinto: No. 14, Asciugate i begl'occhi

Composer(s)

Carlo Gesualdo

Artist(s)

Philippe Herreweghe

Collegium Vocale Gent

Madrigali a cinque voci, Libro quinto: No. 14, Asciugate i begl'occhi

$2.30

Madrigali a cinque voci, Libro quinto: No. 15, Tu m'uccidi, o crudele

Composer(s)

Carlo Gesualdo

Artist(s)

Philippe Herreweghe

Collegium Vocale Gent

Madrigali a cinque voci, Libro quinto: No. 15, Tu m'uccidi, o crudele

$2.30

Madrigali a cinque voci, Libro quinto: No. 16, Deh coprite il bel seno

Composer(s)

Carlo Gesualdo

Artist(s)

Philippe Herreweghe

Collegium Vocale Gent

Madrigali a cinque voci, Libro quinto: No. 16, Deh coprite il bel seno

$2.30

Madrigali a cinque voci, Libro quinto: No. 17, Poi che l'avida – Prima parte

Composer(s)

Carlo Gesualdo

Artist(s)

Philippe Herreweghe

Collegium Vocale Gent

Madrigali a cinque voci, Libro quinto: No. 17, Poi che l'avida – Prima parte

$2.30

Madrigali a cinque voci, Libro quinto: No. 18, Ma tu, cagion – Seconda parte

Composer(s)

Carlo Gesualdo

Artist(s)

Philippe Herreweghe

Collegium Vocale Gent

Madrigali a cinque voci, Libro quinto: No. 18, Ma tu, cagion – Seconda parte

$2.30

Madrigali a cinque voci, Libro quinto: No. 19, O tenebroso giorno

Composer(s)

Carlo Gesualdo

Artist(s)

Philippe Herreweghe

Collegium Vocale Gent

Madrigali a cinque voci, Libro quinto: No. 19, O tenebroso giorno

$2.30

Madrigali a cinque voci, Libro quinto: No. 20, Se tu fuggi, io non resto

Composer(s)

Carlo Gesualdo

Artist(s)

Philippe Herreweghe

Collegium Vocale Gent

Madrigali a cinque voci, Libro quinto: No. 20, Se tu fuggi, io non resto

$2.30

Madrigali a cinque voci, Libro quinto: No. 21, 'T'amo, mia vita!'

Composer(s)

Carlo Gesualdo

Artist(s)

Philippe Herreweghe

Collegium Vocale Gent

Madrigali a cinque voci, Libro quinto: No. 21, 'T'amo, mia vita!'

$2.30
Total running time: 54 minutes.


Album information

Philippe Herreweghe's beautiful Gesualdo recording with Collegium Vocale Gent won the Music History Award at the 2021 Record Academy Awards in Japan and is nominated for a 2022 ICMA.

Philippe Herreweghe records his third disc devoted to a controversial figure in the world of music and art in general: Carlo Gesualdo. This time Collegium Vocale Gent performs his fifth book of madrigals (1611), published two years before his death. 

Gesualdo's madrigals contain astonishing music which excites and intrigues the listener through its extraordinary expressive effects, sophisticated contrapuntal devices and strikingly dissonant passages.
Related Artists
Reviews