Filters
Goldberg Variations (Arr. for Small Orchestra by Józef Koffler)
Goldberg Variations (Arr. for Small Orchestra by Józef Koffler)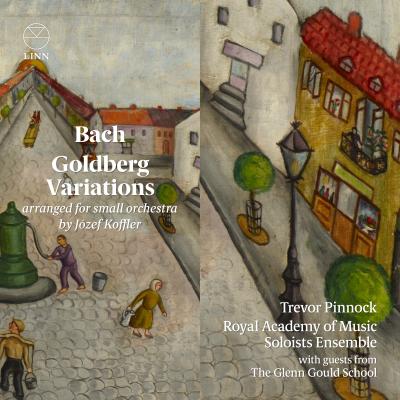 Inlay available for download
Booklet available for download
Goldberg Variations, BWV 988: I. Aria

Composer(s)

Johann Sebastian Bach

Artist(s)

Trevor Pinnock

Royal Academy of Music Soloists Ensemble

The Glenn Gould School

Goldberg Variations, BWV 988: I. Aria

$2.30

Goldberg Variations, BWV 988: II. Variation 1

Composer(s)

Johann Sebastian Bach

Artist(s)

Trevor Pinnock

Royal Academy of Music Soloists Ensemble

The Glenn Gould School

Goldberg Variations, BWV 988: II. Variation 1

$2.30

Goldberg Variations, BWV 988: III. Variation 2

Composer(s)

Johann Sebastian Bach

Artist(s)

Trevor Pinnock

Royal Academy of Music Soloists Ensemble

The Glenn Gould School

Goldberg Variations, BWV 988: III. Variation 2

$2.30

Goldberg Variations, BWV 988: IV. Variation 3 – Canone all'unisono

Composer(s)

Johann Sebastian Bach

Artist(s)

Trevor Pinnock

Royal Academy of Music Soloists Ensemble

The Glenn Gould School

Goldberg Variations, BWV 988: IV. Variation 3 – Canone all'unisono

$2.30

Goldberg Variations, BWV 988: V. Variation 4

Composer(s)

Johann Sebastian Bach

Artist(s)

Trevor Pinnock

Royal Academy of Music Soloists Ensemble

The Glenn Gould School

Goldberg Variations, BWV 988: V. Variation 4

$2.30

Goldberg Variations, BWV 988: VI. Variation 5

Composer(s)

Johann Sebastian Bach

Artist(s)

Trevor Pinnock

Royal Academy of Music Soloists Ensemble

The Glenn Gould School

Goldberg Variations, BWV 988: VI. Variation 5

$2.30

Goldberg Variations, BWV 988: VII. Variation 6

Composer(s)

Johann Sebastian Bach

Artist(s)

Trevor Pinnock

Royal Academy of Music Soloists Ensemble

The Glenn Gould School

Goldberg Variations, BWV 988: VII. Variation 6

$2.30

Goldberg Variations, BWV 988: VIII. Variation 7 – Canone alla seconda

Composer(s)

Johann Sebastian Bach

Artist(s)

Trevor Pinnock

Royal Academy of Music Soloists Ensemble

The Glenn Gould School

Goldberg Variations, BWV 988: VIII. Variation 7 – Canone alla seconda

$2.30

Goldberg Variations, BWV 988: IX. Variation 8

Composer(s)

Johann Sebastian Bach

Artist(s)

Trevor Pinnock

Royal Academy of Music Soloists Ensemble

The Glenn Gould School

Goldberg Variations, BWV 988: IX. Variation 8

$2.30

Goldberg Variations, BWV 988: X. Variation 9 – Canone alla terza

Composer(s)

Johann Sebastian Bach

Artist(s)

Trevor Pinnock

Royal Academy of Music Soloists Ensemble

The Glenn Gould School

Goldberg Variations, BWV 988: X. Variation 9 – Canone alla terza

$2.30

Goldberg Variations, BWV 988: XI. Variation 10 – Fughetta

Composer(s)

Johann Sebastian Bach

Artist(s)

Trevor Pinnock

Royal Academy of Music Soloists Ensemble

The Glenn Gould School

Goldberg Variations, BWV 988: XI. Variation 10 – Fughetta

$2.30

Goldberg Variations, BWV 988: XII. Variation 11

Composer(s)

Johann Sebastian Bach

Artist(s)

Trevor Pinnock

Royal Academy of Music Soloists Ensemble

The Glenn Gould School

Goldberg Variations, BWV 988: XII. Variation 11

$2.30

Goldberg Variations, BWV 988: XIII. Variation 12 – Canone alla quarta

Composer(s)

Johann Sebastian Bach

Artist(s)

Trevor Pinnock

Royal Academy of Music Soloists Ensemble

The Glenn Gould School

Goldberg Variations, BWV 988: XIII. Variation 12 – Canone alla quarta

$2.30

Goldberg Variations, BWV 988: XIV. Variation 13

Composer(s)

Johann Sebastian Bach

Artist(s)

Trevor Pinnock

Royal Academy of Music Soloists Ensemble

The Glenn Gould School

Goldberg Variations, BWV 988: XIV. Variation 13

$2.30

Goldberg Variations, BWV 988: XV. Variation 14

Composer(s)

Johann Sebastian Bach

Artist(s)

Trevor Pinnock

Royal Academy of Music Soloists Ensemble

The Glenn Gould School

Goldberg Variations, BWV 988: XV. Variation 14

$2.30

Goldberg Variations, BWV 988: XVI. Variation 15 – Canone alla quinta

Composer(s)

Johann Sebastian Bach

Artist(s)

Trevor Pinnock

Royal Academy of Music Soloists Ensemble

The Glenn Gould School

Goldberg Variations, BWV 988: XVI. Variation 15 – Canone alla quinta

$2.30

Goldberg Variations, BWV 988: XVII. Variation 16 – Ouverture

Composer(s)

Johann Sebastian Bach

Artist(s)

Trevor Pinnock

Royal Academy of Music Soloists Ensemble

The Glenn Gould School

Goldberg Variations, BWV 988: XVII. Variation 16 – Ouverture

$2.30

Goldberg Variations, BWV 988: XVIII. Variation 17

Composer(s)

Johann Sebastian Bach

Artist(s)

Trevor Pinnock

Royal Academy of Music Soloists Ensemble

The Glenn Gould School

Goldberg Variations, BWV 988: XVIII. Variation 17

$2.30

Goldberg Variations, BWV 988: XIX. Variation 18 – Canone alla sesta

Composer(s)

Johann Sebastian Bach

Artist(s)

Trevor Pinnock

Royal Academy of Music Soloists Ensemble

The Glenn Gould School

Goldberg Variations, BWV 988: XIX. Variation 18 – Canone alla sesta

$2.30

Goldberg Variations, BWV 988: XX. Variation 19

Composer(s)

Johann Sebastian Bach

Artist(s)

Trevor Pinnock

Royal Academy of Music Soloists Ensemble

The Glenn Gould School

Goldberg Variations, BWV 988: XX. Variation 19

$2.30

Goldberg Variations, BWV 988: XXI. Variation 20

Composer(s)

Johann Sebastian Bach

Artist(s)

Trevor Pinnock

Royal Academy of Music Soloists Ensemble

The Glenn Gould School

Goldberg Variations, BWV 988: XXI. Variation 20

$2.30

Goldberg Variations, BWV 988: XXII. Variation 21 – Canone alla settima

Composer(s)

Johann Sebastian Bach

Artist(s)

Trevor Pinnock

Royal Academy of Music Soloists Ensemble

The Glenn Gould School

Goldberg Variations, BWV 988: XXII. Variation 21 – Canone alla settima

$2.30

Goldberg Variations, BWV 988: XXIII. Variation 22

Composer(s)

Johann Sebastian Bach

Artist(s)

Trevor Pinnock

Royal Academy of Music Soloists Ensemble

The Glenn Gould School

Goldberg Variations, BWV 988: XXIII. Variation 22

$2.30

Goldberg Variations, BWV 988: XXIV. Variation 23

Composer(s)

Johann Sebastian Bach

Artist(s)

Trevor Pinnock

Royal Academy of Music Soloists Ensemble

The Glenn Gould School

Goldberg Variations, BWV 988: XXIV. Variation 23

$2.30

Goldberg Variations, BWV 988: XXV. Variation 24 – Canone all'ottava

Composer(s)

Johann Sebastian Bach

Artist(s)

Trevor Pinnock

Royal Academy of Music Soloists Ensemble

The Glenn Gould School

Goldberg Variations, BWV 988: XXV. Variation 24 – Canone all'ottava

$2.30

Goldberg Variations, BWV 988: XXVI. Variation 25

Composer(s)

Johann Sebastian Bach

Artist(s)

Trevor Pinnock

Royal Academy of Music Soloists Ensemble

The Glenn Gould School

Goldberg Variations, BWV 988: XXVI. Variation 25

$2.30

Goldberg Variations, BWV 988: XXVII. Variation 26

Composer(s)

Johann Sebastian Bach

Artist(s)

Trevor Pinnock

Royal Academy of Music Soloists Ensemble

The Glenn Gould School

Goldberg Variations, BWV 988: XXVII. Variation 26

$2.30

Goldberg Variations, BWV 988: XXVIII. Variation 27 – Canone alla nona

Composer(s)

Johann Sebastian Bach

Artist(s)

Trevor Pinnock

Royal Academy of Music Soloists Ensemble

The Glenn Gould School

Goldberg Variations, BWV 988: XXVIII. Variation 27 – Canone alla nona

$2.30

Goldberg Variations, BWV 988: XXIX. Variation 28

Composer(s)

Johann Sebastian Bach

Artist(s)

Trevor Pinnock

Royal Academy of Music Soloists Ensemble

The Glenn Gould School

Goldberg Variations, BWV 988: XXIX. Variation 28

$2.30

Goldberg Variations, BWV 988: XXX. Variation 29

Composer(s)

Johann Sebastian Bach

Artist(s)

Trevor Pinnock

Royal Academy of Music Soloists Ensemble

The Glenn Gould School

Goldberg Variations, BWV 988: XXX. Variation 29

$2.30

Goldberg Variations, BWV 988: XXXI. Variation 30 – Quodlibet

Composer(s)

Johann Sebastian Bach

Artist(s)

Trevor Pinnock

Royal Academy of Music Soloists Ensemble

The Glenn Gould School

Goldberg Variations, BWV 988: XXXI. Variation 30 – Quodlibet

$2.30

Goldberg Variations, BWV 988: XXXII. Aria (Reprise)

Composer(s)

Johann Sebastian Bach

Artist(s)

Trevor Pinnock

Royal Academy of Music Soloists Ensemble

The Glenn Gould School

Goldberg Variations, BWV 988: XXXII. Aria (Reprise)

$2.30
Total running time: 79 minutes.
Album information

This new recording of Józef Koffler's arrangement of J. S. Bach's Goldberg Variations has been widely anticipated since Trevor Pinnock conducted the UK premiere at Wigmore Hall in 2019. 

The Goldberg Variations were still largely unfamiliar to the musical public when Józef Koffler completed his extraordinary arrangement – for flute, oboe, cor anglais, bassoon and strings – in 1938. Sixty years on, the Goldberg Variations are ubiquitous. Bach's encyclopaedic marvel of digital gymnastics and musical invention is regularly performed and recorded. Koffler's arrangement cleverly reimagines the work in a naturalistic and compelling way.

In its second transatlantic musical collaboration, the Royal Academy of Music is joined by students from The Glenn Gould School of The Royal Conservatory in Toronto. The partnership with the Academy has produced five recordings with Trevor Pinnock, one with the late Oliver Knussen and one with Reinhold Friedrich in collaboration with The Juilliard School.
Related Artists
Reviews