Filters
Handel: Samson (Small Chorus Version)
Handel: Samson (Small Chorus Version)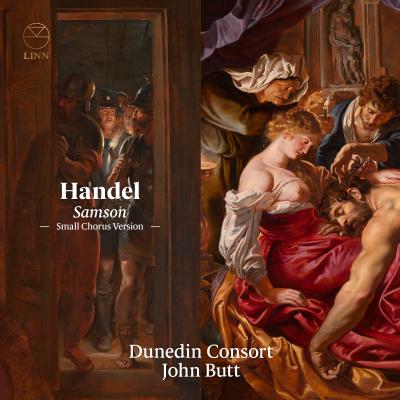 Booklet available for download
Samson, HWV 57: I. Symphony: Andante

Composer(s)

George Frideric Handel

Artist(s)

John Butt

Dunedin Consort

Samson, HWV 57: I. Symphony: Andante

$2.30

Samson, HWV 57: II. Symphony: Allegro

Composer(s)

George Frideric Handel

Artist(s)

John Butt

Dunedin Consort

Samson, HWV 57: II. Symphony: Allegro

$2.30

Samson, HWV 57: III. Symphony: Menuet

Composer(s)

George Frideric Handel

Artist(s)

John Butt

Dunedin Consort

Samson, HWV 57: III. Symphony: Menuet

$2.30

Samson, HWV 57: IV. Act 1 Scene 1: This Day, a Solemn Feast (Recitative)

Composer(s)

George Frideric Handel

Newburgh Hamilton

Artist(s)

John Butt

Joshua Ellicott

Dunedin Consort

Samson, HWV 57: IV. Act 1 Scene 1: This Day, a Solemn Feast (Recitative)

$2.30

Samson, HWV 57: V. Act 1 Scene 1: Awake the Trumpet's Lofty Sound! (Chorus)

Composer(s)

George Frideric Handel

Newburgh Hamilton

Artist(s)

John Butt

Dunedin Consort

Samson, HWV 57: V. Act 1 Scene 1: Awake the Trumpet's Lofty Sound! (Chorus)

$2.30

Samson, HWV 57: VI. Act 1 Scene 1: Ye Men of Gaza (Air)

Composer(s)

George Frideric Handel

Newburgh Hamilton

Artist(s)

John Butt

Mary Bevan

Dunedin Consort

Samson, HWV 57: VI. Act 1 Scene 1: Ye Men of Gaza (Air)

$2.30

Samson, HWV 57: VII. Act 1 Scene 1: Awake the Trumpet's Lofty Sound! (Chorus)

Composer(s)

George Frideric Handel

Newburgh Hamilton

Artist(s)

John Butt

Dunedin Consort

Samson, HWV 57: VII. Act 1 Scene 1: Awake the Trumpet's Lofty Sound! (Chorus)

$2.30

Samson, HWV 57: VIII. Act 1 Scene 1: Loud As the Thunder's Awful Voice (Air)

Composer(s)

George Frideric Handel

Newburgh Hamilton

Artist(s)

John Butt

Hugo Hymas

Dunedin Consort

Samson, HWV 57: VIII. Act 1 Scene 1: Loud As the Thunder's Awful Voice (Air)

$2.30

Samson, HWV 57: IX. Act 1 Scene 1: Then Free from Sorrow (Air)

Composer(s)

George Frideric Handel

Newburgh Hamilton

Artist(s)

John Butt

Fflur Wyn

Dunedin Consort

Samson, HWV 57: IX. Act 1 Scene 1: Then Free from Sorrow (Air)

$2.30

Samson, HWV 57: X. Act 1 Scene 1: Awake the Trumpet's Lofty Sound! (Chorus)

Composer(s)

George Frideric Handel

Newburgh Hamilton

Artist(s)

John Butt

Dunedin Consort

Samson, HWV 57: X. Act 1 Scene 1: Awake the Trumpet's Lofty Sound! (Chorus)

$2.30

Samson, HWV 57: XI. Act 1 Scene 1: Why by an Angel (Recitative)

Composer(s)

George Frideric Handel

Newburgh Hamilton

Artist(s)

John Butt

Joshua Ellicott

Dunedin Consort

Samson, HWV 57: XI. Act 1 Scene 1: Why by an Angel (Recitative)

$2.30

Samson, HWV 57: XII. Act 1 Scene 1: Torments, Alas, Are Not Confin'd (Air)

Composer(s)

George Frideric Handel

Newburgh Hamilton

Artist(s)

John Butt

Joshua Ellicott

Dunedin Consort

Samson, HWV 57: XII. Act 1 Scene 1: Torments, Alas, Are Not Confin'd (Air)

$2.30

Samson, HWV 57: XIII. Act 1 Scene 2: Oh, Change Beyond Report (Recitative)

Composer(s)

George Frideric Handel

Newburgh Hamilton

Artist(s)

John Butt

Jess Dandy

Dunedin Consort

Samson, HWV 57: XIII. Act 1 Scene 2: Oh, Change Beyond Report (Recitative)

$2.30

Samson, HWV 57: XIV. Act 1 Scene 2: O Mirror of Our Fickle State! (Air)

Composer(s)

George Frideric Handel

Newburgh Hamilton

Artist(s)

John Butt

Jess Dandy

Dunedin Consort

Samson, HWV 57: XIV. Act 1 Scene 2: O Mirror of Our Fickle State! (Air)

$2.30

Samson, HWV 57: XV. Act 1 Scene 2: Whom Have I to Complain of but Myself (Recitative)

Composer(s)

George Frideric Handel

Newburgh Hamilton

Artist(s)

John Butt

Joshua Ellicott

Dunedin Consort

Jess Dandy

Samson, HWV 57: XV. Act 1 Scene 2: Whom Have I to Complain of but Myself (Recitative)

$2.30

Samson, HWV 57: XVI. Act 1 Scene 2: Total Eclipse! (Air)

Composer(s)

George Frideric Handel

Newburgh Hamilton

Artist(s)

John Butt

Joshua Ellicott

Dunedin Consort

Samson, HWV 57: XVI. Act 1 Scene 2: Total Eclipse! (Air)

$2.30

Samson, HWV 57: XVII. Act 1 Scene 2: Since Light so Necessary Is to Life (Accompagnato)

Composer(s)

George Frideric Handel

Newburgh Hamilton

Artist(s)

John Butt

Jess Dandy

Dunedin Consort

Samson, HWV 57: XVII. Act 1 Scene 2: Since Light so Necessary Is to Life (Accompagnato)

$2.30

Samson, HWV 57: XVIII. Act 1 Scene 2: O First Created Beam (Chorus)

Composer(s)

George Frideric Handel

Newburgh Hamilton

Artist(s)

John Butt

Dunedin Consort

Samson, HWV 57: XVIII. Act 1 Scene 2: O First Created Beam (Chorus)

$2.30

Samson, HWV 57: XIX. Act 1 Scene 2: Ye See, My Friends (Recitative)

Composer(s)

George Frideric Handel

Newburgh Hamilton

Artist(s)

John Butt

Joshua Ellicott

Dunedin Consort

Jess Dandy

Samson, HWV 57: XIX. Act 1 Scene 2: Ye See, My Friends (Recitative)

$2.30

Samson, HWV 57: XX. Act 1 Scene 3: Brethren and Men of Dan (Recitative)

Composer(s)

George Frideric Handel

Newburgh Hamilton

Artist(s)

John Butt

Matthew Brook

Dunedin Consort

Jess Dandy

Samson, HWV 57: XX. Act 1 Scene 3: Brethren and Men of Dan (Recitative)

$2.30

Samson, HWV 57: XXI. Act 1 Scene 3: Oh, Miserable Change! (Accompagnato)

Composer(s)

George Frideric Handel

Newburgh Hamilton

Artist(s)

John Butt

Matthew Brook

Dunedin Consort

Samson, HWV 57: XXI. Act 1 Scene 3: Oh, Miserable Change! (Accompagnato)

$2.30

Samson, HWV 57: XXII. Act 1 Scene 3: Oh, Ever Failing Trust (Recitative)

Composer(s)

George Frideric Handel

Newburgh Hamilton

Artist(s)

John Butt

Hugo Hymas

Dunedin Consort

Samson, HWV 57: XXII. Act 1 Scene 3: Oh, Ever Failing Trust (Recitative)

$2.30

Samson, HWV 57: XXIII. Act 1 Scene 3: God of Our Fathers (Air)

Composer(s)

George Frideric Handel

Newburgh Hamilton

Artist(s)

John Butt

Hugo Hymas

Dunedin Consort

Samson, HWV 57: XXIII. Act 1 Scene 3: God of Our Fathers (Air)

$2.30

Samson, HWV 57: XXIV. Act 1 Scene 3: The Good We Wish for (Accompagnato)

Composer(s)

George Frideric Handel

Newburgh Hamilton

Artist(s)

John Butt

Matthew Brook

Dunedin Consort

Samson, HWV 57: XXIV. Act 1 Scene 3: The Good We Wish for (Accompagnato)

$2.30

Samson, HWV 57: XXV. Act 1 Scene 3: Thy Glorious Deeds Inspir'd My Tongue (Air)

Composer(s)

George Frideric Handel

Newburgh Hamilton

Artist(s)

John Butt

Matthew Brook

Dunedin Consort

Samson, HWV 57: XXV. Act 1 Scene 3: Thy Glorious Deeds Inspir'd My Tongue (Air)

$2.30

Samson, HWV 57: XXVI. Act 1 Scene 3: Justly These Evils (Recitative)

Composer(s)

George Frideric Handel

Newburgh Hamilton

Artist(s)

John Butt

Joshua Ellicott

Dunedin Consort

Matthew Brook

Samson, HWV 57: XXVI. Act 1 Scene 3: Justly These Evils (Recitative)

$2.30

Samson, HWV 57: XXVII. Act 1 Scene 3: My Griefs for This (Accompagnato)

Composer(s)

George Frideric Handel

Newburgh Hamilton

Artist(s)

John Butt

Joshua Ellicott

Dunedin Consort

Samson, HWV 57: XXVII. Act 1 Scene 3: My Griefs for This (Accompagnato)

$2.30

Samson, HWV 57: XXVIII. Act 1 Scene 3: Why Does the God of Israel Sleep? (Air)

Composer(s)

George Frideric Handel

Newburgh Hamilton

Artist(s)

John Butt

Joshua Ellicott

Dunedin Consort

Samson, HWV 57: XXVIII. Act 1 Scene 3: Why Does the God of Israel Sleep? (Air)

$2.30

Samson, HWV 57: XXIX. Act 1 Scene 3: There Lies Our Hope! (Recitative)

Composer(s)

George Frideric Handel

Newburgh Hamilton

Artist(s)

John Butt

Jess Dandy

Dunedin Consort

Samson, HWV 57: XXIX. Act 1 Scene 3: There Lies Our Hope! (Recitative)

$2.30

Samson, HWV 57: XXX. Act 1 Scene 3: Then Shall They Know (Chorus)

Composer(s)

George Frideric Handel

Newburgh Hamilton

Artist(s)

John Butt

Dunedin Consort

Samson, HWV 57: XXX. Act 1 Scene 3: Then Shall They Know (Chorus)

$2.30

Samson, HWV 57: XXXI. Act 1 Scene 3: For Thee, My Dearest Son (Recitative)

Composer(s)

George Frideric Handel

Newburgh Hamilton

Artist(s)

John Butt

Matthew Brook

Dunedin Consort

Joshua Ellicott

Samson, HWV 57: XXXI. Act 1 Scene 3: For Thee, My Dearest Son (Recitative)

$2.30

Samson, HWV 57: XXXII. Act 1 Scene 3: My Genial Spirits Droop (Accompagnato)

Composer(s)

George Frideric Handel

Newburgh Hamilton

Artist(s)

John Butt

Joshua Ellicott

Dunedin Consort

Samson, HWV 57: XXXII. Act 1 Scene 3: My Genial Spirits Droop (Accompagnato)

$2.30

Samson, HWV 57: XXXIII. Act 1 Scene 3: Then Long Eternity Shall Greet Your Bliss (Arioso)

Composer(s)

George Frideric Handel

Newburgh Hamilton

Artist(s)

John Butt

Jess Dandy

Dunedin Consort

Samson, HWV 57: XXXIII. Act 1 Scene 3: Then Long Eternity Shall Greet Your Bliss (Arioso)

$2.30

Samson, HWV 57: XXXIV. Act 1 Scene 3: Joys That Are Pure (Air)

Composer(s)

George Frideric Handel

Newburgh Hamilton

Artist(s)

John Butt

Jess Dandy

Dunedin Consort

Samson, HWV 57: XXXIV. Act 1 Scene 3: Joys That Are Pure (Air)

$2.30

Samson, HWV 57: XXXV. Act 1 Scene 3: Then Round About the Starry Throne (Chorus)

Composer(s)

George Frideric Handel

Newburgh Hamilton

Artist(s)

John Butt

Dunedin Consort

Samson, HWV 57: XXXV. Act 1 Scene 3: Then Round About the Starry Throne (Chorus)

$2.30

Samson, HWV 57: I. Act 2 Scene 1: Despair Not Thus! (Recitative)

Composer(s)

George Frideric Handel

Newburgh Hamilton

Artist(s)

John Butt

Matthew Brook

Dunedin Consort

Joshua Ellicott

Samson, HWV 57: I. Act 2 Scene 1: Despair Not Thus! (Recitative)

$2.30

Samson, HWV 57: II. Act 2 Scene 1: Just Are the Ways of God to Man (Air)

Composer(s)

George Frideric Handel

Newburgh Hamilton

Artist(s)

John Butt

Matthew Brook

Dunedin Consort

Samson, HWV 57: II. Act 2 Scene 1: Just Are the Ways of God to Man (Air)

$2.30

Samson, HWV 57: III. Act 2 Scene 1: My Evils Hopeless Are! (Recitative)

Composer(s)

George Frideric Handel

Newburgh Hamilton

Artist(s)

John Butt

Joshua Ellicott

Dunedin Consort

Jess Dandy

Samson, HWV 57: III. Act 2 Scene 1: My Evils Hopeless Are! (Recitative)

$2.30

Samson, HWV 57: IV. Act 2 Scene 1: Return, O God of Hosts! (Air and Chorus)

Composer(s)

George Frideric Handel

Newburgh Hamilton

Artist(s)

John Butt

Jess Dandy

Dunedin Consort

Samson, HWV 57: IV. Act 2 Scene 1: Return, O God of Hosts! (Air and Chorus)

$3.40

Samson, HWV 57: V. Act 2 Scene 2: But Who Is This (Recitative)

Composer(s)

George Frideric Handel

Newburgh Hamilton

Artist(s)

John Butt

Jess Dandy

Dunedin Consort

Joshua Ellicott

Samson, HWV 57: V. Act 2 Scene 2: But Who Is This (Recitative)

$2.30

Samson, HWV 57: VI. Act 2 Scene 2: With Plaintive Notes (Air)

Composer(s)

George Frideric Handel

Newburgh Hamilton

Artist(s)

John Butt

Mary Bevan

Dunedin Consort

Samson, HWV 57: VI. Act 2 Scene 2: With Plaintive Notes (Air)

$3.40

Samson, HWV 57: VII. Act 2 Scene 2: Alas! Th'Event Was Worse (Recitative)

Composer(s)

George Frideric Handel

Newburgh Hamilton

Artist(s)

John Butt

Sophie Bevan

Dunedin Consort

Joshua Ellicott

Samson, HWV 57: VII. Act 2 Scene 2: Alas! Th'Event Was Worse (Recitative)

$2.30

Samson, HWV 57: VIII. Act 2 Scene 2: Your Charms to Ruin Led the Way (Air)

Composer(s)

George Frideric Handel

Newburgh Hamilton

Artist(s)

John Butt

Joshua Ellicott

Dunedin Consort

Samson, HWV 57: VIII. Act 2 Scene 2: Your Charms to Ruin Led the Way (Air)

$2.30

Samson, HWV 57: IX. Act 2 Scene 2: Forgive What's Done (Recitative)

Composer(s)

George Frideric Handel

Newburgh Hamilton

Artist(s)

John Butt

Sophie Bevan

Dunedin Consort

Samson, HWV 57: IX. Act 2 Scene 2: Forgive What's Done (Recitative)

$2.30

Samson, HWV 57: X. Act 2 Scene 2: My Faith and Truth (Duet)

Composer(s)

George Frideric Handel

Newburgh Hamilton

Artist(s)

John Butt

Sophie Bevan

Dunedin Consort

Fflur Wyn

Samson, HWV 57: X. Act 2 Scene 2: My Faith and Truth (Duet)

$2.30

Samson, HWV 57: XI. Act 2 Scene 2: Her Faith and Truth (Chorus)

Composer(s)

George Frideric Handel

Newburgh Hamilton

Artist(s)

John Butt

Dunedin Consort

Samson, HWV 57: XI. Act 2 Scene 2: Her Faith and Truth (Chorus)

$2.30

Samson, HWV 57: XII. Act 2 Scene 2: To Fleeting Pleasures Make Your Court (Air)

Composer(s)

George Frideric Handel

Newburgh Hamilton

Artist(s)

John Butt

Sophie Bevan

Dunedin Consort

Samson, HWV 57: XII. Act 2 Scene 2: To Fleeting Pleasures Make Your Court (Air)

$2.30

Samson, HWV 57: XIII. Act 2 Scene 2: Her Faith and Truth (Chorus)

Composer(s)

George Frideric Handel

Newburgh Hamilton

Artist(s)

John Butt

Dunedin Consort

Samson, HWV 57: XIII. Act 2 Scene 2: Her Faith and Truth (Chorus)

$2.30

Samson, HWV 57: XIV. Act 2 Scene 2: Ne'er Think of That! (Recitative)

Composer(s)

George Frideric Handel

Newburgh Hamilton

Artist(s)

John Butt

Joshua Ellicott

Dunedin Consort

Sophie Bevan

Samson, HWV 57: XIV. Act 2 Scene 2: Ne'er Think of That! (Recitative)

$2.30

Samson, HWV 57: XV. Act 2 Scene 2: Traitor to Love (Duet)

Composer(s)

George Frideric Handel

Newburgh Hamilton

Artist(s)

John Butt

Sophie Bevan

Dunedin Consort

Joshua Ellicott

Samson, HWV 57: XV. Act 2 Scene 2: Traitor to Love (Duet)

$2.30

Samson, HWV 57: XVI. Act 2 Scene 3: She's Gone! (Recitative)

Composer(s)

George Frideric Handel

Newburgh Hamilton

Artist(s)

John Butt

Jess Dandy

Dunedin Consort

Joshua Ellicott

Samson, HWV 57: XVI. Act 2 Scene 3: She's Gone! (Recitative)

$2.30

Samson, HWV 57: XVII. Act 2 Scene 3: It Is Not Virtue (Air)

Composer(s)

George Frideric Handel

Newburgh Hamilton

Artist(s)

John Butt

Fflur Wyn

Dunedin Consort

Samson, HWV 57: XVII. Act 2 Scene 3: It Is Not Virtue (Air)

$2.30

Samson, HWV 57: XVIII. Act 2 Scene 3: Favour'd of Heav'n Is He (Recitative)

Composer(s)

George Frideric Handel

Newburgh Hamilton

Artist(s)

John Butt

Joshua Ellicott

Dunedin Consort

Samson, HWV 57: XVIII. Act 2 Scene 3: Favour'd of Heav'n Is He (Recitative)

$2.30

Samson, HWV 57: XIX. Act 2 Scene 3: To Man God's Universal Law (Chorus)

Composer(s)

George Frideric Handel

Newburgh Hamilton

Artist(s)

John Butt

Dunedin Consort

Samson, HWV 57: XIX. Act 2 Scene 3: To Man God's Universal Law (Chorus)

$2.30

Samson, HWV 57: XX. Act 2 Scene 4: No Words of Peace (Recitative)

Composer(s)

George Frideric Handel

Newburgh Hamilton

Artist(s)

John Butt

Jess Dandy

Dunedin Consort

Vitali Rozynko

Samson, HWV 57: XX. Act 2 Scene 4: No Words of Peace (Recitative)

$2.30

Samson, HWV 57: XXI. Act 2 Scene 4: Honour and Arms Scorn Such a Foe (Air)

Composer(s)

George Frideric Handel

Newburgh Hamilton

Artist(s)

John Butt

Vitali Rozynko

Dunedin Consort

Samson, HWV 57: XXI. Act 2 Scene 4: Honour and Arms Scorn Such a Foe (Air)

$2.30

Samson, HWV 57: XXII. Act 2 Scene 4: Put on Your Arms (Recitative)

Composer(s)

George Frideric Handel

Newburgh Hamilton

Artist(s)

John Butt

Joshua Ellicott

Dunedin Consort

Samson, HWV 57: XXII. Act 2 Scene 4: Put on Your Arms (Recitative)

$2.30

Samson, HWV 57: XXIII. Act 2 Scene 4: My Strength Is from the Living God (Air)

Composer(s)

George Frideric Handel

Newburgh Hamilton

Artist(s)

John Butt

Joshua Ellicott

Dunedin Consort

Samson, HWV 57: XXIII. Act 2 Scene 4: My Strength Is from the Living God (Air)

$2.30

Samson, HWV 57: XXIV. Act 2 Scene 4: With Thee, a Man Condemn'd (Recitative)

Composer(s)

George Frideric Handel

Newburgh Hamilton

Artist(s)

John Butt

Vitali Rozynko

Dunedin Consort

Joshua Ellicott

Samson, HWV 57: XXIV. Act 2 Scene 4: With Thee, a Man Condemn'd (Recitative)

$2.30

Samson, HWV 57: XXV. Act 2 Scene 4: Go, Baffled Coward, Go (Duet)

Composer(s)

George Frideric Handel

Newburgh Hamilton

Artist(s)

John Butt

Joshua Ellicott

Dunedin Consort

Vitali Rozynko

Samson, HWV 57: XXV. Act 2 Scene 4: Go, Baffled Coward, Go (Duet)

$2.30

Samson, HWV 57: XXVI. Act 2 Scene 4: Here Lie the Proof (Recitative)

Composer(s)

George Frideric Handel

Newburgh Hamilton

Artist(s)

John Butt

Jess Dandy

Dunedin Consort

Samson, HWV 57: XXVI. Act 2 Scene 4: Here Lie the Proof (Recitative)

$2.30

Samson, HWV 57: XXVII. Act 2 Scene 4: Hear, Jacob's God (Chorus)

Composer(s)

George Frideric Handel

Newburgh Hamilton

Artist(s)

John Butt

Dunedin Consort

Samson, HWV 57: XXVII. Act 2 Scene 4: Hear, Jacob's God (Chorus)

$2.30

Samson, HWV 57: XXVIII. Act 2 Scene 4: Dagon, Arise (Recitative)

Composer(s)

George Frideric Handel

Newburgh Hamilton

Artist(s)

John Butt

Vitali Rozynko

Dunedin Consort

Samson, HWV 57: XXVIII. Act 2 Scene 4: Dagon, Arise (Recitative)

$2.30

Samson, HWV 57: XXIX. Act 2 Scene 4: To Song and Dance We Give the Day (Air)

Composer(s)

George Frideric Handel

Newburgh Hamilton

Artist(s)

John Butt

Hugo Hymas

Dunedin Consort

Samson, HWV 57: XXIX. Act 2 Scene 4: To Song and Dance We Give the Day (Air)

$2.30

Samson, HWV 57: XXX. Act 2 Scene 4: To Song and Dance We Give the Day (Chorus)

Composer(s)

George Frideric Handel

Newburgh Hamilton

Artist(s)

John Butt

Dunedin Consort

Samson, HWV 57: XXX. Act 2 Scene 4: To Song and Dance We Give the Day (Chorus)

$2.30

Samson, HWV 57: XXXI. Act 2 Scene 4: Fix'd in His Everlasting Seat (Chorus and Soli)

Composer(s)

George Frideric Handel

Newburgh Hamilton

Artist(s)

John Butt

Dunedin Consort

Samson, HWV 57: XXXI. Act 2 Scene 4: Fix'd in His Everlasting Seat (Chorus and Soli)

$2.30

Samson, HWV 57: I. Act 3 Scene 1: More Trouble Is Behind (Recitative)

Composer(s)

George Frideric Handel

Newburgh Hamilton

Artist(s)

John Butt

Jess Dandy

Dunedin Consort

Joshua Ellicott

Samson, HWV 57: I. Act 3 Scene 1: More Trouble Is Behind (Recitative)

$2.30

Samson, HWV 57: II. Act 3 Scene 1: Presuming Slave, to Move Their Wrath! (Air)

Composer(s)

George Frideric Handel

Newburgh Hamilton

Artist(s)

John Butt

Vitali Rozynko

Dunedin Consort

Samson, HWV 57: II. Act 3 Scene 1: Presuming Slave, to Move Their Wrath! (Air)

$2.30

Samson, HWV 57: III. Act 3 Scene 1: Reflect Then, Samson (Recitative)

Composer(s)

George Frideric Handel

Newburgh Hamilton

Artist(s)

John Butt

Jess Dandy

Dunedin Consort

Joshua Ellicott

Samson, HWV 57: III. Act 3 Scene 1: Reflect Then, Samson (Recitative)

$2.30

Samson, HWV 57: IV. Act 3 Scene 1: With Thunder Arm'd, Great God, Arise! (Chorus)

Composer(s)

George Frideric Handel

Newburgh Hamilton

Artist(s)

John Butt

Dunedin Consort

Samson, HWV 57: IV. Act 3 Scene 1: With Thunder Arm'd, Great God, Arise! (Chorus)

$2.30

Samson, HWV 57: V. Act 3 Scene 1: Be of Good Courage (Recitative)

Composer(s)

George Frideric Handel

Newburgh Hamilton

Artist(s)

John Butt

Joshua Ellicott

Dunedin Consort

Jess Dandy

Samson, HWV 57: V. Act 3 Scene 1: Be of Good Courage (Recitative)

$2.30

Samson, HWV 57: VI. Act 3 Scene 1: Then Shall I Make Jehovah's Glory Known! (Accompagnato)

Composer(s)

George Frideric Handel

Newburgh Hamilton

Artist(s)

John Butt

Joshua Ellicott

Dunedin Consort

Samson, HWV 57: VI. Act 3 Scene 1: Then Shall I Make Jehovah's Glory Known! (Accompagnato)

$2.30

Samson, HWV 57: VII. Act 3 Scene 1: Thus When the Sun from's Wat'ry Bed (Air)

Composer(s)

George Frideric Handel

Newburgh Hamilton

Artist(s)

John Butt

Joshua Ellicott

Dunedin Consort

Samson, HWV 57: VII. Act 3 Scene 1: Thus When the Sun from's Wat'ry Bed (Air)

$2.30

Samson, HWV 57: VIII. Act 3 Scene 1: With Might Endued Above the Sons of Men (Accompagnato)

Composer(s)

George Frideric Handel

Newburgh Hamilton

Artist(s)

John Butt

Jess Dandy

Dunedin Consort

Samson, HWV 57: VIII. Act 3 Scene 1: With Might Endued Above the Sons of Men (Accompagnato)

$2.30

Samson, HWV 57: IX. Act 3 Scene 1: The Holy One of Israel (Air and Chorus)

Composer(s)

George Frideric Handel

Newburgh Hamilton

Artist(s)

John Butt

Jess Dandy

Dunedin Consort

Samson, HWV 57: IX. Act 3 Scene 1: The Holy One of Israel (Air and Chorus)

$2.30

Samson, HWV 57: X. Act 3 Scene 2: Old Manoa, with Youthful Steps (Recitative)

Composer(s)

George Frideric Handel

Newburgh Hamilton

Artist(s)

John Butt

Jess Dandy

Dunedin Consort

Matthew Brook

Samson, HWV 57: X. Act 3 Scene 2: Old Manoa, with Youthful Steps (Recitative)

$2.30

Samson, HWV 57: XI. Act 3 Scene 2: Great Dagon Has Subdu'd Our Foe (Air and Chorus)

Composer(s)

George Frideric Handel

Newburgh Hamilton

Artist(s)

John Butt

Hugo Hymas

Dunedin Consort

Samson, HWV 57: XI. Act 3 Scene 2: Great Dagon Has Subdu'd Our Foe (Air and Chorus)

$2.30

Samson, HWV 57: XII. Act 3 Scene 2: What Noise of Joy Was That? (Recitative)

Composer(s)

George Frideric Handel

Newburgh Hamilton

Artist(s)

John Butt

Matthew Brook

Dunedin Consort

Jess Dandy

Samson, HWV 57: XII. Act 3 Scene 2: What Noise of Joy Was That? (Recitative)

$2.30

Samson, HWV 57: XIII. Act 3 Scene 2: How Willing My Paternal Love (Air)

Composer(s)

George Frideric Handel

Newburgh Hamilton

Artist(s)

John Butt

Matthew Brook

Dunedin Consort

Samson, HWV 57: XIII. Act 3 Scene 2: How Willing My Paternal Love (Air)

$2.30

Samson, HWV 57: XIV. Act 3 Scene 2: Your Hopes of His Deliv'ry (Recitative)

Composer(s)

George Frideric Handel

Newburgh Hamilton

Artist(s)

John Butt

Jess Dandy

Dunedin Consort

Matthew Brook

Samson, HWV 57: XIV. Act 3 Scene 2: Your Hopes of His Deliv'ry (Recitative)

$2.30

Samson, HWV 57: XV. Act 3 Scene 2: Symphony: Presto

Composer(s)

George Frideric Handel

Newburgh Hamilton

Artist(s)

John Butt

Dunedin Consort

Samson, HWV 57: XV. Act 3 Scene 2: Symphony: Presto

$2.30

Samson, HWV 57: XVI. Act 3 Scene 2: Heav'n! What Noise! (Recitative)

Composer(s)

George Frideric Handel

Newburgh Hamilton

Artist(s)

John Butt

Matthew Brook

Dunedin Consort

Samson, HWV 57: XVI. Act 3 Scene 2: Heav'n! What Noise! (Recitative)

$2.30

Samson, HWV 57: XVII. Act 3 Scene 2: Hear Us, Our God! (Chorus)

Composer(s)

George Frideric Handel

Newburgh Hamilton

Artist(s)

John Butt

Dunedin Consort

Samson, HWV 57: XVII. Act 3 Scene 2: Hear Us, Our God! (Chorus)

$2.30

Samson, HWV 57: XVIII. Act 3 Scene 2: Noise Call You This? (Recitative)

Composer(s)

George Frideric Handel

Newburgh Hamilton

Artist(s)

John Butt

Jess Dandy

Dunedin Consort

Matthew Brook

Samson, HWV 57: XVIII. Act 3 Scene 2: Noise Call You This? (Recitative)

$2.30

Samson, HWV 57: XIX. Act 3 Scene 3: Where Shall I Run (Recitative)

Composer(s)

George Frideric Handel

Newburgh Hamilton

Artist(s)

John Butt

Hugo Hymas

Dunedin Consort

Jess Dandy

Samson, HWV 57: XIX. Act 3 Scene 3: Where Shall I Run (Recitative)

$2.30

Samson, HWV 57: XX. Act 3 Scene 3: Ye Sons of Israel, Now Lament (Air and Chorus)

Composer(s)

George Frideric Handel

Newburgh Hamilton

Artist(s)

John Butt

Jess Dandy

Dunedin Consort

Samson, HWV 57: XX. Act 3 Scene 3: Ye Sons of Israel, Now Lament (Air and Chorus)

$2.30

Samson, HWV 57: XXI. Act 3 Scene 3: Proceed We Hence to Find His Body (Recitative)

Composer(s)

George Frideric Handel

Newburgh Hamilton

Artist(s)

John Butt

Matthew Brook

Dunedin Consort

Jess Dandy

Samson, HWV 57: XXI. Act 3 Scene 3: Proceed We Hence to Find His Body (Recitative)

$2.30

Samson, HWV 57: XXII. Act 3 Scene 3: Glorious Hero (Soli and Chorus)

Composer(s)

George Frideric Handel

Newburgh Hamilton

Artist(s)

John Butt

Matthew Brook

Dunedin Consort

Mary Bevan

Samson, HWV 57: XXII. Act 3 Scene 3: Glorious Hero (Soli and Chorus)

$2.30

Samson, HWV 57: XXIII. Act 3 Scene 3: Come, Come! (Recitative)

Composer(s)

George Frideric Handel

Newburgh Hamilton

Artist(s)

John Butt

Matthew Brook

Dunedin Consort

Jess Dandy

Samson, HWV 57: XXIII. Act 3 Scene 3: Come, Come! (Recitative)

$2.30

Samson, HWV 57: XXIV. Act 3 Scene 3: Let the Bright Seraphim (Air)

Composer(s)

George Frideric Handel

Newburgh Hamilton

Artist(s)

John Butt

Mary Bevan

Dunedin Consort

Samson, HWV 57: XXIV. Act 3 Scene 3: Let the Bright Seraphim (Air)

$2.30

Samson, HWV 57: XXV. Act 3 Scene 3: Let Their Celestial Concerts All Unite (Chorus)

Composer(s)

George Frideric Handel

Newburgh Hamilton

Artist(s)

John Butt

Dunedin Consort

Samson, HWV 57: XXV. Act 3 Scene 3: Let Their Celestial Concerts All Unite (Chorus)

$2.30
Total running time: 203 minutes.







Album information

Dunedin Consort continues to apply its pioneering approach to recordings by releasing two alternative performing versions of one of Handel's greatest dramatic works, Samson. This is the Small Chorus Version. It was nominated for a 2021 BBC Music Magazine Award.

This version recreates the sonority heard at the work's premiere in 1743 (as suggested by the research of Donald Burrows), which consists of the soloists alone.

This powerful oratorio – an opera in all but name – features Joshua Ellicott in the title role with soloists Sophie Bevan, Matthew Brook, Mary Bevan, Hugo Hymas, Jess Dandy, Vitali Rozynko and Fflur Wyn. Matching the revelatory historical practice begun in its award-winning recording of Messiah (Dublin Version, 1742), the soloists lead their sections to unite the solo and choral forces, creating a highly effective and cohesive sound. With rich orchestration and highlights such as 'Let the bright seraphim' and 'Total eclipse', Samson is Dunedin Consort's most ambitious undertaking to date.

The singers available to Handel for the work's first set of performances in 1743 varied considerably, leading many researchers to speculate upon the composer's own preferences. Dunedin Consort has also recorded a Full Chorus Version which employs an authentic Handelian chorus, comprising both boy trebles from the Tiffin Boys' Choir and solo sopranos – a sonority largely unheard in the modern age. Customers who purchase the Small Chorus Version may email us to request a complimentary download of the Full Chorus Version.
Related Artists
Reviews