Filters
Handel: Winged Hands. The Eight Great Suites & Overtures
Handel: Winged Hands. The Eight Great Suites & Overtures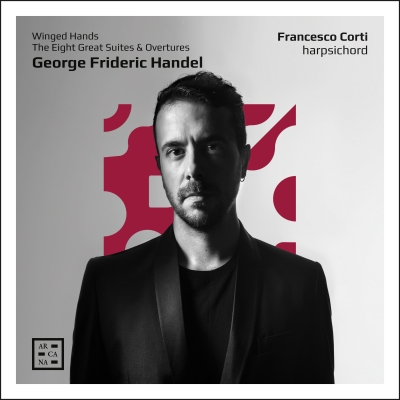 Inlay available for download
Booklet available for download
Suite No. 1 in A Major, HWV 426: I. Prelude

Composer(s)

George Frideric Handel

Artist(s)

Francesco Corti

Suite No. 1 in A Major, HWV 426: I. Prelude

$2.30

Suite No. 1 in A Major, HWV 426: II. Allemande

Composer(s)

George Frideric Handel

Artist(s)

Francesco Corti

Suite No. 1 in A Major, HWV 426: II. Allemande

$2.30

Suite No. 1 in A Major, HWV 426: III. Courante

Composer(s)

George Frideric Handel

Artist(s)

Francesco Corti

Suite No. 1 in A Major, HWV 426: III. Courante

$2.30

Suite No. 1 in A Major, HWV 426: IV. Gigue

Composer(s)

George Frideric Handel

Artist(s)

Francesco Corti

Suite No. 1 in A Major, HWV 426: IV. Gigue

$2.30

Rodelinda, HWV 19, Ouverture: [Largo] - Presto - Adagio

Composer(s)

George Frideric Handel

Artist(s)

Francesco Corti

Rodelinda, HWV 19, Ouverture: [Largo] - Presto - Adagio

$2.30

Rodelinda, HWV 19, Ouverture: Menuet

Composer(s)

George Frideric Handel

Artist(s)

Francesco Corti

Rodelinda, HWV 19, Ouverture: Menuet

$2.30

Suite No. 2 in F Major, HWV 427: I. Adagio

Composer(s)

George Frideric Handel

Artist(s)

Francesco Corti

Suite No. 2 in F Major, HWV 427: I. Adagio

$2.30

Suite No. 2 in F Major, HWV 427: II. Allegro

Composer(s)

George Frideric Handel

Artist(s)

Francesco Corti

Suite No. 2 in F Major, HWV 427: II. Allegro

$2.30

Suite No. 2 in F Major, HWV 427: III. Adagio

Composer(s)

George Frideric Handel

Artist(s)

Francesco Corti

Suite No. 2 in F Major, HWV 427: III. Adagio

$2.30

Suite No. 2 in F Major, HWV 427: IV. Allegro

Composer(s)

George Frideric Handel

Artist(s)

Francesco Corti

Suite No. 2 in F Major, HWV 427: IV. Allegro

$2.30

Il pastor Fido, HWV 8, Overture: [Adagio] - Allegro - Adagio

Composer(s)

George Frideric Handel

Artist(s)

Francesco Corti

Il pastor Fido, HWV 8, Overture: [Adagio] - Allegro - Adagio

$2.30

Suite No. 3 in D Minor, HWV 428: I. Prelude (Presto)

Composer(s)

George Frideric Handel

Artist(s)

Francesco Corti

Suite No. 3 in D Minor, HWV 428: I. Prelude (Presto)

$2.30

Suite No. 3 in D Minor, HWV 428: II. Allegro

Composer(s)

George Frideric Handel

Artist(s)

Francesco Corti

Suite No. 3 in D Minor, HWV 428: II. Allegro

$2.30

Suite No. 3 in D Minor, HWV 428: III. Allemande

Composer(s)

George Frideric Handel

Artist(s)

Francesco Corti

Suite No. 3 in D Minor, HWV 428: III. Allemande

$2.30

Suite No. 3 in D Minor, HWV 428: IV. Courante

Composer(s)

George Frideric Handel

Artist(s)

Francesco Corti

Suite No. 3 in D Minor, HWV 428: IV. Courante

$2.30

Suite No. 3 in D Minor, HWV 428: V. Air

Composer(s)

George Frideric Handel

Artist(s)

Francesco Corti

Suite No. 3 in D Minor, HWV 428: V. Air

$2.30

Suite No. 3 in D Minor, HWV 428: VI. Doubles

Composer(s)

George Frideric Handel

Artist(s)

Francesco Corti

Suite No. 3 in D Minor, HWV 428: VI. Doubles

$2.30

Suite No. 3 in D Minor, HWV 428: VII. Presto

Composer(s)

George Frideric Handel

Artist(s)

Francesco Corti

Suite No. 3 in D Minor, HWV 428: VII. Presto

$2.30

Suite No. 4 in E Minor, HWV 429: I. Allegro

Composer(s)

George Frideric Handel

Artist(s)

Francesco Corti

Suite No. 4 in E Minor, HWV 429: I. Allegro

$2.30

Suite No. 4 in E Minor, HWV 429: II. Allemande

Composer(s)

George Frideric Handel

Artist(s)

Francesco Corti

Suite No. 4 in E Minor, HWV 429: II. Allemande

$2.30

Suite No. 4 in E Minor, HWV 429: III. Courante

Composer(s)

George Frideric Handel

Artist(s)

Francesco Corti

Suite No. 4 in E Minor, HWV 429: III. Courante

$2.30

Suite No. 4 in E Minor, HWV 429: IV. Sarabande

Composer(s)

George Frideric Handel

Artist(s)

Francesco Corti

Suite No. 4 in E Minor, HWV 429: IV. Sarabande

$2.30

Suite No. 4 in E Minor, HWV 429: V. Gigue

Composer(s)

George Frideric Handel

Artist(s)

Francesco Corti

Suite No. 4 in E Minor, HWV 429: V. Gigue

$2.30

First Set in F Major: Prelude (Presto)

Composer(s)

William Babell

Artist(s)

Francesco Corti

First Set in F Major: Prelude (Presto)

$2.30

Rinaldo, HWV 7, Ouverture: Vivace - Allegro - Adagio

Composer(s)

George Frideric Handel

Artist(s)

Francesco Corti

Rinaldo, HWV 7, Ouverture: Vivace - Allegro - Adagio

$2.30

Rinaldo, HWV 7, Ouverture: Giga (Presto)

Composer(s)

George Frideric Handel

Artist(s)

Francesco Corti

Rinaldo, HWV 7, Ouverture: Giga (Presto)

$2.30

Rinaldo, HWV 7, Ouverture: Lascia ch'io pianga" (Adagio)

Composer(s)

George Frideric Handel

Artist(s)

Francesco Corti

Rinaldo, HWV 7, Ouverture: Lascia ch'io pianga" (Adagio)

$2.30

Suite No. 5 in E Major, HWV 430: I. Prelude

Composer(s)

George Frideric Handel

Artist(s)

Francesco Corti

Suite No. 5 in E Major, HWV 430: I. Prelude

$2.30

Suite No. 5 in E Major, HWV 430: II. Allemande

Composer(s)

George Frideric Handel

Artist(s)

Francesco Corti

Suite No. 5 in E Major, HWV 430: II. Allemande

$2.30

Suite No. 5 in E Major, HWV 430: III. Courante

Composer(s)

George Frideric Handel

Artist(s)

Francesco Corti

Suite No. 5 in E Major, HWV 430: III. Courante

$2.30

Suite No. 5 in E Major, HWV 430: IV. Air et Doubles

Composer(s)

George Frideric Handel

Artist(s)

Francesco Corti

Suite No. 5 in E Major, HWV 430: IV. Air et Doubles

$2.30

Radamisto, HWV 12, Ouverture: [Largo] - Allegro

Composer(s)

George Frideric Handel

Artist(s)

Francesco Corti

Radamisto, HWV 12, Ouverture: [Largo] - Allegro

$2.30

Suite No. 6 in F-Sharp Minor, HWV 431: I. Prelude

Composer(s)

George Frideric Handel

Artist(s)

Francesco Corti

Suite No. 6 in F-Sharp Minor, HWV 431: I. Prelude

$2.30

Suite No. 6 in F-Sharp Minor, HWV 431: II. Largo

Composer(s)

George Frideric Handel

Artist(s)

Francesco Corti

Suite No. 6 in F-Sharp Minor, HWV 431: II. Largo

$2.30

Suite No. 6 in F-Sharp Minor, HWV 431: III. Allegro

Composer(s)

George Frideric Handel

Artist(s)

Francesco Corti

Suite No. 6 in F-Sharp Minor, HWV 431: III. Allegro

$2.30

Suite No. 6 in F-Sharp Minor, HWV 431: IV. Gigue (Presto)

Composer(s)

George Frideric Handel

Artist(s)

Francesco Corti

Suite No. 6 in F-Sharp Minor, HWV 431: IV. Gigue (Presto)

$2.30

Teseo, HWV 9, Ouverture: [Largo] - Allegro - Lentement

Composer(s)

George Frideric Handel

Artist(s)

Francesco Corti

Teseo, HWV 9, Ouverture: [Largo] - Allegro - Lentement

$2.30

Teseo, HWV 9, Ouverture: Allegro

Composer(s)

George Frideric Handel

Artist(s)

Francesco Corti

Teseo, HWV 9, Ouverture: Allegro

$2.30

Suite No. 7 in G Minor, HWV 432: I. Ouverture (Largo - Presto - Lentement)

Composer(s)

George Frideric Handel

Artist(s)

Francesco Corti

Suite No. 7 in G Minor, HWV 432: I. Ouverture (Largo - Presto - Lentement)

$2.30

Suite No. 7 in G Minor, HWV 432: II. Andante

Composer(s)

George Frideric Handel

Artist(s)

Francesco Corti

Suite No. 7 in G Minor, HWV 432: II. Andante

$2.30

Suite No. 7 in G Minor, HWV 432: III. Allegro

Composer(s)

George Frideric Handel

Artist(s)

Francesco Corti

Suite No. 7 in G Minor, HWV 432: III. Allegro

$2.30

Suite No. 7 in G Minor, HWV 432: IV. Sarabande

Composer(s)

George Frideric Handel

Artist(s)

Francesco Corti

Suite No. 7 in G Minor, HWV 432: IV. Sarabande

$2.30

Suite No. 7 in G Minor, HWV 432: V. Gigue

Composer(s)

George Frideric Handel

Artist(s)

Francesco Corti

Suite No. 7 in G Minor, HWV 432: V. Gigue

$2.30

Suite No. 7 in G Minor, HWV 432: VI. Passacaillle

Composer(s)

George Frideric Handel

Artist(s)

Francesco Corti

Suite No. 7 in G Minor, HWV 432: VI. Passacaillle

$2.30

Suite No. 8 in F Minor, HWV 433: I. Prelude (Adagio)

Composer(s)

George Frideric Handel

Artist(s)

Francesco Corti

Suite No. 8 in F Minor, HWV 433: I. Prelude (Adagio)

$2.30

Suite No. 8 in F Minor, HWV 433: II. Allegro

Composer(s)

George Frideric Handel

Artist(s)

Francesco Corti

Suite No. 8 in F Minor, HWV 433: II. Allegro

$2.30

Suite No. 8 in F Minor, HWV 433: III. Allemande

Composer(s)

George Frideric Handel

Artist(s)

Francesco Corti

Suite No. 8 in F Minor, HWV 433: III. Allemande

$2.30

Suite No. 8 in F Minor, HWV 433: IV. Courante

Composer(s)

George Frideric Handel

Artist(s)

Francesco Corti

Suite No. 8 in F Minor, HWV 433: IV. Courante

$2.30

Suite No. 8 in F Minor, HWV 433: V. Gigue

Composer(s)

George Frideric Handel

Artist(s)

Francesco Corti

Suite No. 8 in F Minor, HWV 433: V. Gigue

$2.30
Total running time: 146 minutes.






Album information

Francesco Corti returns with a double album showcasing Handel's virtuosity and improvisational talent at the harpsichord. Marvel at Francesco's incredible virtuosity as he demonstrates that, like the composer himself, he is blessed with "winged hands". It won a 2022 Diapason d'Or de l'année Award.

At the center of the project are the eight "Great" suites. These masterpieces were the composer's first published set, and are a clear testimony to his virtuosity at the keyboard. Their characteristically diversified styles reflect not only the mélange of national traditions assimilated by the young composer, but also his phenomenal improvisatory talent. Moreover, the attraction of these pieces lies in their melodic and rhythmic affinity to the world of singing and orchestral writing, Handel's strongest interests.

Arrangements of Handel's operatic overtures and arias started circulating early in his career in England, and in his later years he was known to perform his overtures on the keyboard himself. Corti designs a program showcasing the composer's brilliant treatment of the instrument, choosing to complement the "Great" Suites with a selection of transcriptions from Händel's own hand and from his close musical circle.
Related Artists
Reviews