Filters
Haydn 2032, Vol. 1: La Passione
Haydn 2032, Vol. 1: La Passione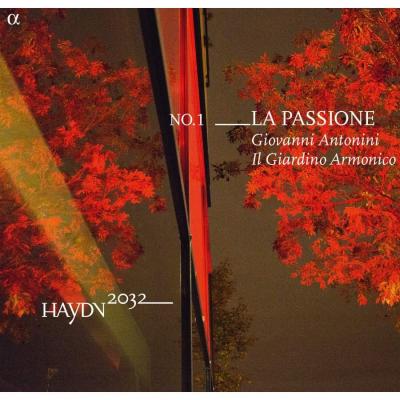 Inlay available for download
Booklet available for download
Symphony No. 39 in G Minor, Hob. I:39 "Tempesta di mare": I. Allegro assai

Composer(s)

Franz Joseph Haydn

Artist(s)

Giovanni Antonini

Il Giardino Armonico

Symphony No. 39 in G Minor, Hob. I:39 "Tempesta di mare": I. Allegro assai

$2.30

Symphony No. 39 in G Minor, Hob. I:39 "Tempesta di mare": II. Andante

Composer(s)

Franz Joseph Haydn

Artist(s)

Giovanni Antonini

Il Giardino Armonico

Symphony No. 39 in G Minor, Hob. I:39 "Tempesta di mare": II. Andante

$2.30

Symphony No. 39 in G Minor, Hob. I:39 "Tempesta di mare": III. Menuet - Trio

Composer(s)

Franz Joseph Haydn

Artist(s)

Giovanni Antonini

Il Giardino Armonico

Symphony No. 39 in G Minor, Hob. I:39 "Tempesta di mare": III. Menuet - Trio

$2.30

Symphony No. 39 in G Minor, Hob. I:39 "Tempesta di mare": IV. Finale (Allegro di molto)

Composer(s)

Franz Joseph Haydn

Artist(s)

Giovanni Antonini

Il Giardino Armonico

Symphony No. 39 in G Minor, Hob. I:39 "Tempesta di mare": IV. Finale (Allegro di molto)

$2.30

Don Juan ou Le festin de pierre, Wq. 52: Sinfonia (Allegro)

Composer(s)

Christoph Willibald Gluck

Artist(s)

Giovanni Antonini

Il Giardino Armonico

Don Juan ou Le festin de pierre, Wq. 52: Sinfonia (Allegro)

$2.30

Don Juan ou Le festin de pierre, Wq. 52: 1. Andante grazioso

Composer(s)

Christoph Willibald Gluck

Artist(s)

Giovanni Antonini

Il Giardino Armonico

Don Juan ou Le festin de pierre, Wq. 52: 1. Andante grazioso

$2.30

Don Juan ou Le festin de pierre, Wq. 52: 2. Andante

Composer(s)

Christoph Willibald Gluck

Artist(s)

Giovanni Antonini

Il Giardino Armonico

Don Juan ou Le festin de pierre, Wq. 52: 2. Andante

$2.30

Don Juan ou Le festin de pierre, Wq. 52: 3. Allegro forte risoluto

Composer(s)

Christoph Willibald Gluck

Artist(s)

Giovanni Antonini

Il Giardino Armonico

Don Juan ou Le festin de pierre, Wq. 52: 3. Allegro forte risoluto

$2.30

Don Juan ou Le festin de pierre, Wq. 52: 4. Allegro gustoso

Composer(s)

Christoph Willibald Gluck

Artist(s)

Giovanni Antonini

Il Giardino Armonico

Don Juan ou Le festin de pierre, Wq. 52: 4. Allegro gustoso

$2.30

Don Juan ou Le festin de pierre, Wq. 52: 5. Moderato

Composer(s)

Christoph Willibald Gluck

Artist(s)

Giovanni Antonini

Il Giardino Armonico

Don Juan ou Le festin de pierre, Wq. 52: 5. Moderato

$2.30

Don Juan ou Le festin de pierre, Wq. 52: 6. Grazioso

Composer(s)

Christoph Willibald Gluck

Artist(s)

Giovanni Antonini

Il Giardino Armonico

Don Juan ou Le festin de pierre, Wq. 52: 6. Grazioso

$2.30

Don Juan ou Le festin de pierre, Wq. 52: 7. Allegro

Composer(s)

Christoph Willibald Gluck

Artist(s)

Giovanni Antonini

Il Giardino Armonico

Don Juan ou Le festin de pierre, Wq. 52: 7. Allegro

$2.30

Don Juan ou Le festin de pierre, Wq. 52: 8. Moderato - Presto

Composer(s)

Christoph Willibald Gluck

Artist(s)

Giovanni Antonini

Il Giardino Armonico

Don Juan ou Le festin de pierre, Wq. 52: 8. Moderato - Presto

$2.30

Don Juan ou Le festin de pierree, Wq. 52: 9. Risoluto e moderato

Composer(s)

Christoph Willibald Gluck

Artist(s)

Giovanni Antonini

Il Giardino Armonico

Don Juan ou Le festin de pierree, Wq. 52: 9. Risoluto e moderato

$2.30

Don Juan ou Le festin de pierre, Wq. 52: 10. Allegro - 11. Allegro - 12. Allegro

Composer(s)

Christoph Willibald Gluck

Artist(s)

Giovanni Antonini

Il Giardino Armonico

Don Juan ou Le festin de pierre, Wq. 52: 10. Allegro - 11. Allegro - 12. Allegro

$2.30

Don Juan ou Le festin de pierre, Wq. 52: 13. Andante staccato

Composer(s)

Christoph Willibald Gluck

Artist(s)

Giovanni Antonini

Il Giardino Armonico

Don Juan ou Le festin de pierre, Wq. 52: 13. Andante staccato

$2.30

Don Juan ou Le festin de pierre, Wq. 52: 14. Larghetto

Composer(s)

Christoph Willibald Gluck

Artist(s)

Giovanni Antonini

Il Giardino Armonico

Don Juan ou Le festin de pierre, Wq. 52: 14. Larghetto

$2.30

Don Juan ou Le festin de pierre, Wq. 52: 15. Allegro non troppo

Composer(s)

Christoph Willibald Gluck

Artist(s)

Giovanni Antonini

Il Giardino Armonico

Don Juan ou Le festin de pierre, Wq. 52: 15. Allegro non troppo

$2.30

Symphony No. 49 in F Minor, Hob. I:49 "La Passione": I. Adagio

Composer(s)

Franz Joseph Haydn

Artist(s)

Giovanni Antonini

Il Giardino Armonico

Symphony No. 49 in F Minor, Hob. I:49 "La Passione": I. Adagio

$3.40

Symphony No. 49 in F Minor, Hob. I:49 "La Passione": II. Allegro di molto

Composer(s)

Franz Joseph Haydn

Artist(s)

Giovanni Antonini

Il Giardino Armonico

Symphony No. 49 in F Minor, Hob. I:49 "La Passione": II. Allegro di molto

$2.30

Symphony No. 49 in F Minor, Hob. I:49 "La Passione": III. Menuet - Trio

Composer(s)

Franz Joseph Haydn

Artist(s)

Giovanni Antonini

Il Giardino Armonico

Symphony No. 49 in F Minor, Hob. I:49 "La Passione": III. Menuet - Trio

$2.30

Symphony No. 49 in F Minor, Hob. I:49 "La Passione": IV. Finale (Presto)

Composer(s)

Franz Joseph Haydn

Artist(s)

Giovanni Antonini

Il Giardino Armonico

Symphony No. 49 in F Minor, Hob. I:49 "La Passione": IV. Finale (Presto)

$2.30

Symphony No. 1 in D Major, Hob. I:1: I. Presto

Composer(s)

Franz Joseph Haydn

Artist(s)

Giovanni Antonini

Il Giardino Armonico

Symphony No. 1 in D Major, Hob. I:1: I. Presto

$2.30

Symphony No. 1 in D Major, Hob. I:1: II. Andante

Composer(s)

Franz Joseph Haydn

Artist(s)

Giovanni Antonini

Il Giardino Armonico

Symphony No. 1 in D Major, Hob. I:1: II. Andante

$2.30

Symphony No. 1 in D Major, Hob. I:1: III. Finale (Presto)

Composer(s)

Franz Joseph Haydn

Artist(s)

Giovanni Antonini

Il Giardino Armonico

Symphony No. 1 in D Major, Hob. I:1: III. Finale (Presto)

$2.30
Total running time: 70 minutes.


Album information

This instalment of Giovanni Antonini's Haydn series include Symphony No. 49 and Gluck's Don Juan. It won the Echo Klassik award in 2015.

'Symphony No. 49 is of dramatic inspiration, as is the finale of the 39th (with four horns!) in a fairly "Gluckist" style. We are at the beginnings of Sturm und Drang. The first performance of Gluck's ballet Don Juan, in Vienna in 1761, was an outstanding event in the development of dramatic expression in music. This was the first "modern" ballet, featuring dancers illustrating the story, not through a pre-established dance form (minuet, gavotte, etc.) but through free expression of their bodies. 'I am truly captivated by the very strong correspondence existing in Gluck's score between the story of Don Juan (the dancers' movements) and the music, like a sort of little dictionary of musical gestures, with elements that are to be found in purely instrumental music of the period, including Haydn's. Yet it was in the 1760s (thus after the first performance of Gluck's Don Juan) that Haydn began his first "dramatic" symphonies. So I find it very interesting to bring together this piece by Gluck and these symphonies.' Giovanni Antonini

This recording was made in collaboration with the Joseph Haydn Foundation - Basel.
Related Artists
Reviews