Filters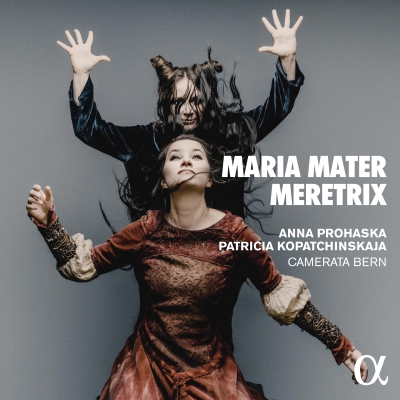 Inlay available for download
Booklet available for download
4 Songs for Voice and Violin, Op. 35: I. Jesu Sweet

Artist(s)

Patricia Kopatchinskaja

Anna Prohaska

4 Songs for Voice and Violin, Op. 35: I. Jesu Sweet

$2.30

Palästinalied

Composer(s)

Walther von der Vogelweide

Artist(s)

Patricia Kopatchinskaja

Camerata Bern

Anna Prohaska

Palästinalied

$2.30

Black Angels, Thirteen Images from the Dark Land: III. Return, God-music

Artist(s)

Camerata Bern

Patricia Kopatchinskaja

Black Angels, Thirteen Images from the Dark Land: III. Return, God-music

$2.30

Ave maris stella

Composer(s)

Guillaume DuFay

Artist(s)

Patricia Kopatchinskaja

Camerata Bern

Anna Prohaska

Ave maris stella

$2.30

Maria-Triptychon: I. Ave Maria

Artist(s)

Patricia Kopatchinskaja

Camerata Bern

Anna Prohaska

Maria-Triptychon: I. Ave Maria

$2.30

Ave Maria

Composer(s)

Tomás Luis de Victoria

Artist(s)

Camerata Bern

Patricia Kopatchinskaja

Ave Maria

$2.30

Kafka-Fragmente, Op. 24, Pt. 1: Berceuse

Composer(s)

György Kurtág

Artist(s)

Patricia Kopatchinskaja

Camerata Bern

Anna Prohaska

Kafka-Fragmente, Op. 24, Pt. 1: Berceuse

$2.30

Maria durch ein Dornwald ging

Artist(s)

Patricia Kopatchinskaja

Camerata Bern

Anna Prohaska

Maria durch ein Dornwald ging

$2.30

Maria-Triptychon: II. Magnificat

Artist(s)

Patricia Kopatchinskaja

Camerata Bern

Anna Prohaska

Maria-Triptychon: II. Magnificat

$3.40

Crucifixus a 10 voci

Composer(s)

Antonio Lotti

Artist(s)

Camerata Bern

Patricia Kopatchinskaja

Crucifixus a 10 voci

$2.30

Pie Jesu

Composer(s)

Lili Boulanger

Artist(s)

Patricia Kopatchinskaja

Camerata Bern

Anna Prohaska

Pie Jesu

$2.30

Felino

Composer(s)

Patricia Kopatchinskaja

Artist(s)

Patricia Kopatchinskaja

Felino

$2.30

O Rubor Sanguinis

Composer(s)

Hildegarde Von Bingen

O Rubor Sanguinis

$2.30

Die Worte des Erlösers am Kreuze, Hob.XX:1: IV. Sonata No. 3 "Mulier, ecce filius tuus"

Composer(s)

Franz Joseph Haydn

Artist(s)

Camerata Bern

Patricia Kopatchinskaja

Die Worte des Erlösers am Kreuze, Hob.XX:1: IV. Sonata No. 3 "Mulier, ecce filius tuus"

$3.40

Kafka-Fragmente, Op. 24, Pt. 4: Wiederum Wiederum

Composer(s)

György Kurtág

Artist(s)

Patricia Kopatchinskaja

Camerata Bern

Anna Prohaska

Kafka-Fragmente, Op. 24, Pt. 4: Wiederum Wiederum

$2.30

Maria-Triptychon: III. Stabat Mater

Artist(s)

Patricia Kopatchinskaja

Camerata Bern

Anna Prohaska

Maria-Triptychon: III. Stabat Mater

$2.30

Die Rundköpfe und die Spitzköpfe, Op. 45: No. 12, Lied der Kupplerin

Artist(s)

Patricia Kopatchinskaja

Camerata Bern

Anna Prohaska

Die Rundköpfe und die Spitzköpfe, Op. 45: No. 12, Lied der Kupplerin

$2.30

Kafka-Fragmente, Op. 24, Pt. 3: Der Coitus als Bestrafung

Composer(s)

György Kurtág

Artist(s)

Patricia Kopatchinskaja

Anna Prohaska

Kafka-Fragmente, Op. 24, Pt. 3: Der Coitus als Bestrafung

$2.30

Die Worte des Erlösers am Kreuze, Hob.XX:1: IX. Il Terremoto. Presto e con tutta la forza

Composer(s)

Franz Joseph Haydn

Artist(s)

Camerata Bern

Patricia Kopatchinskaja

Die Worte des Erlösers am Kreuze, Hob.XX:1: IX. Il Terremoto. Presto e con tutta la forza

$2.30

Maddalena ai piedi di Cristo: Aria. Per il mar del pianto mio

Composer(s)

Antonio Caldara

Artist(s)

Patricia Kopatchinskaja

Camerata Bern

Anna Prohaska

Maddalena ai piedi di Cristo: Aria. Per il mar del pianto mio

$2.30
Total running time: 73 minutes.
Album information

Two musical adventurers, soprano Anna Prohaska and violinist Patricia Kopatchinskaja, present Maria Mater Meretrix, a programme focusing on the three classical female phenomenologies: Saint, Mother, and Whore.

Soprano Anna Prohaska and violinist Patricia Kopatchinskaja are both well known for their taste for eclecticism, experimentation and adventure. As they are also are friends, it was only to be expected that one day they would devise and record a programme together, and here it is: Maria Mater Meretrix . . .

What is the relationship between Hildegard von Bingen and Gustav Holst, Antonio Caldara and Lili Boulanger? The two musicians and their partners in Camerata Bern explore the image of woman through ten centuries of music: the figure of the Virgin Mary – among other works, the triptych Magnificat - Ave Maria - Stabat Mater (1967/68) by Frank Martin, an unclassifiable composer whom both artists venerate – but also Mary Magdalene, in pieces by Caldara and Kurtág. The Saint, the Mother, the Whore . . . The expression of two women musicians of today, a journey full of meaning and a sensory exploration featuring solos, duets, quartets and works for large orchestra.
Related Artists
Reviews