Filters
Legros, haute-contre de Gluck
Legros, haute-contre de Gluck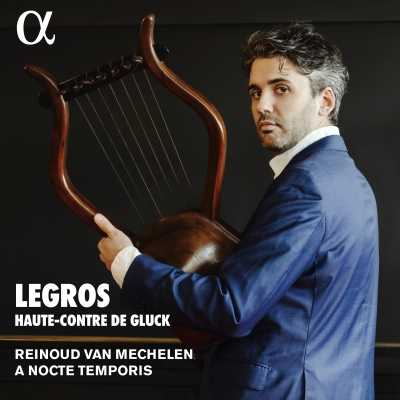 Inlay available for download
Booklet available for download
Thétis et Pelée: Ouverture

Composer(s)

Jean-Benjamin de La Borde

Artist(s)

Reinoud Van Mechelen

A Nocte Temporis

Thétis et Pelée: Ouverture

$2.30

Thétis et Pelée, Act I: Que mon destin est déplorable

Composer(s)

Jean-Benjamin de La Borde

Artist(s)

Reinoud Van Mechelen

A Nocte Temporis

Thétis et Pelée, Act I: Que mon destin est déplorable

$2.30

Thétis et Pelée, Act III: Ciel ! en voyant ce temple redoutable

Composer(s)

Jean-Benjamin de La Borde

Artist(s)

Reinoud Van Mechelen

A Nocte Temporis

Thétis et Pelée, Act III: Ciel ! en voyant ce temple redoutable

$2.30

Sylvie: Conduisez ces captifs

Composer(s)

Pierre-Montan Berton

Artist(s)

Reinoud Van Mechelen

A Nocte Temporis

Sylvie: Conduisez ces captifs

$2.30

Sylvie: Air pour les cyclopes

Composer(s)

Pierre-Montan Berton

Artist(s)

Reinoud Van Mechelen

A Nocte Temporis

Sylvie: Air pour les cyclopes

$2.30

Sylvie: Air gracieux

Composer(s)

Pierre-Montan Berton

Artist(s)

Reinoud Van Mechelen

A Nocte Temporis

Sylvie: Air gracieux

$2.30

La fête de Flore: Amour, si tu te plais à ma douleur mortelle

Composer(s)

Jean-Claude Trial

Artist(s)

Reinoud Van Mechelen

A Nocte Temporis

La fête de Flore: Amour, si tu te plais à ma douleur mortelle

$2.30

Iphigénie en Aulide, Wq. 40: Ouverture

Composer(s)

Christoph Willibald Gluck

Artist(s)

Reinoud Van Mechelen

A Nocte Temporis

Iphigénie en Aulide, Wq. 40: Ouverture

$2.30

Iphigénie en Aulide, Wq. 40, Act II: J'obtiens l'objet que j'aime

Composer(s)

Christoph Willibald Gluck

Artist(s)

Reinoud Van Mechelen

A Nocte Temporis

Iphigénie en Aulide, Wq. 40, Act II: J'obtiens l'objet que j'aime

$2.30

Orphée et Eurydice, Wq. 41, Act I: Accablé de regrets

Composer(s)

Christoph Willibald Gluck

Artist(s)

Reinoud Van Mechelen

A Nocte Temporis

Orphée et Eurydice, Wq. 41, Act I: Accablé de regrets

$2.30

Orphée et Eurydice, Wq. 41, Act II: Ballet des ombres heureuses

Composer(s)

Christoph Willibald Gluck

Artist(s)

Reinoud Van Mechelen

A Nocte Temporis

Orphée et Eurydice, Wq. 41, Act II: Ballet des ombres heureuses

$2.30

Orphée et Eurydice, Wq. 41, Act II: Quel nouveau ciel pare ces lieux !

Composer(s)

Christoph Willibald Gluck

Artist(s)

Reinoud Van Mechelen

A Nocte Temporis

Orphée et Eurydice, Wq. 41, Act II: Quel nouveau ciel pare ces lieux !

$2.30

Orphée et Eurydice, Wq. 41, Act III: Malheureux, qu'ai-je fait… J'ai perdu mon Eurydice

Composer(s)

Christoph Willibald Gluck

Artist(s)

Reinoud Van Mechelen

A Nocte Temporis

Orphée et Eurydice, Wq. 41, Act III: Malheureux, qu'ai-je fait… J'ai perdu mon Eurydice

$2.30

Alexis et Daphné: Loin de ces bois charmants à regret entraîné

Composer(s)

François-Joseph Gossec

Artist(s)

Reinoud Van Mechelen

A Nocte Temporis

Alexis et Daphné: Loin de ces bois charmants à regret entraîné

$2.30

Alexis et Daphné: Vers le sommet de la montagne

Composer(s)

François-Joseph Gossec

Artist(s)

Reinoud Van Mechelen

A Nocte Temporis

Alexis et Daphné: Vers le sommet de la montagne

$2.30

Céphale et Procris, Act II: Parais, mortel amoureux

Composer(s)

André-Modeste Gretry

Artist(s)

Reinoud Van Mechelen

A Nocte Temporis

Céphale et Procris, Act II: Parais, mortel amoureux

$2.30

Céphale et Procris: Ballet des Nymphes de Diane

Composer(s)

André-Modeste Gretry

Artist(s)

Reinoud Van Mechelen

A Nocte Temporis

Céphale et Procris: Ballet des Nymphes de Diane

$2.30

Céphale et Procris: Contredanse

Composer(s)

André-Modeste Gretry

Artist(s)

Reinoud Van Mechelen

A Nocte Temporis

Céphale et Procris: Contredanse

$2.30

Céphale et Procris, Act II: Déesse des beaux jours

Composer(s)

André-Modeste Gretry

Artist(s)

Reinoud Van Mechelen

A Nocte Temporis

Céphale et Procris, Act II: Déesse des beaux jours

$2.30

Hylas et Églé: C'est ici que j'ai vu pour la première fois

Composer(s)

Joseph Legros

Artist(s)

Reinoud Van Mechelen

A Nocte Temporis

Hylas et Églé: C'est ici que j'ai vu pour la première fois

$2.30

Atys, Act II: Ô funeste amitié ! Confiance accablante !

Composer(s)

Niccolò Piccinni

Artist(s)

Reinoud Van Mechelen

A Nocte Temporis

Atys, Act II: Ô funeste amitié ! Confiance accablante !

$2.30

Amadis de Gaule, W.G 39: Largo

Composer(s)

Johann Christian Bach

Artist(s)

Reinoud Van Mechelen

A Nocte Temporis

Amadis de Gaule, W.G 39: Largo

$2.30

Iphigénie en Tauride, Wq. 46, Act II: Quel langage accablant pour un ami qui t'aime !

Composer(s)

Christoph Willibald Gluck

Artist(s)

Reinoud Van Mechelen

A Nocte Temporis

Iphigénie en Tauride, Wq. 46, Act II: Quel langage accablant pour un ami qui t'aime !

$2.30
Total running time: 72 minutes.
Album information

Tenor Reinoud Van Mechelen concludes his trilogy dedicated to hautes-contre with "Legros, haute-contre de Gluck". Joseph Legros (1739-1793) was a singer at the Paris Opéra, renowned for his extraordinary musical abilities, wide range and brilliant high notes.

"His contemporaries appreciated the fact that his vocal delivery was not forced and that his taste was less mannered than that of his predecessors. His pronunciation was perfect and his face pleasing, although he did not cut a graceful figure and his stage acting left something to be desired" writes Benoit Dratwicki, of the Centre de Musique Baroque de Versailles, which is a partner in this series... Legros sparked renewed interest among modern composers for the haute-contre voice. The first to write for him were La Borde, Trial and Berton. Then came Gossec (Alexis et Daphné) and Grétry (Céphale et Procris). In 1774, Gluck's arrival in Paris marked a turning point in Legros's career: he made a name for himself in Orphée et Eurydice, caused a sensation in Iphigénie en Aulide and Iphigénie en Tauride... The title roles in Amadis de Gaule by J. C. Bach and Piccinni's Atys were the last roles in which he shone. After Legros, the haute-contre voice gradually disappeared from the French operatic scene. His successor, Étienne Lainez, who possessed a powerful voice with a very resonant medium, proved incapable of taking over the older repertory, his voice being that of a true tenor.
Related Artists