Filters
Jéliote, haute-contre de Rameau
Jéliote, haute-contre de Rameau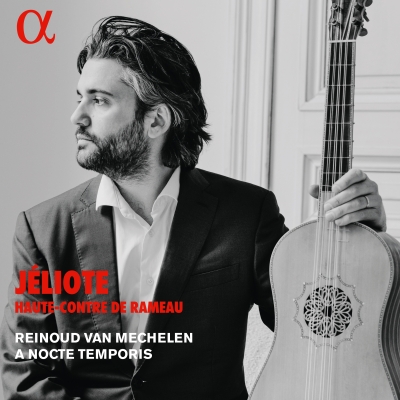 Inlay available for download
Booklet available for download
Hippolyte et Aricie, RCT 43: Ouverture

Composer(s)

Jean-Philippe Rameau

Artist(s)

Reinoud Van Mechelen

A Nocte Temporis

Hippolyte et Aricie, RCT 43: Ouverture

$2.30

Hippolyte et Aricie, RCT 43: Air. "Plaisirs, doux vainqueurs"

Composer(s)

Jean-Philippe Rameau

Artist(s)

Reinoud Van Mechelen

A Nocte Temporis

Hippolyte et Aricie, RCT 43: Air. "Plaisirs, doux vainqueurs"

$2.30

Les fêtes grecques et romaines: Air. pur les coureurs "Le prix que la gloire présente"

Composer(s)

François Colin de Blamont

Artist(s)

Reinoud Van Mechelen

A Nocte Temporis

Les fêtes grecques et romaines: Air. pur les coureurs "Le prix que la gloire présente"

$2.30

Scandeberg: Air. "Muses, je viens encor"

Composer(s)

François Rebel

Artist(s)

Reinoud Van Mechelen

A Nocte Temporis

Scandeberg: Air. "Muses, je viens encor"

$2.30

Nitétis: Air. "Fleuve fécond"

Composer(s)

Charles-Louis Mion

Artist(s)

Reinoud Van Mechelen

A Nocte Temporis

Nitétis: Air. "Fleuve fécond"

$2.30

Dardanus, RCT 35: Air. "Lieux funestes"

Composer(s)

Jean-Philippe Rameau

Artist(s)

Reinoud Van Mechelen

A Nocte Temporis

Dardanus, RCT 35: Air. "Lieux funestes"

$2.30

Platée, RCT 53: Ouverture

Composer(s)

Jean-Philippe Rameau

Artist(s)

Reinoud Van Mechelen

A Nocte Temporis

Platée, RCT 53: Ouverture

$2.30

Platée, RCT 53: Air. "Que ce séjour est agréable"

Composer(s)

Jean-Philippe Rameau

Artist(s)

Reinoud Van Mechelen

A Nocte Temporis

Platée, RCT 53: Air. "Que ce séjour est agréable"

$2.30

Platée, RCT 53: Marche pour la danse

Composer(s)

Jean-Philippe Rameau

Artist(s)

Reinoud Van Mechelen

A Nocte Temporis

Platée, RCT 53: Marche pour la danse

$2.30

Zelisca: Air. "Ici les ris et les jeux"

Composer(s)

Pierre de Jéliote

Artist(s)

Reinoud Van Mechelen

A Nocte Temporis

Zelisca: Air. "Ici les ris et les jeux"

$2.30

Le temple de la gloire, RCT 59: Air. "Ces oiseaux par leur doux ramage"

Composer(s)

Jean-Philippe Rameau

Artist(s)

Reinoud Van Mechelen

A Nocte Temporis

Le temple de la gloire, RCT 59: Air. "Ces oiseaux par leur doux ramage"

$2.30

Scylla et Glaucus: Symphonie pour la descente de Vénus

Composer(s)

Jean-Marie Leclair

Artist(s)

Reinoud Van Mechelen

A Nocte Temporis

Scylla et Glaucus: Symphonie pour la descente de Vénus

$2.30

Les amours de Tempé: Air. "Prés fleuris"

Composer(s)

Antoine Dauvergne

Artist(s)

Reinoud Van Mechelen

A Nocte Temporis

Les amours de Tempé: Air. "Prés fleuris"

$2.30

Les amours de Tempé: Musette en rondeau - 1er et 2ème rigaudon

Composer(s)

Antoine Dauvergne

Artist(s)

Reinoud Van Mechelen

A Nocte Temporis

Les amours de Tempé: Musette en rondeau - 1er et 2ème rigaudon

$2.30

Castor et Pollux, RCT 32: Air. "Séjour de l'éternelle paix"

Composer(s)

Jean-Philippe Rameau

Artist(s)

Reinoud Van Mechelen

A Nocte Temporis

Castor et Pollux, RCT 32: Air. "Séjour de l'éternelle paix"

$2.30

Daphnis et Alcimadure, Op. 9: Air. "Hélas ! Qui me raméno"

Composer(s)

Jean-Joseph Cassanéa de Mondonville

Artist(s)

Reinoud Van Mechelen

A Nocte Temporis

Daphnis et Alcimadure, Op. 9: Air. "Hélas ! Qui me raméno"

$2.30

Daphnis et Alcimadure, Op. 9: Menuet

Composer(s)

Jean-Joseph Cassanéa de Mondonville

Artist(s)

Reinoud Van Mechelen

A Nocte Temporis

Daphnis et Alcimadure, Op. 9: Menuet

$2.30

Daphnis et Alcimadure, Op. 9: "Poulido pastourélo" / Air du pays

Composer(s)

Jean-Joseph Cassanéa de Mondonville

Artist(s)

Reinoud Van Mechelen

A Nocte Temporis

Daphnis et Alcimadure, Op. 9: "Poulido pastourélo" / Air du pays

$2.30

Erosine: Air. "Ce n'est pas un crime en aimant"

Composer(s)

Pierre-Montan Berton

Artist(s)

Reinoud Van Mechelen

A Nocte Temporis

Erosine: Air. "Ce n'est pas un crime en aimant"

$2.30

Ismène et Isménias: Air. "Pourquoi cruel amour"

Composer(s)

Jean-Benjamin de La Borde

Artist(s)

Reinoud Van Mechelen

A Nocte Temporis

Ismène et Isménias: Air. "Pourquoi cruel amour"

$2.30

Les Boréades, RCT 31: Air. "Charmes trop dangereux"

Composer(s)

Jean-Philippe Rameau

Artist(s)

Reinoud Van Mechelen

A Nocte Temporis

Les Boréades, RCT 31: Air. "Charmes trop dangereux"

$2.30

Les Boréades, RCT 31: Rigaudon

Composer(s)

Jean-Philippe Rameau

Artist(s)

Reinoud Van Mechelen

A Nocte Temporis

Les Boréades, RCT 31: Rigaudon

$2.30

Les Boréades, RCT 31: Entrée des muses

Composer(s)

Jean-Philippe Rameau

Artist(s)

Reinoud Van Mechelen

A Nocte Temporis

Les Boréades, RCT 31: Entrée des muses

$2.30

Les Boréades, RCT 31: Air. "Que l'amour embellit la vie"

Composer(s)

Jean-Philippe Rameau

Artist(s)

Reinoud Van Mechelen

A Nocte Temporis

Les Boréades, RCT 31: Air. "Que l'amour embellit la vie"

$2.30

Hippolyte et Aricie, RCT 43: Entrée des habitants de la forêt

Composer(s)

Jean-Philippe Rameau

Artist(s)

Reinoud Van Mechelen

A Nocte Temporis

Hippolyte et Aricie, RCT 43: Entrée des habitants de la forêt

$2.30

Les fêtes d'Hébé, RCT 41: Air. "L'objet qui règne dans mon âme"

Composer(s)

Jean-Philippe Rameau

Artist(s)

Reinoud Van Mechelen

A Nocte Temporis

Les fêtes d'Hébé, RCT 41: Air. "L'objet qui règne dans mon âme"

$2.30
Total running time: 86 minutes.


Album information

Reinoud Van Mechelen and his ensemble A Nocte Temporis continue their 'Haute-Contre Trilogy' with Rameau's favourite singer. Pierre de Jéliote's high tenor voice (not to be confused with the countertenor) warranted his reputation as probably the finest haute-contre in history.

Rameau wrote an enormous amount of music for Jéliote, who was not only a singer but also a guitarist, a cellist and even a composer. The album pays tribute to this native of the Béarn region, who was born in 1713 and died at the ripe old age of eighty-four, with a selection of airs by Rameau (from Hippolyte et Aricie, Les Fêtes d'Hébé, Platée, Castor et Pollux, Les Boréades) but also by Dauvergne, Colin de Blamont, Mondonville, Rebel and Francoeur. Though some are well known, others are much more rarely performed today.
Related Artists
Reviews