Filters
Hommage à J. S. B.: Works for Solo Violin
Hommage à J. S. B.: Works for Solo Violin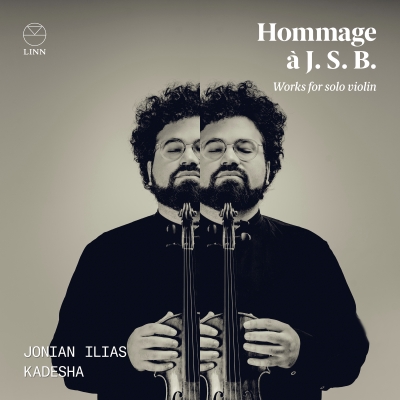 Inlay available for download
Booklet available for download
Signs, Games and Messages: Hommage à  J. S. B.

Composer(s)

György Kurtág

Artist(s)

Jonian Ilias Kadesha

Signs, Games and Messages: Hommage à  J. S. B.

$2.30

Partita No. 2 in D Minor, BWV 1004: I. Allemande

Composer(s)

Johann Sebastian Bach

Artist(s)

Jonian Ilias Kadesha

Partita No. 2 in D Minor, BWV 1004: I. Allemande

$2.30

Partita No. 2 in D Minor, BWV 1004: II. Courante

Composer(s)

Johann Sebastian Bach

Artist(s)

Jonian Ilias Kadesha

Partita No. 2 in D Minor, BWV 1004: II. Courante

$2.30

Partita No. 2 in D Minor, BWV 1004: III. Sarabande

Composer(s)

Johann Sebastian Bach

Artist(s)

Jonian Ilias Kadesha

Partita No. 2 in D Minor, BWV 1004: III. Sarabande

$2.30

Partita No. 2 in D Minor, BWV 1004: IV. Gigue

Composer(s)

Johann Sebastian Bach

Artist(s)

Jonian Ilias Kadesha

Partita No. 2 in D Minor, BWV 1004: IV. Gigue

$2.30

Partita No. 2 in D Minor, BWV 1004: V. Chaconne

Composer(s)

Johann Sebastian Bach

Artist(s)

Jonian Ilias Kadesha

Partita No. 2 in D Minor, BWV 1004: V. Chaconne

$4.60

Signs, Games and Messages: Perpetuum mobile a

Composer(s)

György Kurtág

Artist(s)

Jonian Ilias Kadesha

Signs, Games and Messages: Perpetuum mobile a

$2.30

Ciaccona for Violin Solo

Composer(s)

Helena Winkelman

Artist(s)

Jonian Ilias Kadesha

Ciaccona for Violin Solo

$2.30

Signs, Games and Messages: Perpetuum mobile b

Composer(s)

György Kurtág

Artist(s)

Jonian Ilias Kadesha

Signs, Games and Messages: Perpetuum mobile b

$2.30

Fugue for Solo Violin

Composer(s)

Alfred Schnittke

Artist(s)

Jonian Ilias Kadesha

Fugue for Solo Violin

$2.30

Signs, Games and Messages: Perpetuum mobile c

Composer(s)

György Kurtág

Artist(s)

Jonian Ilias Kadesha

Signs, Games and Messages: Perpetuum mobile c

$2.30

Lonely Suite, Op. 70 "Ballet for a Lonely Violinist": I. Dancing with Oneself

Composer(s)

Lera Auerbach

Artist(s)

Jonian Ilias Kadesha

Lonely Suite, Op. 70 "Ballet for a Lonely Violinist": I. Dancing with Oneself

$2.30

Lonely Suite, Op. 70 "Ballet for a Lonely Violinist": II. Boredom

Composer(s)

Lera Auerbach

Artist(s)

Jonian Ilias Kadesha

Lonely Suite, Op. 70 "Ballet for a Lonely Violinist": II. Boredom

$2.30

Lonely Suite, Op. 70 "Ballet for a Lonely Violinist": III. No Escape

Composer(s)

Lera Auerbach

Artist(s)

Jonian Ilias Kadesha

Lonely Suite, Op. 70 "Ballet for a Lonely Violinist": III. No Escape

$2.30

Lonely Suite, Op. 70 "Ballet for a Lonely Violinist": IV. Imaginary Dialogue

Composer(s)

Lera Auerbach

Artist(s)

Jonian Ilias Kadesha

Lonely Suite, Op. 70 "Ballet for a Lonely Violinist": IV. Imaginary Dialogue

$2.30

Lonely Suite, Op. 70 "Ballet for a Lonely Violinist": V. Worrisome Thought

Composer(s)

Lera Auerbach

Artist(s)

Jonian Ilias Kadesha

Lonely Suite, Op. 70 "Ballet for a Lonely Violinist": V. Worrisome Thought

$2.30

Lonely Suite, Op. 70 "Ballet for a Lonely Violinist": VI. Question

Composer(s)

Lera Auerbach

Artist(s)

Jonian Ilias Kadesha

Lonely Suite, Op. 70 "Ballet for a Lonely Violinist": VI. Question

$2.30

Signs, Games and Messages: Népdalféle

Composer(s)

György Kurtág

Artist(s)

Jonian Ilias Kadesha

Signs, Games and Messages: Népdalféle

$2.30

Rosary Sonatas: XVI. Passacaglia in G Minor, C 105

Composer(s)

Heinrich Ignaz Franz Biber

Artist(s)

Jonian Ilias Kadesha

Rosary Sonatas: XVI. Passacaglia in G Minor, C 105

$3.40

Signs, Games and Messages: … féerie d'automne …

Composer(s)

György Kurtág

Artist(s)

Jonian Ilias Kadesha

Signs, Games and Messages: … féerie d'automne …

$2.30
Total running time: 58 minutes.
Album information

Linn is delighted to announce a new collaboration with violinist Jonian Ilias Kadesha. This highly distinctive musician has worked with leading artists and orchestras such as Chamber Orchestra of Europe, Scottish Chamber Orchestra, Nicolas Altstaedt, Steven Isserlis and Patricia Kopatchinskaja to name but a few.

For his debut album on Linn, he has recorded a high-flying recital of solo violin pieces spanning five centuries. One of the oldest pieces of music written for solo violin, Biber's angelic and absolutely mesmerizing Passacaglia stands alongside Bach's enduringly famous Second Partita, whose last movement is the starting point for the Ciaccona for Violin Solo by Swiss composer Helena Winkelman, which receives its first commercial recording here.

Twentieth- and twenty-first-century works by Schnittke, Kurtág and Lera Auerbach, all heavily inspired by Bach's music, complete the programme which augurs a fruitful partnership with a promising young talent.
Related Artists
Reviews