Filters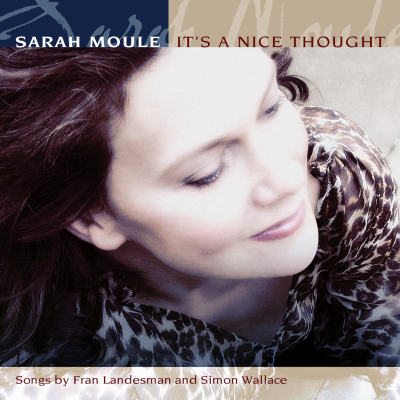 Inlay available for download
Booklet available for download
It's Cool to be Cool

Composer(s)

Fran Landesman, Simon Wallace

Artist(s)

Sarah Moule

Simon Wallace - piano, Jim Mullen - guitar, Mick Hutton - bass, Gary Hammond - percussion, Paul Robinson - drums

It's Cool to be Cool

$1.80

It's a Nice Thought

Composer(s)

Fran Landesman, Simon Wallace

Artist(s)

Sarah Moule

Simon Wallace - piano, Jim Mullen - guitar, Mick Hutton - bass, Gary Hammond - percussion, Paul Robinson - drums

It's a Nice Thought

$1.80

Jazz Aliens

Composer(s)

Fran Landesman, Simon Wallace

Artist(s)

Sarah Moule

Simon Wallace - piano, Jim Mullen - guitar, Mick Hutton - bass, Gary Hammond - percussion, Paul Robinson - drums, Iain Bellamy - saxophone

Jazz Aliens

$1.80

Feet Do Your Stuff

Composer(s)

Fran Landesman, Simon Wallace

Artist(s)

Sarah Moule

Simon Wallace - piano, Jim Mullen - guitar, Mick Hutton - bass, Gary Hammond - percussion, Paul Robinson - drums, Steve Waterman - trumpet

Feet Do Your Stuff

$1.80

When Your Computer Crashes

Composer(s)

Fran Landesman, Simon Wallace

Artist(s)

Sarah Moule

Simon Wallace - piano, Jim Mullen - guitar, Mick Hutton - bass, Gary Hammond - percussion, Paul Robinson - drums

When Your Computer Crashes

$1.80

This Tune in my Head

Composer(s)

Fran Landesman, Simon Wallace

Artist(s)

Sarah Moule

Simon Wallace - piano, Jim Mullen - guitar, Mick Hutton - bass, Gary Hammond - percussion, Paul Robinson - drums

Ian Shaw - vocals

This Tune in my Head

$1.80

What Fools These Mortals Be

Composer(s)

Fran Landesman, Simon Wallace

Artist(s)

Sarah Moule

Simon Wallace - piano, Jim Mullen - guitar, Mick Hutton - bass, Gary Hammond - percussion, Paul Robinson - drums

What Fools These Mortals Be

$1.80

One Thing Leads To Another

Composer(s)

Fran Landesman, Simon Wallace

Artist(s)

Sarah Moule

Simon Wallace - piano, Jim Mullen - guitar, Mick Hutton - bass, Gary Hammond - percussion, Paul Robinson - drums, Steve Waterman - trumpet

One Thing Leads To Another

$1.80

Love Go Round

Composer(s)

Fran Landesman, Simon Wallace

Artist(s)

Sarah Moule

Simon Wallace - piano, Jim Mullen - guitar, Mick Hutton - bass, Gary Hammond - percussion, Paul Robinson - drums

Love Go Round

$1.80

Real Life

Composer(s)

Fran Landesman, Simon Wallace

Artist(s)

Sarah Moule

Simon Wallace - piano, Jim Mullen - guitar, Mick Hutton - bass, Gary Hammond - percussion, Paul Robinson - drums, Tim Whitehead - saxophone, Fayaz Virji - trombone

Real Life

$1.80

A Suicide in Schenectady

Composer(s)

Fran Landesman, Simon Wallace

Artist(s)

Sarah Moule

Simon Wallace - piano, Jim Mullen - guitar, Mick Hutton - bass, Dawson Miller - percussion, Roy Dodds - drums, Tim Whitehead - saxophone

A Suicide in Schenectady

$1.80

Some Boys

Composer(s)

Fran Landesman, Simon Wallace

Artist(s)

Sarah Moule

Simon Wallace - piano, Jim Mullen - guitar, Mick Hutton - bass, Gary Hammond - percussion, Paul Robinson - drums

Some Boys

$1.80

The Heart of Love

Composer(s)

Fran Landesman, Simon Wallace

Artist(s)

Sarah Moule

Simon Wallace - piano, Jim Mullen - guitar, Mick Hutton - bass, Gary Hammond - percussion, Paul Robinson - drums

The Heart of Love

$1.80

Usual Suspects

Composer(s)

Fran Landesman, Simon Wallace

Artist(s)

Sarah Moule

Simon Wallace - piano, Jim Mullen - guitar, Mick Hutton - bass, Gary Hammond - percussion, Paul Robinson - drums, Iain Bellamy - saxophone

Usual Suspects

$1.80
Total running time: 56 minutes.
Album information

Sarah Moule's debut album It's A Nice Thought features 14 songs with lyrics by Fran Landesman and music by Simon Wallace.

New York born and raised but London-based for many years, Fran Landesman is a genuine beat survivor and a lyricist with a humorous, lightly ironic touch, a deep humanism and flashes of penetrating insight. Songs she wrote with Tommy Wolf in the 1950s, such as 'Spring Can Really Hang You Up The Most', went on to become standards. The songs on this album were all written in the last few years and encapsulate the gritty realism of modern life. Full of literate, often witty songs that lend themselves perfectly to Sarah's emotionally direct vocal style, Simon Wallace has been working closely with Fran for around 8 years producing over 300 songs as well as maintaining a busy career as a jazz pianist and composer.

Sarah Moule sings with a combination of gusty swing and sensitivity, bringing to bear her own life experience to sing Fran Landesman's strong words with the self-assurance they require. 
Related Artists
Reviews