Filters
Artist
Carlo Vistoli
Raffaele Giordani
Salvo Vitale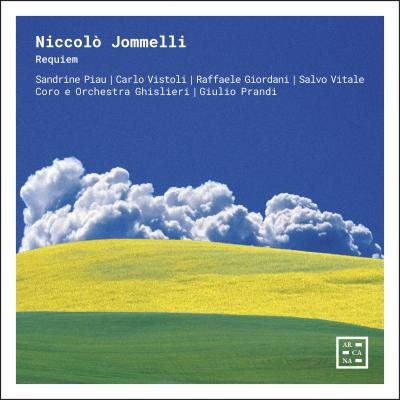 Inlay available for download
Booklet available for download
Requiem, Antiphona: Dominus custodit te

Artist(s)

Renato Cadel

Schola Gregoriana Ghislieri

Requiem, Antiphona: Dominus custodit te

$2.30

Requiem, Introitus: Requiem æternam

Composer(s)

Niccolò Jommelli

Artist(s)

Giulio Prandi

Sandrine Piau

Coro e Orchestra Ghislieri

Carlo Vistoli

Requiem, Introitus: Requiem æternam

$2.30

Requiem, Kyrie: I. Kyrie eleison

Composer(s)

Niccolò Jommelli

Artist(s)

Giulio Prandi

Coro e Orchestra Ghislieri

Requiem, Kyrie: I. Kyrie eleison

$2.30

Requiem, Kyrie: II. Christe eleison

Composer(s)

Niccolò Jommelli

Artist(s)

Giulio Prandi

Sandrine Piau

Coro e Orchestra Ghislieri

Raffaele Giordani

Carlo Vistoli

Requiem, Kyrie: II. Christe eleison

$2.30

Requiem, Kyrie: III. Kyrie eleison

Composer(s)

Niccolò Jommelli

Artist(s)

Giulio Prandi

Coro e Orchestra Ghislieri

Requiem, Kyrie: III. Kyrie eleison

$2.30

Requiem, Tractus: Absolve, Domine

Artist(s)

Renato Cadel

Schola Gregoriana Ghislieri

Requiem, Tractus: Absolve, Domine

$2.30

Requiem, Sequentia: I. Dies iræ

Composer(s)

Niccolò Jommelli

Artist(s)

Giulio Prandi

Sandrine Piau

Coro e Orchestra Ghislieri

Raffaele Giordani

Carlo Vistoli

Requiem, Sequentia: I. Dies iræ

$2.30

Requiem, Sequentia: II. Salva me

Composer(s)

Niccolò Jommelli

Artist(s)

Giulio Prandi

Sandrine Piau

Coro e Orchestra Ghislieri

Raffaele Giordani

Carlo Vistoli

Requiem, Sequentia: II. Salva me

$2.30

Requiem, Sequentia: III. Voca me

Composer(s)

Niccolò Jommelli

Artist(s)

Giulio Prandi

Sandrine Piau

Coro e Orchestra Ghislieri

Raffaele Giordani

Carlo Vistoli

Requiem, Sequentia: III. Voca me

$2.30

Requiem, Sequentia: IV. Pie Jesu

Composer(s)

Niccolò Jommelli

Artist(s)

Giulio Prandi

Coro e Orchestra Ghislieri

Requiem, Sequentia: IV. Pie Jesu

$2.30

Requiem, Offertorium: I. Domine, Jesu Christe

Composer(s)

Niccolò Jommelli

Artist(s)

Giulio Prandi

Coro e Orchestra Ghislieri

Requiem, Offertorium: I. Domine, Jesu Christe

$2.30

Requiem, Offertorium: II. Hostias et preces

Composer(s)

Niccolò Jommelli

Artist(s)

Giulio Prandi

Sandrine Piau

Coro e Orchestra Ghislieri

Raffaele Giordani

Carlo Vistoli

Requiem, Offertorium: II. Hostias et preces

$2.30

Requiem, Sanctus: I. Sanctus

Composer(s)

Niccolò Jommelli

Artist(s)

Giulio Prandi

Sandrine Piau

Coro e Orchestra Ghislieri

Raffaele Giordani

Carlo Vistoli

Requiem, Sanctus: I. Sanctus

$2.30

Requiem, Sanctus: II. Hosanna

Composer(s)

Niccolò Jommelli

Artist(s)

Giulio Prandi

Coro e Orchestra Ghislieri

Requiem, Sanctus: II. Hosanna

$2.30

Requiem: Benedictus

Composer(s)

Niccolò Jommelli

Artist(s)

Giulio Prandi

Sandrine Piau

Coro e Orchestra Ghislieri

Requiem: Benedictus

$2.30

Requiem, Agnus Dei: I. Agnus Dei

Composer(s)

Niccolò Jommelli

Artist(s)

Giulio Prandi

Sandrine Piau

Coro e Orchestra Ghislieri

Raffaele Giordani

Carlo Vistoli

Requiem, Agnus Dei: I. Agnus Dei

$2.30

Requiem, Agnus Dei: II. Dona eis

Composer(s)

Niccolò Jommelli

Artist(s)

Giulio Prandi

Coro e Orchestra Ghislieri

Requiem, Agnus Dei: II. Dona eis

$2.30

Requiem, Communio: I. Lux æterna

Composer(s)

Niccolò Jommelli

Artist(s)

Giulio Prandi

Coro e Orchestra Ghislieri

Requiem, Communio: I. Lux æterna

$2.30

Requiem, Communio: II. Requiem æternam

Composer(s)

Niccolò Jommelli

Artist(s)

Giulio Prandi

Sandrine Piau

Coro e Orchestra Ghislieri

Carlo Vistoli

Requiem, Communio: II. Requiem æternam

$2.30

Requiem, Postcommunio: Inveniat

Artist(s)

Renato Cadel

Schola Gregoriana Ghislieri

Requiem, Postcommunio: Inveniat

$2.30

Requiem, Responsorium: I. Libera me

Composer(s)

Niccolò Jommelli

Artist(s)

Giulio Prandi

Sandrine Piau

Coro e Orchestra Ghislieri

Carlo Vistoli

Requiem, Responsorium: I. Libera me

$2.30

Requiem, Responsorium: II. Quando cœli

Composer(s)

Niccolò Jommelli

Artist(s)

Giulio Prandi

Coro e Orchestra Ghislieri

Requiem, Responsorium: II. Quando cœli

$2.30

Requiem, Responsorium: III. Dum veneris

Composer(s)

Niccolò Jommelli

Artist(s)

Giulio Prandi

Sandrine Piau

Coro e Orchestra Ghislieri

Raffaele Giordani

Carlo Vistoli

Requiem, Responsorium: III. Dum veneris

$2.30

Requiem, Responsorium: IV. Tremens factus

Composer(s)

Niccolò Jommelli

Artist(s)

Giulio Prandi

Sandrine Piau

Coro e Orchestra Ghislieri

Requiem, Responsorium: IV. Tremens factus

$2.30

Requiem, Responsorium: V. Quando cœli

Composer(s)

Niccolò Jommelli

Artist(s)

Giulio Prandi

Coro e Orchestra Ghislieri

Requiem, Responsorium: V. Quando cœli

$2.30

Requiem, Responsorium: VI. Dies illa

Composer(s)

Niccolò Jommelli

Artist(s)

Giulio Prandi

Coro e Orchestra Ghislieri

Carlo Vistoli

Requiem, Responsorium: VI. Dies illa

$2.30

Requiem, Responsorium: VII. Dum veneris

Composer(s)

Niccolò Jommelli

Artist(s)

Giulio Prandi

Sandrine Piau

Coro e Orchestra Ghislieri

Raffaele Giordani

Carlo Vistoli

Requiem, Responsorium: VII. Dum veneris

$2.30
Total running time: 55 minutes.

Album information

After the great success of their first disc for Arcana featuring two unpublished masterpieces by Pergolesi, which won the 'Diapason Découverte' award, Giulio Prandi and the Coro e Orchestra Ghislieri return with a new recording, devoted to Niccolò Jommelli's Requiem.

Composed in 1756 for the solemn obsequies of the Duke of Württemberg's mother, it became the most popular Requiem setting in Europe until Mozart's, written in 1791. Jommelli's work, which is bound to surprise even the most seasoned enthusiast of this repertory, is dominated by a luminous intimacy that does not rely on fearsome and spectacular effects, but concentrates on vocal beauty and subtle musical narration.

The voices of Sandrine Piau and Carlo Vistoli lie at the heart of a structure in which the choir participates in an iridescent contrapuntal texture making full use of the skills gained during the composer's years in Venice and Rome. The outcome of a long process of research, this recording is based on a new critical edition that presents for the first time a coherent and complete score of the Requiem, and incorporates the sections in plainchant, thus restoring the authentic musical balance Jommelli intended the work's first listeners to experience.
Related Artists
Reviews