Filters
Journey through Armenia: Royal Academy of Music Bicentenary Series
Journey through Armenia: Royal Academy of Music Bicentenary Series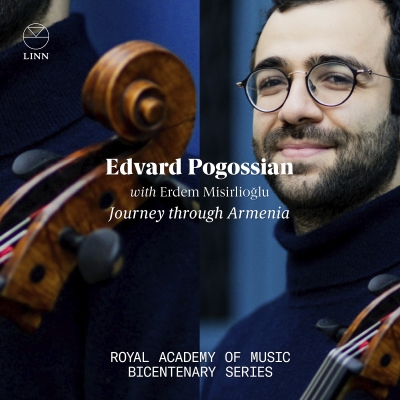 Inlay available for download
Booklet available for download
Ampel A

Artist(s)

Edvard Pogossian

Erdem Mısırlıoğlu

Ampel A

$2.95

Cello Sonata No. 1 for Mané: I. Movement 1

Composer(s)

Tigran Hamasyan

Artist(s)

Edvard Pogossian

Erdem Mısırlıoğlu

Cello Sonata No. 1 for Mané: I. Movement 1

$2.95

Cello Sonata No. 1 for Mané: II. Movement 2

Composer(s)

Tigran Hamasyan

Artist(s)

Edvard Pogossian

Erdem Mısırlıoğlu

Cello Sonata No. 1 for Mané: II. Movement 2

$5.75

Chinar Es

Artist(s)

Edvard Pogossian

Erdem Mısırlıoğlu

Chinar Es

$2.95

Sonata-Fantasy in C Major, Op. 104

Composer(s)

Aram Khachaturian

Artist(s)

Edvard Pogossian

Sonata-Fantasy in C Major, Op. 104

$4.60

Garoon A

Artist(s)

Edvard Pogossian

Erdem Mısırlıoğlu

Garoon A

$2.95
Total running time: 38 minutes.
Album information

With Journey through Armenia, cellist Edvard Pogossian makes his mark on the Royal Academy of Music Bicentenary Series. As hinted in the title, this very personal album takes us on a musical tour through Edvards's beloved country.

The journey begins with Komitas, a priest and victim of the Armenian genocide who collected and transcribed thousands of Armenian folk songs. Aram Khachaturian's Sonata-Fantasy weaves a wondrous story imbued with passion and imagination. Tigran Hamasyan's music transcends genre and possesses a wonderful freshness unusual in today's music. His cello sonata is given its world premiere here.

Edvard Pogossian is one of the exceptional artists, including Liam Bonthrone, Junyan Chen, Aidan Mikdad and Charlie Lovell-Jones, who are the recipients of the Academy's Bicentenary Scholarships scheme for 2021/22.
Related Artists