Filters
Mayrig. To Armenian Mothers
Mayrig. To Armenian Mothers
Artist
David Haroutunian
Xénia Maliarevitch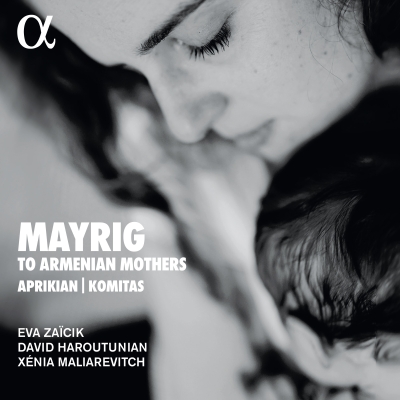 Inlay available for download
Booklet available for download
Lamento

Composer(s)

Garbis Aprikian

Artist(s)

David Haroutunian

Xénia Maliarevitch

Eva Zaïcik

Lamento

$2.30

Qeler Tsoler

Artist(s)

Xénia Maliarevitch

Eva Zaïcik

Qeler Tsoler

$2.30

Shogher Jan

Artist(s)

Xénia Maliarevitch

Eva Zaïcik

Shogher Jan

$2.30

Dances: No. 4, Shushiki

Artist(s)

Xénia Maliarevitch

Dances: No. 4, Shushiki

$2.30

Lullaby

Composer(s)

Parsegh Ganatchian

Artist(s)

David Haroutunian

Xénia Maliarevitch

Eva Zaïcik

Lullaby

$2.30

Tsirani Tsar

Artist(s)

Xénia Maliarevitch

David Haroutunian

Tsirani Tsar

$2.30

Hoy Nazan

Artist(s)

Xénia Maliarevitch

Eva Zaïcik

Hoy Nazan

$2.30

Lullaby

Artist(s)

Xénia Maliarevitch

Eva Zaïcik

Lullaby

$2.30

Krunk

Artist(s)

Xénia Maliarevitch

David Haroutunian

Krunk

$2.30

Antuni

Artist(s)

Xénia Maliarevitch

Eva Zaïcik

Antuni

$2.30

Jan, ay loosin! (Loosin yelav)

Composer(s)

Hakob Aghabab

Artist(s)

David Haroutunian

Xénia Maliarevitch

Eva Zaïcik

Jan, ay loosin! (Loosin yelav)

$2.30

Dances: No. 1, Yerangi

Artist(s)

Xénia Maliarevitch

Dances: No. 1, Yerangi

$2.30

Lullaby

Composer(s)

Garbis Aprikian

Artist(s)

David Haroutunian

Xénia Maliarevitch

Eva Zaïcik

Lullaby

$2.30

Akh, Maral jan & Ervum em

Artist(s)

Xénia Maliarevitch

Eva Zaïcik

Akh, Maral jan & Ervum em

$2.30

Garun A

Artist(s)

Xénia Maliarevitch

Eva Zaïcik

Garun A

$2.30

Chinar es

Artist(s)

David Haroutunian

Xénia Maliarevitch

Eva Zaïcik

Chinar es

$2.30

Kaqavik

Artist(s)

Xénia Maliarevitch

David Haroutunian

Kaqavik

$2.30

Yerkinqn Ampel e

Artist(s)

Xénia Maliarevitch

Eva Zaïcik

Yerkinqn Ampel e

$2.30

Qele, Qele

Artist(s)

Xénia Maliarevitch

Eva Zaïcik

Qele, Qele

$2.30

Dances: No. 5, Het-Araj

Artist(s)

Xénia Maliarevitch

Dances: No. 5, Het-Araj

$2.30

Petite suite nuptiale: I. Romance sans paroles. Barcarolla

Composer(s)

Garbis Aprikian

Artist(s)

Xénia Maliarevitch

David Haroutunian

Petite suite nuptiale: I. Romance sans paroles. Barcarolla

$2.30

Petite suite nuptiale: II. Kovk. Louange et vœux

Composer(s)

Garbis Aprikian

Artist(s)

David Haroutunian

Xénia Maliarevitch

Eva Zaïcik

Petite suite nuptiale: II. Kovk. Louange et vœux

$2.30

Petite suite nuptiale: III. Hymne. Bénédiction

Composer(s)

Garbis Aprikian

Artist(s)

David Haroutunian

Xénia Maliarevitch

Eva Zaïcik

Petite suite nuptiale: III. Hymne. Bénédiction

$2.30

Petite suite nuptiale: IV. Scherzo. Réjouissances

Composer(s)

Garbis Aprikian

Artist(s)

David Haroutunian

Xénia Maliarevitch

Eva Zaïcik

Petite suite nuptiale: IV. Scherzo. Réjouissances

$2.30
Total running time: 69 minutes.
Album information

Discover the sheer genius and legacy of the Armenian composer Komitas, who was much-admired by Debussy.

In 1906, Komitas gave a concert and lecture in Paris. Debussy came on stage after the concert and knelt before the Armenian composer (who was also a priest, a singer and a pioneer of ethnomusicology), exclaiming: 'I bow before your genius, Reverend Father.' 'Komitas is the voice of the land of Armenia, of its churches and its stones which remained silent for many centuries', the violinist David Haroutunian tells us.

Along with the mezzo-soprano Eva Zaïcik, who is passionate about these songs, and the pianist Xénia Maliarevitch, he pays tribute to this great musician and to the French-Armenian composer Garbis Aprikian, now ninety-six years old. This heir to Komitas, a student of Olivier Messiaen, has made a major contribution to the dissemination of Armenian music, both classical and popular, in France and beyond. The album opens with his Lamento, a beautiful evocation of and touching homage to Komitas.
Related Artists
Reviews