Filters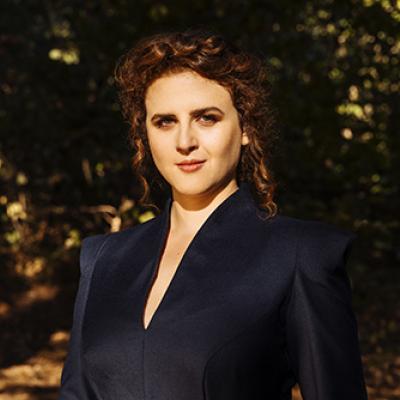 2018 saw young mezzo-soprano Eva Zaïcik – one of the most renowned opera singers of her generation - carry off the 'Revelation Opera Singers' award at the Victoires de la Musique Classique, as well as prizes in two prestigious international competitions.
Biography

Her golden timbre, impressive range and stage presence had already earned her a place on the 8th session of William Christie's Jardin des Voix with Les Arts Florissants, and other roles followed rapidly.

This interest in exchange between different cultures and time, travelling between Baroque and Romantic music with the same facilities led to the title role in Dido and Aeneas in Versailles Operas; Lybie in Lully's Phaeton at the Perm and Versailles Operas with the Poème Harmonique; La Messaggiera and Speranza in Monteverdi's Orfeo Theatre des Champs Elysées; the 3rd Lady in Mozart's Magic Flute with Les Talens Lyriques, but also to Melibea (Rossini's Il Viaggio a Reims), Farnace (Mozart's Mitridate), Cherubino (Mozart's Le Nozze di Figaro), Judith (Bartók's A Kékszakallù Herceg Vara), Diane à la Houppe (Honegger's Les Aventures du Roi Pausole) and Ernesto (Haydn's Il Mondo della Luna) with the Atelier Lyrique de l'Opéra de Paris.

In 2019, she premiered the title role in Carmen at the Théâtre Impérial de Compiègne, and Sélyzette in Dukas' Ariane and Bluebeard at Toulouse's Théâtre du Capitole.

2020, will see her performing in many prestigious productions as Berlioz's Les Nuits d'Eté with the Aalborg Symfoniokester in Danemark under the baton of Maestro Michael Schønwandt, then on a big tour in Brazil. She will also perform in New York as mezzo solo on the Monteverdi's Marian Vespers with l'Ensemble Pygmalion, and will appears on Olivier Py's new production as Paulina in Tchaikovsky's Pikovaya Dama, before living on a Haendel Tour with Les Arts Florissants.

She has performed in many prestigious venues both in France and abroad (Philharmonie de Paris, Aix en Provence, Chorégies d'Orange, Avignon, Oude Muziek d'Utrecht, Festival Messiaen, Diaghilev Festival de Perm, Auditorio Nacional Madrid, Tchaïkovsky Concert Hall, Barbican Center, Royal Albert Hall de Londres, Seoul ...) under the baton of such great conductors as (Alain Altinoglu, Leonardo Garcia Alarcòn, Marco Guidarini, Emmanuelle Haïm, Philippe Herreweghe, René Jacobs, Cornelius Meister, David Reiland ...

She often joins Justin Taylor and his Consort for several baroque programmes (including performances at Antwerp's AMUZ Festival and the Bruges Concertgebouw). One of these programmes, devoted to French Cantatas, "Venez Chère Ombre", has been recorded by Alpha.
Reviews