Filters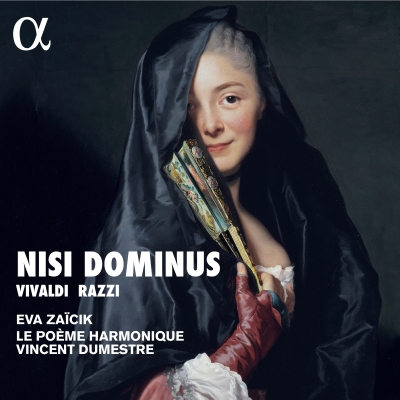 Inlay available for download
Booklet available for download
O Vergin Santa

Composer(s)

Serafino Razzi

Artist(s)

Vincent Dumestre

Eva Zaïcik

Le Poème Harmonique

Déborah Cachet

O Vergin Santa

$2.30

Giesù diletto sposo

Composer(s)

Francisco Soto de Langa

Artist(s)

Vincent Dumestre

Le Poème Harmonique

Giesù diletto sposo

$2.30

Nisi Dominus

Artist(s)

Vincent Dumestre

Le Poème Harmonique

Nisi Dominus

$2.30

Sinfonia in B Minor, RV 169: I. Adagio molto

Composer(s)

Antonio Vivaldi

Artist(s)

Vincent Dumestre

Le Poème Harmonique

Sinfonia in B Minor, RV 169: I. Adagio molto

$2.30

Sinfonia in B Minor, RV 169: II. Allegro ma poco

Composer(s)

Antonio Vivaldi

Artist(s)

Vincent Dumestre

Le Poème Harmonique

Sinfonia in B Minor, RV 169: II. Allegro ma poco

$2.30

Invicti, bellate, RV 628: I. Presto - Recitativo

Composer(s)

Antonio Vivaldi

Artist(s)

Vincent Dumestre

Eva Zaïcik

Le Poème Harmonique

Invicti, bellate, RV 628: I. Presto - Recitativo

$2.30

Invicti, bellate, RV 628: II. Larghetto

Composer(s)

Antonio Vivaldi

Artist(s)

Vincent Dumestre

Eva Zaïcik

Le Poème Harmonique

Invicti, bellate, RV 628: II. Larghetto

$2.30

Invicti, bellate, RV 628: III. Alleluia

Composer(s)

Antonio Vivaldi

Artist(s)

Vincent Dumestre

Eva Zaïcik

Le Poème Harmonique

Invicti, bellate, RV 628: III. Alleluia

$2.30

O dolcezza

Composer(s)

Serafino Razzi

Artist(s)

Vincent Dumestre

Le Poème Harmonique

Déborah Cachet

O dolcezza

$2.30

Sinfonia funebre in F Minor, D.2.2: I. Lamento: Largo

Composer(s)

Pietro Antonio Locatelli

Artist(s)

Vincent Dumestre

Le Poème Harmonique

Sinfonia funebre in F Minor, D.2.2: I. Lamento: Largo

$2.30

Sinfonia funebre in F Minor, D.2.2: II. Alla breve ma moderato

Composer(s)

Pietro Antonio Locatelli

Artist(s)

Vincent Dumestre

Le Poème Harmonique

Sinfonia funebre in F Minor, D.2.2: II. Alla breve ma moderato

$2.30

Sinfonia funebre in F Minor, D.2.2: III. Grave

Composer(s)

Pietro Antonio Locatelli

Artist(s)

Vincent Dumestre

Le Poème Harmonique

Sinfonia funebre in F Minor, D.2.2: III. Grave

$2.30

Sinfonia funebre in F Minor, D.2.2: IV. Non presto

Composer(s)

Pietro Antonio Locatelli

Artist(s)

Vincent Dumestre

Le Poème Harmonique

Sinfonia funebre in F Minor, D.2.2: IV. Non presto

$2.30

Sinfonia funebre in F Minor, D.2.2: V. La Consolazione: Andante

Composer(s)

Pietro Antonio Locatelli

Artist(s)

Vincent Dumestre

Le Poème Harmonique

Sinfonia funebre in F Minor, D.2.2: V. La Consolazione: Andante

$2.30

Nisi Dominus, RV 608: I. Nisi Dominus

Composer(s)

Antonio Vivaldi

Artist(s)

Vincent Dumestre

Eva Zaïcik

Le Poème Harmonique

Nisi Dominus, RV 608: I. Nisi Dominus

$2.30

Nisi Dominus, RV 608: II. Vanum est vobis

Composer(s)

Antonio Vivaldi

Artist(s)

Vincent Dumestre

Eva Zaïcik

Le Poème Harmonique

Nisi Dominus, RV 608: II. Vanum est vobis

$2.30

Nisi Dominus, RV 608: III. Surgite

Composer(s)

Antonio Vivaldi

Artist(s)

Vincent Dumestre

Eva Zaïcik

Le Poème Harmonique

Nisi Dominus, RV 608: III. Surgite

$2.30

Nisi Dominus, RV 608: IV. Cum dederit

Composer(s)

Antonio Vivaldi

Artist(s)

Vincent Dumestre

Eva Zaïcik

Le Poème Harmonique

Nisi Dominus, RV 608: IV. Cum dederit

$2.30

Nisi Dominus, RV 608: V. Sicut sagittae

Composer(s)

Antonio Vivaldi

Artist(s)

Vincent Dumestre

Eva Zaïcik

Le Poème Harmonique

Nisi Dominus, RV 608: V. Sicut sagittae

$2.30

Nisi Dominus, RV 608: VI. Beatus vir

Composer(s)

Antonio Vivaldi

Artist(s)

Vincent Dumestre

Eva Zaïcik

Le Poème Harmonique

Nisi Dominus, RV 608: VI. Beatus vir

$2.30

Nisi Dominus, RV 608: VII. Gloria patri

Composer(s)

Antonio Vivaldi

Artist(s)

Vincent Dumestre

Eva Zaïcik

Le Poème Harmonique

Nisi Dominus, RV 608: VII. Gloria patri

$2.30

Nisi Dominus, RV 608: VIII. Sicut erat in principio

Composer(s)

Antonio Vivaldi

Artist(s)

Vincent Dumestre

Eva Zaïcik

Le Poème Harmonique

Nisi Dominus, RV 608: VIII. Sicut erat in principio

$2.30

Nisi Dominus, RV 608: IX. Amen

Composer(s)

Antonio Vivaldi

Artist(s)

Vincent Dumestre

Eva Zaïcik

Le Poème Harmonique

Nisi Dominus, RV 608: IX. Amen

$2.30
Total running time: 58 minutes.

Album information

Mezzo-soprano Eva Zaïcik stars in this musical journey, devised and conducted by Vincent Dumestre, which centres on female figures, whether they were the performers, the subjects or the recipients of the works.

In the seventeenth century, the Ospedale della Pietà in Venice took in young orphan girls who received advanced musical instruction. The concerts given there attracted visitors from all over the world, curious to hear these divine voices which remained invisible, since the girls performed hidden behind the grilles of the chapel gallery. Vivaldi became Maestro de' Concerti of the Pietà in 1714, and it was his pupils who performed his famous Nisi Dominus.

Today they are succeeded by the mezzo-soprano Eva Zaïcik, who brings out the full poignancy of the aria 'Cum dederit'. Another motet by Vivaldi, Invicti bellate, also composed for the Pietà, features in this programme planned and conducted by Vincent Dumestre. He invites us on a musical journey centred on the figure of woman and on divine praise, with composers awaiting discovery such as Serafino Razzi (1534-1619) and Soto de Langa (1531 1611).
Related Artists
Reviews