Filters
J.S. Bach: Complete Sonatas & Partitas for Solo Violin
J.S. Bach: Complete Sonatas & Partitas for Solo Violin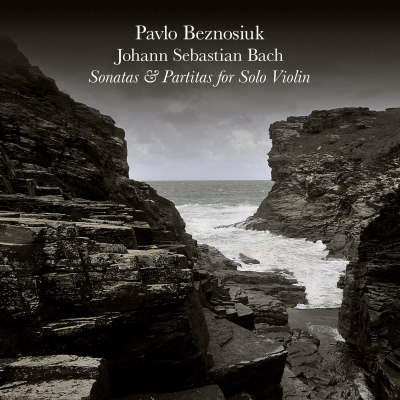 Inlay available for download
Booklet available for download
Violin Sonata No. 1 in G Minor, BWV 1001: I. Adagio

Composer(s)

Johann Sebastian Bach

Artist(s)

Pavlo Beznosiuk: violin

Violin Sonata No. 1 in G Minor, BWV 1001: I. Adagio

$2.30

Violin Sonata No. 1 in G Minor, BWV 1001: II. Fugue

Composer(s)

Johann Sebastian Bach

Artist(s)

Pavlo Beznosiuk: violin

Violin Sonata No. 1 in G Minor, BWV 1001: II. Fugue

$2.30

Violin Sonata No. 1 in G Minor, BWV 1001: III. Siciliana

Composer(s)

Johann Sebastian Bach

Artist(s)

Pavlo Beznosiuk: violin

Violin Sonata No. 1 in G Minor, BWV 1001: III. Siciliana

$2.30

Violin Sonata No. 1 in G Minor, BWV 1001: IV. Presto

Composer(s)

Johann Sebastian Bach

Artist(s)

Pavlo Beznosiuk: violin

Violin Sonata No. 1 in G Minor, BWV 1001: IV. Presto

$2.30

Violin Partita No. 2 in D Minor, BWV 1004: I. Allemanda

Composer(s)

Johann Sebastian Bach

Artist(s)

Pavlo Beznosiuk: violin

Violin Partita No. 2 in D Minor, BWV 1004: I. Allemanda

$2.30

Violin Partita No. 2 in D Minor, BWV 1004: II. Corrente

Composer(s)

Johann Sebastian Bach

Artist(s)

Pavlo Beznosiuk: violin

Violin Partita No. 2 in D Minor, BWV 1004: II. Corrente

$2.30

Violin Partita No. 2 in D Minor, BWV 1004: III. Sarabanda

Composer(s)

Johann Sebastian Bach

Artist(s)

Pavlo Beznosiuk: violin

Violin Partita No. 2 in D Minor, BWV 1004: III. Sarabanda

$2.30

Violin Partita No. 2 in D Minor, BWV 1004: IV. Gigue

Composer(s)

Johann Sebastian Bach

Artist(s)

Pavlo Beznosiuk: violin

Violin Partita No. 2 in D Minor, BWV 1004: IV. Gigue

$2.30

Violin Partita No. 2 in D Minor, BWV 1004: V. Ciaccona

Composer(s)

Johann Sebastian Bach

Artist(s)

Pavlo Beznosiuk: violin

Violin Partita No. 2 in D Minor, BWV 1004: V. Ciaccona

$4.60

Violin Sonata No. 3 in C Major, BWV 1005: I. Adagio

Composer(s)

Johann Sebastian Bach

Artist(s)

Pavlo Beznosiuk: violin

Violin Sonata No. 3 in C Major, BWV 1005: I. Adagio

$2.30

Violin Sonata No. 3 in C Major, BWV 1005: II. Fugue

Composer(s)

Johann Sebastian Bach

Artist(s)

Pavlo Beznosiuk: violin

Violin Sonata No. 3 in C Major, BWV 1005: II. Fugue

$4.60

Violin Sonata No. 3 in C Major, BWV 1005: III. Largo

Composer(s)

Johann Sebastian Bach

Artist(s)

Pavlo Beznosiuk: violin

Violin Sonata No. 3 in C Major, BWV 1005: III. Largo

$2.30

Violin Sonata No. 3 in C Major, BWV 1005: IV. Allegro assai

Composer(s)

Johann Sebastian Bach

Artist(s)

Pavlo Beznosiuk: violin

Violin Sonata No. 3 in C Major, BWV 1005: IV. Allegro assai

$2.30

Violin Partita No. 1 in B Minor, BWV 1002: I. Allemanda

Composer(s)

Johann Sebastian Bach

Artist(s)

Pavlo Beznosiuk: violin

Violin Partita No. 1 in B Minor, BWV 1002: I. Allemanda

$2.30

Violin Partita No. 1 in B Minor, BWV 1002: II. Double

Composer(s)

Johann Sebastian Bach

Artist(s)

Pavlo Beznosiuk: violin

Violin Partita No. 1 in B Minor, BWV 1002: II. Double

$2.30

Violin Partita No. 1 in B Minor, BWV 1002: III. Corrente

Composer(s)

Johann Sebastian Bach

Artist(s)

Pavlo Beznosiuk: violin

Violin Partita No. 1 in B Minor, BWV 1002: III. Corrente

$2.30

Violin Partita No. 1 in B Minor, BWV 1002: IV. Double

Composer(s)

Johann Sebastian Bach

Artist(s)

Pavlo Beznosiuk: violin

Violin Partita No. 1 in B Minor, BWV 1002: IV. Double

$2.30

Violin Partita No. 1 in B Minor, BWV 1002: V. Sarabande

Composer(s)

Johann Sebastian Bach

Artist(s)

Pavlo Beznosiuk: violin

Violin Partita No. 1 in B Minor, BWV 1002: V. Sarabande

$2.30

Violin Partita No. 1 in B Minor, BWV 1002: VI. Double

Composer(s)

Johann Sebastian Bach

Artist(s)

Pavlo Beznosiuk: violin

Violin Partita No. 1 in B Minor, BWV 1002: VI. Double

$2.30

Violin Partita No. 1 in B Minor, BWV 1002: VII. Tempo di Borea

Composer(s)

Johann Sebastian Bach

Artist(s)

Pavlo Beznosiuk: violin

Violin Partita No. 1 in B Minor, BWV 1002: VII. Tempo di Borea

$2.30

Violin Partita No. 1 in B Minor, BWV 1002: VIII. Double

Composer(s)

Johann Sebastian Bach

Artist(s)

Pavlo Beznosiuk: violin

Violin Partita No. 1 in B Minor, BWV 1002: VIII. Double

$2.30

Violin Sonata No. 2 in A Minor, BWV 1003: I. Grave

Composer(s)

Johann Sebastian Bach

Artist(s)

Pavlo Beznosiuk: violin

Violin Sonata No. 2 in A Minor, BWV 1003: I. Grave

$2.30

Violin Sonata No. 2 in A Minor, BWV 1003: II. Fugue

Composer(s)

Johann Sebastian Bach

Artist(s)

Pavlo Beznosiuk: violin

Violin Sonata No. 2 in A Minor, BWV 1003: II. Fugue

$3.40

Violin Sonata No. 2 in A Minor, BWV 1003: III. Andante

Composer(s)

Johann Sebastian Bach

Artist(s)

Pavlo Beznosiuk: violin

Violin Sonata No. 2 in A Minor, BWV 1003: III. Andante

$2.30

Violin Sonata No. 2 in A Minor, BWV 1003: IV. Allegro

Composer(s)

Johann Sebastian Bach

Artist(s)

Pavlo Beznosiuk: violin

Violin Sonata No. 2 in A Minor, BWV 1003: IV. Allegro

$2.30

Violin Partita No. 3 in E Major, BWV 1006: I. Prelude

Composer(s)

Johann Sebastian Bach

Artist(s)

Pavlo Beznosiuk: violin

Violin Partita No. 3 in E Major, BWV 1006: I. Prelude

$2.30

Violin Partita No. 3 in E Major, BWV 1006: II. Loure

Composer(s)

Johann Sebastian Bach

Artist(s)

Pavlo Beznosiuk: violin

Violin Partita No. 3 in E Major, BWV 1006: II. Loure

$2.30

Violin Partita No. 3 in E Major, BWV 1006: III. Gavotte en Rondeau

Composer(s)

Johann Sebastian Bach

Artist(s)

Pavlo Beznosiuk: violin

Violin Partita No. 3 in E Major, BWV 1006: III. Gavotte en Rondeau

$2.30

Violin Partita No. 3 in E Major, BWV 1006: IV. Menuet I and II

Composer(s)

Johann Sebastian Bach

Artist(s)

Pavlo Beznosiuk: violin

Violin Partita No. 3 in E Major, BWV 1006: IV. Menuet I and II

$2.30

Violin Partita No. 3 in E Major, BWV 1006: V. Bourrée

Composer(s)

Johann Sebastian Bach

Artist(s)

Pavlo Beznosiuk: violin

Violin Partita No. 3 in E Major, BWV 1006: V. Bourrée

$2.30

Violin Partita No. 3 in E Major, BWV 1006: VI. Gigue

Composer(s)

Johann Sebastian Bach

Artist(s)

Pavlo Beznosiuk: violin

Violin Partita No. 3 in E Major, BWV 1006: VI. Gigue

$2.30
Total running time: 147 minutes.
Album information

Bach's famous Solo Sonatas and Partitas played on Baroque Violin by Ukranian/Irish violinist Pavlo Beznosiuk.

Celebrated Baroque violinist Pavlo Beznosiuk gives a seemingly effortless performance of one of the most technically and intellectually challenging works in the solo violin repertory. Drawing on his wealth of knowledge and virtuosic prowess, Beznosiuk gives an intimate and thoughtful reading full of passion and vitality that is highly attuned to J. S. Bach's intentions.

The sonatas and partitas show off every aspect of violin technique; Beznosiuk delivers a masterclass in making the impossible sound, not only possible, but also musically compelling. Beznosiuk's performance of the famous Chaconne in D minor, widely regarded as one of Bach's greatest contributions, is a highlight.

Performing on a period violin with authentic gut stringing, Beznosiuk has succeeded in creating a modern benchmark recording of this compositional masterpiece.
Related Artists
Reviews