Filters
J.S. Bach: Magnificat & Christmas Cantata (Digital Deluxe Version)
J.S. Bach: Magnificat & Christmas Cantata (Digital Deluxe Version)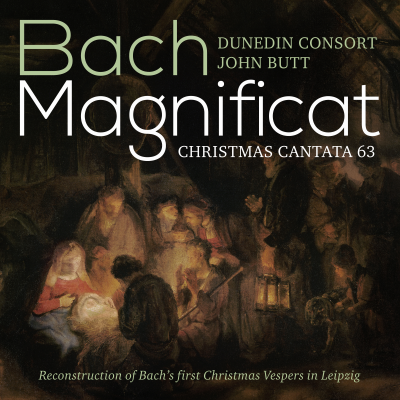 Inlay available for download
Booklet available for download
Organ Prelude: Vom Himmel kam, BWV 607

Composer(s)

Johann Sebastian Bach

Organ Prelude: Vom Himmel kam, BWV 607

$0.00

Hodie Christus natus est a 8, Ch. C8

Composer(s)

Giovanni Gabrieli

Hodie Christus natus est a 8, Ch. C8

$2.30

Das Orgel-Büchlein: No. 2, Gott, durch deine Güte, BWV 600

Composer(s)

Johann Sebastian Bach

Artist(s)

John Butt

Dunedin Consort

Das Orgel-Büchlein: No. 2, Gott, durch deine Güte, BWV 600

$2.30

Christen, atzet diesen Tag, BWV 63: I. Christen, atzet diesen Tag

Composer(s)

Johann Sebastian Bach

Artist(s)

John Butt

Dunedin Consort

Christen, atzet diesen Tag, BWV 63: I. Christen, atzet diesen Tag

$2.30

Christen, atzet diesen Tag, BWV 63: II. O selger Tag!

Composer(s)

Johann Sebastian Bach

Artist(s)

John Butt

Dunedin Consort

Christen, atzet diesen Tag, BWV 63: II. O selger Tag!

$2.30

Christen, atzet diesen Tag, BWV 63: III. Gott, du hast es wohl gefuget

Composer(s)

Johann Sebastian Bach

Artist(s)

John Butt

Dunedin Consort

Christen, atzet diesen Tag, BWV 63: III. Gott, du hast es wohl gefuget

$3.40

Christen, atzet diesen Tag, BWV 63: IV. So kehret sich nun heut

Composer(s)

Johann Sebastian Bach

Artist(s)

John Butt

Dunedin Consort

Christen, atzet diesen Tag, BWV 63: IV. So kehret sich nun heut

$2.30

Christen, atzet diesen Tag, BWV 63: V. Ruft und fleht den Himmel an

Composer(s)

Johann Sebastian Bach

Artist(s)

John Butt

Dunedin Consort

Christen, atzet diesen Tag, BWV 63: V. Ruft und fleht den Himmel an

$2.30

Christen, atzet diesen Tag, BWV 63: VI. Verdoppelt euch demnach

Composer(s)

Johann Sebastian Bach

Artist(s)

John Butt

Dunedin Consort

Christen, atzet diesen Tag, BWV 63: VI. Verdoppelt euch demnach

$2.30

Christen, atzet diesen Tag, BWV 63: VII. Hochster, schau in Gnaden an

Composer(s)

Johann Sebastian Bach

Christen, atzet diesen Tag, BWV 63: VII. Hochster, schau in Gnaden an

$2.30

Das Orgel-Buchlein: No. 8, Vom Himmel hoch, BWV 606

Composer(s)

Johann Sebastian Bach

Das Orgel-Buchlein: No. 8, Vom Himmel hoch, BWV 606

$2.30

Neu Leipziger Gesangbuch: Vom Himmel hoch

Composer(s)

Martin Luther

Neu Leipziger Gesangbuch: Vom Himmel hoch

$2.30

Organ Prelude: Der Tag, der ist so freudenreich, BWV 605

Composer(s)

Johann Sebastian Bach

Organ Prelude: Der Tag, der ist so freudenreich, BWV 605

$0.00

Congregational Pulpit Hymn: Ein Kindelein so loebelich

Composer(s)

Johann Sebastian Bach

Artist(s)

John Butt

Dunedin Consort

Congregational Pulpit Hymn: Ein Kindelein so loebelich

$0.00

Fuga sopra il Magnificat, BWV 733 (Meine Seele erhebet den Herren)

Composer(s)

Johann Sebastian Bach

Fuga sopra il Magnificat, BWV 733 (Meine Seele erhebet den Herren)

$2.30

Magnificat in E-Flat Major, BWV 243a: I. Magnificat

Composer(s)

Johann Sebastian Bach

Artist(s)

John Butt

Dunedin Consort

Magnificat in E-Flat Major, BWV 243a: I. Magnificat

$2.30

Magnificat in E-Flat Major, BWV 243a: IIa. Et exsultavit

Composer(s)

Johann Sebastian Bach

Artist(s)

John Butt

Dunedin Consort

Magnificat in E-Flat Major, BWV 243a: IIa. Et exsultavit

$2.30

Magnificat in E-Flat Major, BWV 243a: IIb. Vom Himmel hoch

Composer(s)

Johann Sebastian Bach

Artist(s)

John Butt

Dunedin Consort

Magnificat in E-Flat Major, BWV 243a: IIb. Vom Himmel hoch

$2.30

Magnificat in E-Flat Major, BWV 243a: III. Quia respexit

Composer(s)

Johann Sebastian Bach

Artist(s)

John Butt

Dunedin Consort

Magnificat in E-Flat Major, BWV 243a: III. Quia respexit

$2.30

Magnificat in E-Flat Major, BWV 243a: IV. Omnes generationes

Composer(s)

Johann Sebastian Bach

Artist(s)

John Butt

Dunedin Consort

Magnificat in E-Flat Major, BWV 243a: IV. Omnes generationes

$2.30

Magnificat in E-Flat Major, BWV 243a: Va. Quia fecit

Composer(s)

Johann Sebastian Bach

Artist(s)

John Butt

Dunedin Consort

Magnificat in E-Flat Major, BWV 243a: Va. Quia fecit

$2.30

Magnificat in E-Flat Major, BWV 243a: Vb. Freut euch und jubiliert

Composer(s)

Johann Sebastian Bach

Artist(s)

John Butt

Dunedin Consort

Magnificat in E-Flat Major, BWV 243a: Vb. Freut euch und jubiliert

$2.30

Magnificat in E-Flat Major, BWV 243a: VI. Et misericordia

Composer(s)

Johann Sebastian Bach

Artist(s)

John Butt

Dunedin Consort

Magnificat in E-Flat Major, BWV 243a: VI. Et misericordia

$2.30

Magnificat in E-Flat Major, BWV 243a: VIIa. Fecit potentiam

Composer(s)

Johann Sebastian Bach

Artist(s)

John Butt

Dunedin Consort

Magnificat in E-Flat Major, BWV 243a: VIIa. Fecit potentiam

$2.30

Magnificat in E-Flat Major, BWV 243a: VIIb. Gloria in excelsis Deo!

Composer(s)

Johann Sebastian Bach

Artist(s)

John Butt

Dunedin Consort

Magnificat in E-Flat Major, BWV 243a: VIIb. Gloria in excelsis Deo!

$2.30

Magnificat in E-Flat Major, BWV 243a: VIII. Deposuit potentes

Composer(s)

Johann Sebastian Bach

Artist(s)

John Butt

Dunedin Consort

Magnificat in E-Flat Major, BWV 243a: VIII. Deposuit potentes

$2.30

Magnificat in E-Flat Major, BWV 243a: IXa. Esurientes implevit bonis

Composer(s)

Johann Sebastian Bach

Artist(s)

John Butt

Dunedin Consort

Magnificat in E-Flat Major, BWV 243a: IXa. Esurientes implevit bonis

$2.30

Magnificat in E-Flat Major, BWV 243a: IXb. Virga Jesse

Composer(s)

Johann Sebastian Bach

Artist(s)

John Butt

Dunedin Consort

Magnificat in E-Flat Major, BWV 243a: IXb. Virga Jesse

$2.30

Magnificat in E-Flat Major, BWV 243a: X. Suscepit Israel

Composer(s)

Johann Sebastian Bach

Magnificat in E-Flat Major, BWV 243a: X. Suscepit Israel

$2.30

Magnificat in E-Flat Major, BWV 243a: XI. Sicut locutus est

Composer(s)

Johann Sebastian Bach

Artist(s)

John Butt

Dunedin Consort

Magnificat in E-Flat Major, BWV 243a: XI. Sicut locutus est

$2.30

Magnificat in E-Flat Major, BWV 243a: XII. Gloria

Composer(s)

Johann Sebastian Bach

Artist(s)

John Butt

Dunedin Consort

Magnificat in E-Flat Major, BWV 243a: XII. Gloria

$2.30

Responsory, Collect, Blessing, Response to Blessing

Responsory, Collect, Blessing, Response to Blessing

$0.00

Das Orgel-Buchlein: Puer natus in Bethlehem, BWV 603

Composer(s)

Johann Sebastian Bach

Das Orgel-Buchlein: Puer natus in Bethlehem, BWV 603

$2.30

Neu Leipziger Gesangbuch: Puer natus in Bethlehem

Artist(s)

Dunedin Consort

Neu Leipziger Gesangbuch: Puer natus in Bethlehem

$2.30
Total running time: 86 minutes.






Album information

This is the premiere recording of J.S. Bach's Magnificat heard for the first time within its original liturgical context, alongside the beautiful Christmas Cantata.

Dunedin Consort recreates Bach's first Christmas at Leipzig (Vespers in the Nikolaikirche, 25 December 1723); the recording opens with a Gabrieli motet and includes organ preludes and a seasonal congregational chorale. Director John Butt has given listeners an interpretation that will provide a refreshing outlook on this masterpiece and will show the Magnificat in a completely new light.

This recording marks the return of Dunedin Consort's star-studded cast including, Nicholas Mulroy, Matthew Brook, Joanne Lunn and Clare Wilkinson plus newcomer Julia Doyle.
Related Artists
Reviews