Filters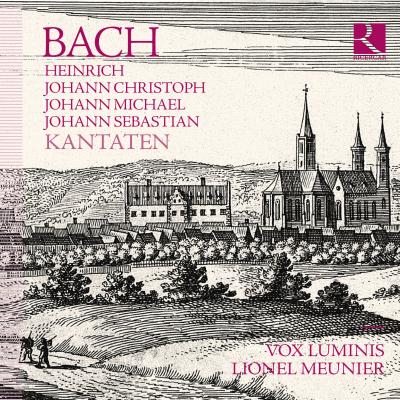 Inlay available for download
Booklet available for download
Ach bleib bei uns, Herr Jesu Christ

Composer(s)

Johann Michael Bach

Artist(s)

Lionel Meunier

Vox Luminis

Ach bleib bei uns, Herr Jesu Christ

$2.30

Die Furcht des Herren

Composer(s)

Johann Christoph Bach

Artist(s)

Lionel Meunier

Vox Luminis

Die Furcht des Herren

$3.40

Ich danke dir Gott

Composer(s)

Heinrich Bach

Artist(s)

Lionel Meunier

Vox Luminis

Ich danke dir Gott

$2.30

Herr, der König freuet sich

Composer(s)

Johann Michael Bach

Artist(s)

Lionel Meunier

Vox Luminis

Herr, der König freuet sich

$2.30

Herr, wende dich und sei mir gnädig

Composer(s)

Johann Christoph Bach

Artist(s)

Lionel Meunier

Vox Luminis

Herr, wende dich und sei mir gnädig

$4.60

Christ lag in Todesbanden, BWV 4: I. Sinfonia

Composer(s)

Johann Sebastian Bach

Artist(s)

Lionel Meunier

Vox Luminis

Christ lag in Todesbanden, BWV 4: I. Sinfonia

$2.30

Christ lag in Todesbanden, BWV 4: II. Christ lag in Todesbanden

Composer(s)

Johann Sebastian Bach

Artist(s)

Lionel Meunier

Vox Luminis

Christ lag in Todesbanden, BWV 4: II. Christ lag in Todesbanden

$2.30

Christ lag in Todesbanden, BWV 4: III. Den Tod niemand zwingen kunnt

Composer(s)

Johann Sebastian Bach

Artist(s)

Lionel Meunier

Vox Luminis

Christ lag in Todesbanden, BWV 4: III. Den Tod niemand zwingen kunnt

$2.30

Christ lag in Todesbanden, BWV 4: IV. Jesus Christus, Gottes Sohn

Composer(s)

Johann Sebastian Bach

Artist(s)

Lionel Meunier

Vox Luminis

Christ lag in Todesbanden, BWV 4: IV. Jesus Christus, Gottes Sohn

$2.30

Christ lag in Todesbanden, BWV 4: V. Es war ein wunderlicher Krieg

Composer(s)

Johann Sebastian Bach

Artist(s)

Lionel Meunier

Vox Luminis

Christ lag in Todesbanden, BWV 4: V. Es war ein wunderlicher Krieg

$2.30

Christ lag in Todesbanden, BWV 4: VI. Hie ist das rechte Osterlamm

Composer(s)

Johann Sebastian Bach

Artist(s)

Lionel Meunier

Vox Luminis

Christ lag in Todesbanden, BWV 4: VI. Hie ist das rechte Osterlamm

$2.30

Christ lag in Todesbanden, BWV 4: VII. So feiern wir das hohe Fest

Composer(s)

Johann Sebastian Bach

Artist(s)

Lionel Meunier

Vox Luminis

Christ lag in Todesbanden, BWV 4: VII. So feiern wir das hohe Fest

$2.30

Christ lag in Todesbanden, BWV 4: VIII. Wie essen und wir leben wohl

Composer(s)

Johann Sebastian Bach

Artist(s)

Lionel Meunier

Vox Luminis

Christ lag in Todesbanden, BWV 4: VIII. Wie essen und wir leben wohl

$2.30

Es erhub sich ein Streit

Composer(s)

Johann Christoph Bach

Artist(s)

Lionel Meunier

Vox Luminis

Es erhub sich ein Streit

$3.40
Total running time: 67 minutes.




Album information

This Vox Luminis recording includes Cantatas by JS Bach and his forebears: Heinrich, Johann Christoph and Johann Michael Bach. It was nominated for a 2020 BBC Music Magazine Award.

Having recorded the complete motets composed by the ancestors of Johann Sebastian Bach (RIC 347), Vox Luminis now tackles their complete spiritual concerts and sacred cantatas, in which the instruments – particularly the strings – play a highly important role. In the cantata for the Feast of St Michael the Archangel by Johann Christoph Bach, trumpets and drums are enlisted to evoke the battle of the archangels in heaven. To round off this programme, Vox Luminis presents the cantata Christ lag in Todesbanden by Johann Sebastian Bach, in its original version dating from his Arnstadt period, containing copious elements linking it to the music of his forebears.
Related Artists
Reviews