Filters
Les Saisons (Live in Paris)
Les Saisons (Live in Paris)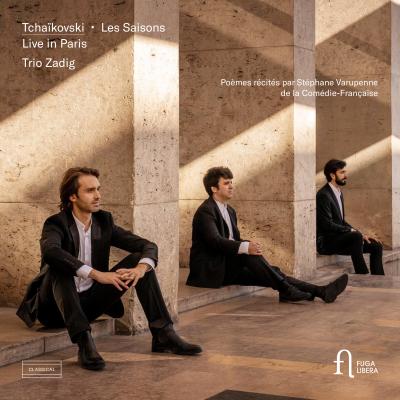 Booklet available for download
Au coin du feu

Artist(s)

Stéphane Varupenne

Au coin du feu

$2.30

Les saisons, Op. 37a: I. Janvier

Composer(s)

Pyotr Ilyich Tchaikovsky

Les saisons, Op. 37a: I. Janvier

$2.30

Le carnaval

Artist(s)

Stéphane Varupenne

Le carnaval

$2.30

Les saisons, Op. 37a: II. Février

Composer(s)

Pyotr Ilyich Tchaikovsky

Les saisons, Op. 37a: II. Février

$2.30

Chant de l'alouette

Artist(s)

Stéphane Varupenne

Chant de l'alouette

$2.30

Les saisons, Op. 37a: III. Mars

Composer(s)

Pyotr Ilyich Tchaikovsky

Les saisons, Op. 37a: III. Mars

$2.30

Perce-neige

Artist(s)

Stéphane Varupenne

Perce-neige

$2.30

Les saisons, Op. 37a: IV. Avril

Composer(s)

Pyotr Ilyich Tchaikovsky

Les saisons, Op. 37a: IV. Avril

$2.30

Les nuits de mai

Artist(s)

Stéphane Varupenne

Les nuits de mai

$2.30

Les saisons, Op. 37a: V. Mai

Composer(s)

Pyotr Ilyich Tchaikovsky

Les saisons, Op. 37a: V. Mai

$2.30

Barcarolle

Artist(s)

Stéphane Varupenne

Barcarolle

$2.30

Les saisons, Op. 37a: VI. Juin

Composer(s)

Pyotr Ilyich Tchaikovsky

Les saisons, Op. 37a: VI. Juin

$2.30

Chant du faucheur

Artist(s)

Stéphane Varupenne

Chant du faucheur

$2.30

Les saisons, Op. 37a: VII. Juillet

Composer(s)

Pyotr Ilyich Tchaikovsky

Les saisons, Op. 37a: VII. Juillet

$2.30

La moisson

Artist(s)

Stéphane Varupenne

La moisson

$2.30

Les saisons, Op. 37a: VIII. Août

Composer(s)

Pyotr Ilyich Tchaikovsky

Les saisons, Op. 37a: VIII. Août

$2.30

La chasse

Artist(s)

Stéphane Varupenne

La chasse

$2.30

Les saisons, Op. 37a: IX. Septembre

Composer(s)

Pyotr Ilyich Tchaikovsky

Les saisons, Op. 37a: IX. Septembre

$2.30

Chant d'automne

Artist(s)

Stéphane Varupenne

Chant d'automne

$2.30

Les saisons, Op. 37a: X. Octobre

Composer(s)

Pyotr Ilyich Tchaikovsky

Les saisons, Op. 37a: X. Octobre

$2.30

Troïka

Artist(s)

Stéphane Varupenne

Troïka

$2.30

Les saisons, Op. 37a: XI. Novembre

Composer(s)

Pyotr Ilyich Tchaikovsky

Les saisons, Op. 37a: XI. Novembre

$2.30

Noël

Artist(s)

Stéphane Varupenne

Noël

$2.30

Les saisons, Op. 37a: XII. Décembre

Composer(s)

Pyotr Ilyich Tchaikovsky

Les saisons, Op. 37a: XII. Décembre

$2.30
Total running time: 50 minutes.
Album information

Trio Zadig gives an elegantly romantic performance of Tchaikovsky's Seasons, probably the most poetic of all the composer's works. This is the extended version in which this musical calendar is enhanced by twelve corresponding poems read by actor Stéphane Varupenne of the Comédie-Française.

This charming collection comprises twelve short pieces, one for each month of the year. The album considers the passage of time, with its joys and its darker moments, whilst a nostalgic remembrance of childhood also resonates through the music. The evocative subtitles of the sketches include At the Fireside, The Hunt, Barcarolle, Autumn Song and Troika (Sleigh Ride).

The collection was composed between November 1875 and May 1876 at the request of Nikolay Matveyevich Bernard, the publisher of Le Nouvelliste, a monthly music magazine in St. Petersburg. Alexander Goedicke, a Russian composer of the early 20th century and one of the great Russian organists of his time, made this arrangement of the Seasons for piano trio. Trio Zadig considers this cycle to be one of Tchaikovsky's major works.

Stéphane Varupenne here adds a magically childlike aspect to the cycle by reading one poem for each month of the year. These verses can be charming, lyrical, subtle, and even melancholic, with a typically Russian character that Stéphane takes pleasure in imparting. Each piece seems to begin with the words 'Once upon a time…'

If you would prefer to download a version without the poetry readings you can do so here.
Related Artists