Filters
Liszt Transfigured: Operatic Fantasies for Piano
Liszt Transfigured: Operatic Fantasies for Piano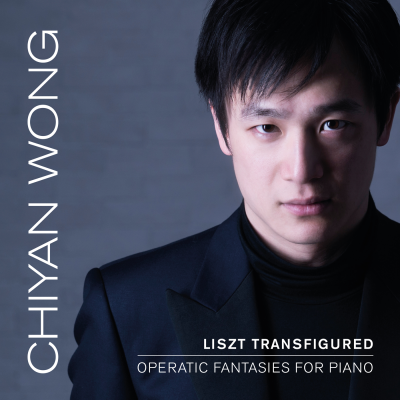 Inlay available for download
Booklet available for download
Grande fantaisie sur des themes de l'opera Niobe de Pacini - Divertissement sur la cavatine I tuoi frequenti palpiti, S. 419

Grande fantaisie sur des themes de l'opera Niobe de Pacini - Divertissement sur la cavatine I tuoi frequenti palpiti, S. 419

$4.60

Reminiscences de La juive - Fantaisie brillante sur des motifs de l'opera de Halevy, S. 409a

Reminiscences de La juive - Fantaisie brillante sur des motifs de l'opera de Halevy, S. 409a

$5.75

Reminiscences de "Don Juan" de Mozart - Grande fantaisie, S. 418

Reminiscences de "Don Juan" de Mozart - Grande fantaisie, S. 418

$7.00

Fantasie uber Themen aus Mozarts Figaro und Don Giovanni, S. 697

Composer(s)

Chiyan Wong

Franz Liszt, Chiyan Wong

Fantasie uber Themen aus Mozarts Figaro und Don Giovanni, S. 697

$7.00
Total running time: 69 minutes.
Album information

The hugely talented pianist makes his recording debut with the phenomenally difficult Liszt transcriptions of well-known opera melodies.

A broad and thoughtful musician, Chiyan Wong's special interest in the music of Franz Liszt, has led to him perfecting his own editions of these popular operatic fantasies. Following Liszt's own advice regarding transcriptions, Chiyan concentrates on communicating the spirit and intention of the music whilst applying his own personal touches.

A decade of performing Réminiscences de 'Don Juan' de Mozart has created a most effective version, whilst Chiyan adds a new coda to Fantasie über Themen aus Mozarts Figaro und Don Giovanni in a fitting tribute to Liszt's pupil Carl Tausig.

Chiyan has performed Liszt around the world: in Hong Kong as part of the composer's bicentenary celebrations, in London at his Wigmore Hall debut, and in concert for the Liszt Society in Europe.
Related Artists
Reviews