Filters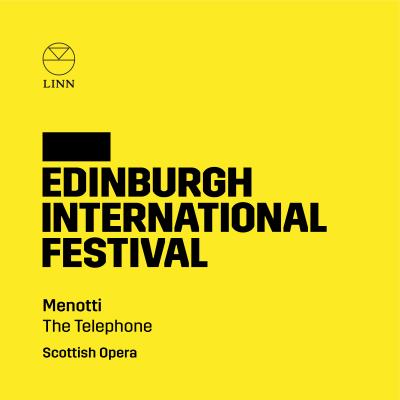 The Telephone or L'Amour à Trois: I. Introduction

Composer(s)

Gian Carlo Menotti

Artist(s)

Stuart Stratford

Soraya Mafi

The Orchestra of Scottish Opera

Jonathan McGovern

The Telephone or L'Amour à Trois: I. Introduction

$2.30

The Telephone or L'Amour à Trois: II. Oh! Just What I Wanted

Composer(s)

Gian Carlo Menotti

Artist(s)

Stuart Stratford

Soraya Mafi

The Orchestra of Scottish Opera

Jonathan McGovern

The Telephone or L'Amour à Trois: II. Oh! Just What I Wanted

$2.30

The Telephone or L'Amour à Trois: III. That Was Margaret

Composer(s)

Gian Carlo Menotti

Artist(s)

Stuart Stratford

Soraya Mafi

The Orchestra of Scottish Opera

Jonathan McGovern

The Telephone or L'Amour à Trois: III. That Was Margaret

$2.30

The Telephone or L'Amour à Trois: IV. It Is Four-Fifteen

Composer(s)

Gian Carlo Menotti

Artist(s)

Stuart Stratford

Soraya Mafi

The Orchestra of Scottish Opera

Jonathan McGovern

The Telephone or L'Amour à Trois: IV. It Is Four-Fifteen

$2.30

The Telephone or L'Amour à Trois: V. Try Again and Again

Composer(s)

Gian Carlo Menotti

Artist(s)

Stuart Stratford

Soraya Mafi

The Orchestra of Scottish Opera

Jonathan McGovern

The Telephone or L'Amour à Trois: V. Try Again and Again

$2.30

The Telephone or L'Amour à Trois: VI. Hello, This Is Lucy

Composer(s)

Gian Carlo Menotti

Artist(s)

Stuart Stratford

Soraya Mafi

The Orchestra of Scottish Opera

Jonathan McGovern

The Telephone or L'Amour à Trois: VI. Hello, This Is Lucy

$2.30

The Telephone or L'Amour à Trois: VII. Hello? … Hello?

Composer(s)

Gian Carlo Menotti

Artist(s)

Stuart Stratford

Soraya Mafi

The Orchestra of Scottish Opera

Jonathan McGovern

The Telephone or L'Amour à Trois: VII. Hello? … Hello?

$2.30
Total running time: 24 minutes.
Album information

The Telephone, or L'Amour à trois, is an opera in a single act, written for two singers and chamber orchestra. Menotti's 1947 work brings together piquant humour with sly nods to the classics of grand opera and was a highlight of the 2020 Edinburgh International Festival.

Multi-award-winning soprano Soraya Mafi and celebrated baritone Jonathan McGovern make their Edinburgh International Festival debuts as Lucy and Ben – the hapless couple whose love affair is repeatedly thwarted by a telephone. Pioneering young director Daisy Evans relocates Menotti's mismatched lovers into today's Edinburgh, as the story unfolds in and around the King's Theatre. The opera becomes a witty commentary on our obsession with our mobile phones, reminding us to be present in the moments that matter.

Audiences are given the rare opportunity to hear this charming work which was last performed at the Edinburgh International Festival in 1984. The Orchestra of Scottish Opera, conducted by Music Director Stuart Stratford, provide superb support.

The two other albums in this series are Edinburgh International Festival: Chamber Music Highlights 2020 and Mahler: Symphony No. 7 (Arr. for Chamber Orchestra by Klaus Simon).
Related Artists
Reviews