Filters
Moonlight's Back in Style (songs by Nicky Campbell)
Moonlight's Back in Style (songs by Nicky Campbell)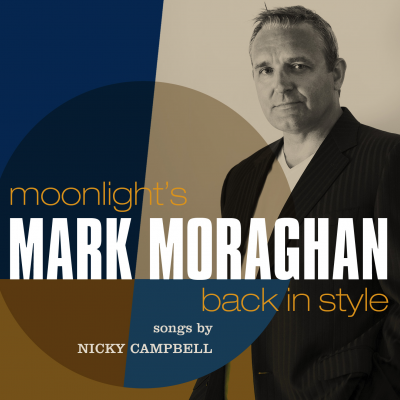 Come for the Ride

Composer(s)

Nicky Campbell

Artist(s)

Mark Moraghan

Ben Thomas -[solo] trumpet, Kevin Harcourt - trumpet, Nick Atwood - trombone,Pete Tantrum - saxophones, Paul Buck - piano & strings, Mark Howell - double bass, Sam Brown - drums

Come for the Ride

$2.30

A Blast from the Past

Composer(s)

Nicky Campbell

Artist(s)

Mark Moraghan

Ben Thomas- trumpet, Kevin Harcourt - trumpet, Nick Atwood - trombone,Pete Tantrum - saxophones, Paul Buck - piano & strings, Mark Howell - double bass, Sam Brown - drums

Margo Buchanan - backing vocals

A Blast from the Past

$2.30

Moonlight's Back in Style

Composer(s)

Nicky Campbell

Artist(s)

Mark Moraghan

Ben Thomas - trumpet, Kevin Harcourt - trumpet, Nick Atwood - trombone,Pete Tantrum - saxophones, Paul Buck - piano & strings, Mark Howell - double bass, Sam Brown - drums

Moonlight's Back in Style

$2.30

Angel Don't Cry

Composer(s)

Nicky Campbell

Artist(s)

Mark Moraghan

Ben Thomas- flugelhorn, Kevin Harcourt - flugelhorn, Nick Atwood - trombone,Pete Tantrum - saxophones, Paul Buck - electric piano & strings, Mark Howell - bass guitar, Sam Brown - drums

Angel Don't Cry

$2.30

We'll Never Have Manhattan

Composer(s)

Nicky Campbell

Artist(s)

Mark Moraghan

Ben Thomas - trumpet, Kevin Harcourt - trumpet, Nick Atwood - trombone,Pete Tantrum - saxophones, Paul Buck - piano & strings, Mark Howell - double bass, Sam Brown - drums

Margo Buchanan - Guest Vocals

We'll Never Have Manhattan

$2.30

Many's the Time

Composer(s)

Nicky Campbell

Artist(s)

Mark Moraghan

Ben Thomas- flugelhorn, Kevin Harcourt - flugelhorn, Nick Atwood - trombone,Pete Tantrum - saxophones, Paul Buck - piano & strings, Mark Howell - double bass, Sam Brown - drums, Maurice Hipkiss - fiddle & pedal steel guitar, Steven Sproat - ukulele, Nicky Campbell - acoustic guitar & backing vocals, Margo Buchanan - backing vocals

Many's the Time

$2.30

I'll Make an Exception for You

Composer(s)

Nicky Campbell

Artist(s)

Mark Moraghan

Ben Thomas- trumpet, Kevin Harcourt - trumpet, Nick Atwood - trombone,Pete Tantrum - saxophones, Paul Buck - piano & strings, Mark Howell - double bass, Sam Brown - drums, Nicky Campbell - backing vocals

I'll Make an Exception for You

$2.30

Through it All

Composer(s)

Nicky Campbell

Artist(s)

Mark Moraghan

Ben Thomas- trumpet, Kevin Harcourt - [solo] trumpet, Nick Atwood - trombone,Pete Tantrum - saxophone & clarinet, Paul Buck - piano & strings, Mark Howell - double bass,Clive Miller - drums, Steven Sproat - ukulele, Nicky Campbell - backing vocals

Through it All

$2.30

I Got My Hat, I Got My Shoes

Composer(s)

Nicky Campbell

Artist(s)

Mark Moraghan

Ben Thomas- [solo] trumpet & flugelhorn, Kevin Harcourt - trumpet & flugelhorn, Nick Atwood - trombone,Pete Tantrum - saxophones, Paul Buck - piano & strings, Mark Howell - double bass, Sam Brown - drums,

I Got My Hat, I Got My Shoes

$2.30

Love Ran Out of Time

Composer(s)

Nicky Campbell

Artist(s)

Mark Moraghan

Ben Thomas- trumpet, Kevin Harcourt - trumpet, Nick Atwood - trombone,Pete Tantrum - saxophones, Paul Buck - piano & strings, Mark Howell - double bass, Sam Brown - drums,

Love Ran Out of Time

$2.30

The Birds are Singing Your Name Again

Composer(s)

Nicky Campbell

Artist(s)

Mark Moraghan

Ben Thomas- flugelhorn, Kevin Harcourt - flugelhorn, Nick Atwood - trombone,Pete Tantrum - saxophones, Paul Buck - piano & strings, Mark Howell - double bass, Sam Brown - drums, Maurice Hipkiss -fiddle &pedal steel guitar, Steven Sproat - ukulele, Nicky Campbell - backing vocals, Gill Edmonds - backing vocals

The Birds are Singing Your Name Again

$2.30

The Universe of Blue

Composer(s)

Nicky Campbell

Artist(s)

Mark Moraghan

Ben Thomas- trumpet, Kevin Harcourt - trumpet, Nick Atwood - trombone,Pete Tantrum - saxophones, Paul Buck - piano & strings, Mark Howell - double bass, Sam Brown - drums,

The Universe of Blue

$2.30

Wonderfully Wonderful You

Composer(s)

Nicky Campbell

Artist(s)

Mark Moraghan

Ben Thomas- trumpet, Kevin Harcourt - trumpet, Nick Atwood - trombone,Pete Tantrum - saxophones, Paul Buck - piano & strings, Mark Howell - double bass, Sam Brown - drums, Maurice Hipkiss -fiddle &pedal steel guitar, Nicky Campbell - backing vocals, Gill Edmonds - backing vocals

Wonderfully Wonderful You

$2.30

You Make This Whole Crazy Story Worthwhile

Composer(s)

Nicky Campbell

Artist(s)

Mark Moraghan

Paul Buck - piano & strings, Mark Howell - double bass, Sam Brown - drums

You Make This Whole Crazy Story Worthwhile

$2.30
Total running time: 45 minutes.
Album information

This fabulous debut album from Mark Moraghan harks back to the cool swing of Sinatra, while remaining very much up-to-date. Bob Harris described it as "Stylish, intelligent and really good fun".

A modern take on the swing style, the album features original material written by Sony Award-winning composer Nicky Campbell whose perceptive songwriting with subtle contemporary references complement Mark Moraghan's vocals remarkably.

Mark Moraghan, best known for his acting roles in Brookside and Holby City, first showcased his singing talents on the BBC series Just the Two of Us, where his rich tone and extraordinary vocal skills did not go un-noticed. Mark is joined by exceptional musicians including the pianist, big band arranger and musical director, Paul Buck. The outstanding band also includes bassist Mark Howell and drummer Sam Brown with guest vocals by Margo Buchanan.
Related Artists
Reviews