Filters
Mozart: Piano Concertos Nos. 19 & 27, Rondo K. 386
Mozart: Piano Concertos Nos. 19 & 27, Rondo K. 386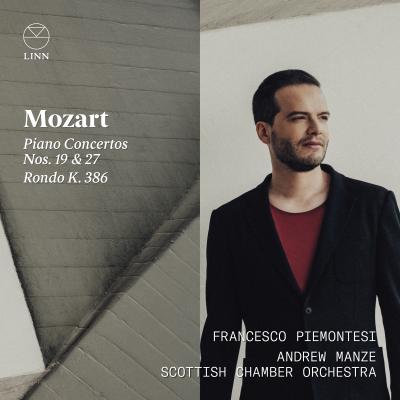 Inlay available for download
Booklet available for download
Piano Concerto No. 19 in F Major, K. 459: I. Allegro

Composer(s)

Wolfgang Amadeus Mozart

Artist(s)

Andrew Manze

Francesco Piemontesi

Scottish Chamber Orchestra

Piano Concerto No. 19 in F Major, K. 459: I. Allegro

$4.60

Piano Concerto No. 19 in F Major, K. 459: II. Allegretto

Composer(s)

Wolfgang Amadeus Mozart

Artist(s)

Andrew Manze

Francesco Piemontesi

Scottish Chamber Orchestra

Piano Concerto No. 19 in F Major, K. 459: II. Allegretto

$3.40

Piano Concerto No. 19 in F Major, K. 459: III. Allegro assai

Composer(s)

Wolfgang Amadeus Mozart

Artist(s)

Andrew Manze

Francesco Piemontesi

Scottish Chamber Orchestra

Piano Concerto No. 19 in F Major, K. 459: III. Allegro assai

$3.40

Rondo in A Major, K. 386

Composer(s)

Wolfgang Amadeus Mozart

Artist(s)

Andrew Manze

Francesco Piemontesi

Scottish Chamber Orchestra

Rondo in A Major, K. 386

$3.40

Piano Concerto No. 27 in B-Flat Major, K. 595: I. Allegro

Composer(s)

Wolfgang Amadeus Mozart

Artist(s)

Andrew Manze

Francesco Piemontesi

Scottish Chamber Orchestra

Piano Concerto No. 27 in B-Flat Major, K. 595: I. Allegro

$4.60

Piano Concerto No. 27 in B-Flat Major, K. 595: II. Larghetto

Composer(s)

Wolfgang Amadeus Mozart

Artist(s)

Andrew Manze

Francesco Piemontesi

Scottish Chamber Orchestra

Piano Concerto No. 27 in B-Flat Major, K. 595: II. Larghetto

$2.30

Piano Concerto No. 27 in B-Flat Major, K. 595: III. Allegro

Composer(s)

Wolfgang Amadeus Mozart

Artist(s)

Andrew Manze

Francesco Piemontesi

Scottish Chamber Orchestra

Piano Concerto No. 27 in B-Flat Major, K. 595: III. Allegro

$3.40
Total running time: 66 minutes.




Album information

This recording finds the 'dream team' of Piemontesi, Andrew Manze and the Scottish Chamber Orchestra back together for two further concertos: the graceful and sunny Piano Concerto No. 19 in F major and the mellow and magnificent Piano Concerto No. 27 in B flat major, which was Mozart's last.

When Piemontesi performed No. 27 at the 2018 BBC Proms, The Independent commented: 'Piemontesi gave a definitive performance … his sound was gloriously transparent throughout'. This well-established team garnered multiple accolades for their debut recording together (Benchmark Recording France Musique, Recording of the Year Presto Classical, Excepcional Scherzo, Editor's Choice Gramophone, Album of the Week Classic FM) which increases the weight of expectation for this new recording.

In addition the orchestra has recorded the Rondo in A major, K. 386, which only survived in the form of a piano arrangement by Cipriani Potter, whose father was a pupil of Mozart. Fittingly this piece was reconstructed by the SCO's Conductor Laureate Sir Charles Mackerras in 1989 and it is this orchestral version which is performed here.

Widely considered one of the world's greatest Mozart orchestras, the SCO finds an ideal foil in the freshness and spontaneity of Piemontesi's playing.
Related Artists
Reviews