Filters
Nowell synge we bothe al and som
Nowell synge we bothe al and som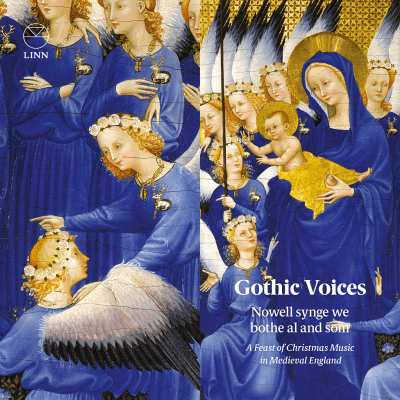 Inlay available for download
Booklet available for download
Angelus ad virginem

$2.30

Alma redemptoris mater: As I lay

Alma redemptoris mater: As I lay

$2.30

Gaude virgo salutata / Gaude virgo singularis / Virgo mater comprobaris / Ave gemma caeli luminarium

Composer(s)

John Dunstaple

Gaude virgo salutata / Gaude virgo singularis / Virgo mater comprobaris / Ave gemma caeli luminarium

$2.30

Nowell, nowell, nowell

$2.30

Ave regina caelorum

$2.30

In natali novi regis

$2.30

Alleluya: A nywe werk is come on honde

Alleluya: A nywe werk is come on honde

$2.30

Mervele not, Joseph

$2.30

Edi be thu, heven queene

$2.30

Ave regina caelorum

$2.30

Lullay, lullay: Als I lay

Lullay, lullay: Als I lay

$3.40

Ther is no rose of swych virtu

Ther is no rose of swych virtu

$2.30

Nowell synge we bothe al and som

Nowell synge we bothe al and som

$2.30

Puer natus est nobis

$2.30

Nowell: Owt of your slepe

Nowell: Owt of your slepe

$2.30

Nowell: Now man is bryghter

Nowell: Now man is bryghter

$2.30
Total running time: 76 minutes.
Album information

Gothic Voices' reputation for the originality of its programming is cemented with its first recording of mediaeval Christmas music, in which Julian Podger reimagines a fifteenth-century carol evening.

Mirroring the modern practice of performing mostly music from the preceding centuries alongside some contemporary repertoire, the programme includes late medieval English carols, chant, mono- and polyphonic songs and motets for the Advent and Christmas season, focusing on Mary, her Annunciation and the birth of Jesus. Larger-scale festive motets and mass movements by English late mediaeval celebrities John Dunstaple and Leonel Power also feature.

The 'evening' concludes with a summons to wake up to the significance of Christmas, with the conductus call Resonet, intonet introducing the carols Nowell synge we bothe al and som and Nowell: Owt of your slepe and the great Christmas chant Puer natus est nobis, arranged here into a joyful finale. This recording has been widely anticipated since a performance of this repertoire in December 2016 was chosen by BBC Music Magazine as its number one unmissable Christmas event.
Related Artists
Reviews