Filters
Parle qui veut: Moralizing Songs of the Middle Ages
Parle qui veut: Moralizing Songs of the Middle Ages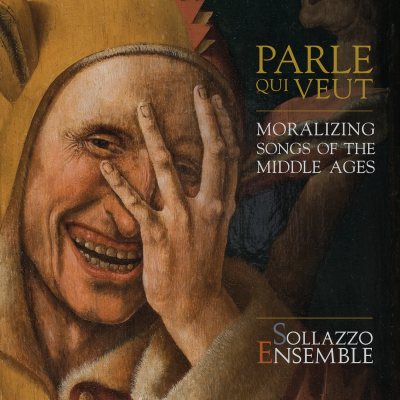 Inlay available for download
Booklet available for download
Il megli' e pur tacere

Composer(s)

Niccolo da Perugia

Artist(s)

Sollazzo Ensemble

Il megli' e pur tacere

$2.30

Angnel son biancho

Composer(s)

Giovanni da Firenze

Artist(s)

Sollazzo Ensemble

Angnel son biancho

$2.30

Musicha son/Gia furon/Ciascun vuol

Composer(s)

Francesco Landini

Artist(s)

Sollazzo Ensemble

Musicha son/Gia furon/Ciascun vuol

$2.30

Dal traditor

Composer(s)

Andrea da Firenze

Artist(s)

Sollazzo Ensemble

Dal traditor

$2.30

Va, Fortune

Artist(s)

Sollazzo Ensemble

Va, Fortune

$2.30

Le basile

Artist(s)

Sollazzo Ensemble

Le basile

$2.30

Hont paur

Artist(s)

Sollazzo Ensemble

Hont paur

$2.30

Parle qui veut

Artist(s)

Sollazzo Ensemble

Parle qui veut

$2.30

Pour che que je ne puis

Artist(s)

Sollazzo Ensemble

Pour che que je ne puis

$2.30

Perche vendecta

Composer(s)

Paolo da Firenze

Artist(s)

Sollazzo Ensemble

Perche vendecta

$2.30

O pensieri vani

Artist(s)

Sollazzo Ensemble

O pensieri vani

$2.30

Ligiadra donna

Composer(s)

Johannes Ciconia

Artist(s)

Sollazzo Ensemble

Ligiadra donna

$2.30

Cacciando per gustar/Ai cinci, ai toppi

Composer(s)

Antonio 'Zacara' da Teramo

Artist(s)

Sollazzo Ensemble

Cacciando per gustar/Ai cinci, ai toppi

$2.30
Total running time: 46 minutes.







Album information

Sollazzo Ensemble makes its recording debut following its prize-winning performance at the highly respected biennial York Early Music International Young Artists Competition.

Comprising sopranos Perrine Devillers and Yukie Sato, tenor Vivien Simon, medieval fiddles Anna Danilevskaia and Sophia Danilevskaia, and harpist Vincent Kibildis this vibrant young ensemble offers a fresh perspective on mediaeval repertoire.

A critical success Parle qui veut won a Diapason d'or de l'année and was nominated for a 2019 BBC Music Magazine Award. It was also named a 'Disc of the Year' by The Arts Desk and a 'Critics' Choice – #4 Best Recording of 2017' by De Standaard, among accolades further from BBC Music Magazine, Gramophone and Diapason.  

On Parle qui veut the performers embrace the exuberant style of flourishing melodies which was fashionable in the north of Italy in the fourteenth century. In contrast, a different kind of expressivity is required for the sober and succinct aesthetic of the works with French provenance.

Sollazzo creates a pure, bright sound, enhanced by the songs' incredibly open textures and the use of the rarely heard Pythagorean temperament. All in all, this represents a remarkable debut.
Related Artists
Reviews