Filters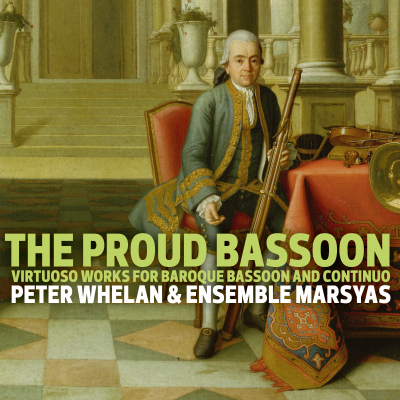 Inlay available for download
Booklet available for download
Les Gentils Airs - ou Airs Connus, ajustee en duo, pour basson seul accompagne d'un clavecin - Les Sauvages (arr.Jean-Philippe Rameau)

Artist(s)

Peter Whelan

Ensemble Marsyas

Les Gentils Airs - ou Airs Connus, ajustee en duo, pour basson seul accompagne d'un clavecin - Les Sauvages (arr.Jean-Philippe Rameau)

$2.30

Les Gentils Airs - ou Airs Connus, ajustee en duo, pour basson seul accompagne d'un clavecin - La Furstemberg

Artist(s)

Peter Whelan

Ensemble Marsyas

Les Gentils Airs - ou Airs Connus, ajustee en duo, pour basson seul accompagne d'un clavecin - La Furstemberg

$2.30

Les Gentils Airs - ou Airs Connus, ajustee en duo, pour basson seul accompagne d'un clavecin - Tamborin (arr. Jean-Philippe Rameau)

Artist(s)

Peter Whelan

Ensemble Marsyas

Les Gentils Airs - ou Airs Connus, ajustee en duo, pour basson seul accompagne d'un clavecin - Tamborin (arr. Jean-Philippe Rameau)

$2.30

Sonata in G Major for bassoon and continuo, Op. 50 No. 2 - I. Largo

Composer(s)

Joseph Bodin de Boismortier

Artist(s)

Peter Whelan

Ensemble Marsyas

Sonata in G Major for bassoon and continuo, Op. 50 No. 2 - I. Largo

$2.30

Sonata in G Major for bassoon and continuo, Op. 50 No. 2 - II. Allemanda: Allegro

Composer(s)

Joseph Bodin de Boismortier

Artist(s)

Peter Whelan

Ensemble Marsyas

Sonata in G Major for bassoon and continuo, Op. 50 No. 2 - II. Allemanda: Allegro

$2.30

Sonata in G Major for bassoon and continuo, Op. 50 No. 2 - III. Largo

Composer(s)

Joseph Bodin de Boismortier

Artist(s)

Peter Whelan

Ensemble Marsyas

Sonata in G Major for bassoon and continuo, Op. 50 No. 2 - III. Largo

$2.30

Sonata in G Major for bassoon and continuo, Op. 50 No. 2 - IV. Giga

Composer(s)

Joseph Bodin de Boismortier

Artist(s)

Peter Whelan

Ensemble Marsyas

Sonata in G Major for bassoon and continuo, Op. 50 No. 2 - IV. Giga

$2.30

Sonata in C Major for bassoon and continuo, FaWV N:C 1 - I. Largo

Composer(s)

Johann Friedrich Fasch

Artist(s)

Peter Whelan

Ensemble Marsyas

Sonata in C Major for bassoon and continuo, FaWV N:C 1 - I. Largo

$2.30

Sonata in C Major for bassoon and continuo, FaWV N:C 1 - II. Allegro

Composer(s)

Johann Friedrich Fasch

Artist(s)

Peter Whelan

Ensemble Marsyas

Sonata in C Major for bassoon and continuo, FaWV N:C 1 - II. Allegro

$2.30

Sonata in C Major for bassoon and continuo, FaWV N:C 1 - III. Andante

Composer(s)

Johann Friedrich Fasch

Artist(s)

Peter Whelan

Ensemble Marsyas

Sonata in C Major for bassoon and continuo, FaWV N:C 1 - III. Andante

$2.30

Sonata in C Major for bassoon and continuo, FaWV N:C 1 - IV. Allegro Assai

Composer(s)

Johann Friedrich Fasch

Artist(s)

Peter Whelan

Ensemble Marsyas

Sonata in C Major for bassoon and continuo, FaWV N:C 1 - IV. Allegro Assai

$2.30

Les gouts-reunis, ou Noveaux concerts: Treizieme Concert - I. Vivement

Composer(s)

Francois Couperin

Artist(s)

Peter Whelan

Ensemble Marsyas

Les gouts-reunis, ou Noveaux concerts: Treizieme Concert - I. Vivement

$2.30

Les gouts-reunis, ou Noveaux concerts: Treizieme Concert - II. Air Agreablement

Composer(s)

Francois Couperin

Artist(s)

Peter Whelan

Ensemble Marsyas

Les gouts-reunis, ou Noveaux concerts: Treizieme Concert - II. Air Agreablement

$2.30

Les gouts-reunis, ou Noveaux concerts: Treizieme Concert - III. Sarabande Tendrement

Composer(s)

Francois Couperin

Artist(s)

Peter Whelan

Ensemble Marsyas

Les gouts-reunis, ou Noveaux concerts: Treizieme Concert - III. Sarabande Tendrement

$2.30

Les gouts-reunis, ou Noveaux concerts: Treizieme Concert - IV. Chaconne Legere

Composer(s)

Francois Couperin

Artist(s)

Peter Whelan

Ensemble Marsyas

Les gouts-reunis, ou Noveaux concerts: Treizieme Concert - IV. Chaconne Legere

$2.30

Sonata in F minor, TWV 41:f1 - I. Triste

Composer(s)

Georg Philipp Telemann

Artist(s)

Peter Whelan

Ensemble Marsyas

Sonata in F minor, TWV 41:f1 - I. Triste

$2.30

Sonata in F minor, TWV 41:f1 - II. Allegro

Composer(s)

Georg Philipp Telemann

Artist(s)

Peter Whelan

Ensemble Marsyas

Sonata in F minor, TWV 41:f1 - II. Allegro

$2.30

Sonata in F minor, TWV 41:f1 - III. Andante

Composer(s)

Georg Philipp Telemann

Artist(s)

Peter Whelan

Ensemble Marsyas

Sonata in F minor, TWV 41:f1 - III. Andante

$2.30

Sonata in F minor, TWV 41:f1 - IV. Vivace

Composer(s)

Georg Philipp Telemann

Artist(s)

Peter Whelan

Ensemble Marsyas

Sonata in F minor, TWV 41:f1 - IV. Vivace

$2.30

Sonata in E minor for bassoon and continuo, Op. 50 No. 1 - I. Andante-Staccato

Composer(s)

Joseph Bodin de Boismortier

Artist(s)

Peter Whelan

Ensemble Marsyas

Sonata in E minor for bassoon and continuo, Op. 50 No. 1 - I. Andante-Staccato

$2.30

Sonata in E minor for bassoon and continuo, Op. 50 No. 1 - II. Allemanda: Allegro

Composer(s)

Joseph Bodin de Boismortier

Artist(s)

Peter Whelan

Ensemble Marsyas

Sonata in E minor for bassoon and continuo, Op. 50 No. 1 - II. Allemanda: Allegro

$2.30

Sonata in E minor for bassoon and continuo, Op. 50 No. 1 - III. Aria: Affetvos

Composer(s)

Joseph Bodin de Boismortier

Artist(s)

Peter Whelan

Ensemble Marsyas

Sonata in E minor for bassoon and continuo, Op. 50 No. 1 - III. Aria: Affetvos

$2.30

Sonata in E minor for bassoon and continuo, Op. 50 No. 1 - IV. Gavotta: Presto

Composer(s)

Joseph Bodin de Boismortier

Artist(s)

Peter Whelan

Ensemble Marsyas

Sonata in E minor for bassoon and continuo, Op. 50 No. 1 - IV. Gavotta: Presto

$2.30

Eileen Aroon with variations set by Mr. Dubourg

Composer(s)

Matthew Dubourg

Artist(s)

Peter Whelan

Ensemble Marsyas

Eileen Aroon with variations set by Mr. Dubourg

$2.30
Total running time: 59 minutes.
Album information

The Proud Bassoon marks the debut solo recording of Peter Whelan, singled out for praise in his performances with the Scottish Chamber Orchestra and Ensemble Marsyas.

This unique album is a collection of the very best of the virtuoso solo music composed for the galant French styled baroque bassoon.  Included are a wide range of works composed for the court, the Opèra, for the home and from the street, brought back to life by Peter and special guests Ensemble Marsyas. 

The basson or bassoon inspired many now forgotten high-level artworks by the greatest French composers. As the leaders in musical fashion, they in turn influenced their German contemporaries who were inspired by the elegance and lyrical possibilities of the new French instrument, especially in the expressive tenor register. 

This recording includes a world-premiere of the Irish Air, Eileen Aroon, arranged for bassoon and continuo by Handel's first violinist in Dublin, Matthew Dubourg. This beautiful melody subsequently became very popular in Europe and inspired compositions by both Haydn and Beethoven.

 

  

Presented with funding from the Arts Council Music Recording Scheme 2011.
Related Artists
Reviews