Filters
Rachmaninov, Lutoslawski and Webern
Rachmaninov, Lutoslawski and Webern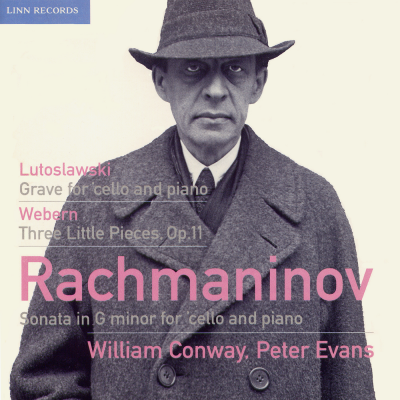 Inlay available for download
Booklet available for download
Grave. Metamorphoses for cello and piano

Composer(s)

Witold Lutoslawski

Artist(s)

William Conway - cello, Peter Evans - piano

Grave. Metamorphoses for cello and piano

$1.80

Drei kleine Stucke, Op. 11: Massige Achtel

Artist(s)

William Conway - cello, Peter Evans - piano

Drei kleine Stucke, Op. 11: Massige Achtel

$1.80

Drei kleine Stucke, Op.11: Sehr Bewegt

Artist(s)

William Conway - cello, Peter Evans - piano

Drei kleine Stucke, Op.11: Sehr Bewegt

$1.80

Drei kleine Stucke, Op.11: Ausserst Ruhig

Artist(s)

William Conway - cello, Peter Evans - piano

Drei kleine Stucke, Op.11: Ausserst Ruhig

$1.80

Cello Sonata in G Minor, Op. 19: I. Lento - Allegro moderato

Composer(s)

Sergei Rachmaninov

Artist(s)

William Conway - cello, Peter Evans - piano

Cello Sonata in G Minor, Op. 19: I. Lento - Allegro moderato

$3.70

Cello Sonata in G Minor, Op. 19: II. Allegro scherzando

Composer(s)

Sergei Rachmaninov

Artist(s)

William Conway - cello, Peter Evans - piano

Cello Sonata in G Minor, Op. 19: II. Allegro scherzando

$1.80

Cello Sonata in G Minor, Op. 19: III. Andante

Composer(s)

Sergei Rachmaninov

Artist(s)

William Conway - cello, Peter Evans - piano

Cello Sonata in G Minor, Op. 19: III. Andante

$1.80

Cello Sonata in G Minor, Op. 19: IV. Allegro mosso

Composer(s)

Sergei Rachmaninov

Artist(s)

William Conway - cello, Peter Evans - piano

Cello Sonata in G Minor, Op. 19: IV. Allegro mosso

$3.70
Total running time: 50 minutes.
Album information

Three of the twentieth century's finest composers are represented on this charming selection of chamber works for cello and piano.

A trend setter in twentieth-century compositional technique, Lutoslawski's Grave explores the metamorphosis of a theme (from Debussy's Pelléas et Mélisande) in which the rhythmic and contrapuntal complexity gradually increases. In spite of their brevity, Webern's Op. 11 requires the cellist to produce virtually all the contrasting sonorities of which the instrument is capable. This subtle approach to nuance is also noticeable in the piano part, where every note is given a contrasting dynamic and method of attack. Rachmaninov's Sonata in G minor features idiomatic and effective writing for the cello and a highly demanding piano part complex in its textures and bold harmonic progressions and equal in stature to the more famous Piano Concerto which directly preceded it.
Related Artists
Reviews