Filters
Artist
Marc Minkowski
Orchestre National Bordeaux Aquitaine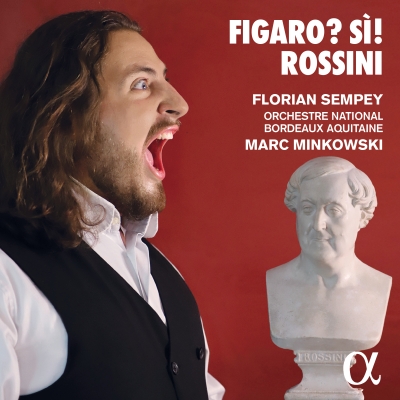 Inlay available for download
Booklet available for download
Il barbiere di Siviglia: Aria. Largo al factotum (Figaro)

Composer(s)

Gioachino Rossini

Artist(s)

Marc Minkowski

Florian Sempey

Orchestre National Bordeaux Aquitaine

Il barbiere di Siviglia: Aria. Largo al factotum (Figaro)

$2.30

Il barbiere di Siviglia: Duet. Ma dite, signor Figaro-Dunque io son (Rosina, Figaro)

Composer(s)

Gioachino Rossini

Artist(s)

Marc Minkowski

Florian Sempey

Orchestre National Bordeaux Aquitaine

Il barbiere di Siviglia: Duet. Ma dite, signor Figaro-Dunque io son (Rosina, Figaro)

$2.30

La scala di seta: Aria. Amore dolcemente (Germano)

Composer(s)

Gioachino Rossini

Artist(s)

Marc Minkowski

Florian Sempey

Orchestre National Bordeaux Aquitaine

La scala di seta: Aria. Amore dolcemente (Germano)

$3.40

La Cenerentola: Duet. Un segreto d'importanza (Dandini, Don Magnifico)

Composer(s)

Gioachino Rossini

Artist(s)

Marc Minkowski

Florian Sempey

Orchestre National Bordeaux Aquitaine

La Cenerentola: Duet. Un segreto d'importanza (Dandini, Don Magnifico)

$2.30

Il barbiere di Siviglia: Overture

Composer(s)

Gioachino Rossini

Artist(s)

Marc Minkowski

Orchestre National Bordeaux Aquitaine

Il barbiere di Siviglia: Overture

$2.30

L'italiana in Algeri: Chorus. Viva il grande Kaimakan

Composer(s)

Gioachino Rossini

Artist(s)

Marc Minkowski

Florian Sempey

Orchestre National Bordeaux Aquitaine

L'italiana in Algeri: Chorus. Viva il grande Kaimakan

$2.30

L'italiana in Algeri: Duet. Ai Cappricci della sorte (Isabella, Taddeo)

Composer(s)

Gioachino Rossini

Artist(s)

Marc Minkowski

Florian Sempey

Orchestre National Bordeaux Aquitaine

L'italiana in Algeri: Duet. Ai Cappricci della sorte (Isabella, Taddeo)

$3.40

L'italiana in Algeri: Overture

Composer(s)

Gioachino Rossini

Artist(s)

Marc Minkowski

Orchestre National Bordeaux Aquitaine

L'italiana in Algeri: Overture

$3.40

L'occasione fa il ladro, scena 3: Aria. Che sorte che accidente (Don Parmenione, Martino)

Composer(s)

Gioachino Rossini

Artist(s)

Marc Minkowski

Florian Sempey

Orchestre National Bordeaux Aquitaine

L'occasione fa il ladro, scena 3: Aria. Che sorte che accidente (Don Parmenione, Martino)

$2.30

Le comte Ory: Aria. Dans ce lieu solitaire (Raimbaud)

Composer(s)

Gioachino Rossini

Artist(s)

Marc Minkowski

Florian Sempey

Orchestre National Bordeaux Aquitaine

Le comte Ory: Aria. Dans ce lieu solitaire (Raimbaud)

$2.30

Péchés de vieillesse, Miscellanée de musique vocale No. 11: II. La chanson du bébé

Composer(s)

Gioachino Rossini

Artist(s)

Florian Sempey

Martine Marcuz

Péchés de vieillesse, Miscellanée de musique vocale No. 11: II. La chanson du bébé

$2.30
Total running time: 67 minutes.

Album information

For his first solo recital French baritone Florian Sempey turns to his favourite composer: Rossini. 

The French baritone Florian Sempey has established himself as a key player on today's operatic scene. For his first solo recital, Rossini was the obvious choice, first of all because he has already performed the title role in Il barbiere di Siviglia in the leading opera houses, from Paris to London, and of course by way of Orange and Pesaro. But there is another reason: 'Rossini was the first composer's name I heard in my life. At my grandparents' house, there was a bust above the piano, on a little rococo display stand' – the bust that appears on the cover of this album. 'Rossini's music is a challenge for singers and also a great and very strict technical training for them. It calls for the highest standards and degree of precision.

This programme presents arias in French and Italian, mingling the most famous (including Figaro's 'Sono il factotum') with rarities such as Germano's aria from La scala di seta and Don Parmenione's from L'occasione fa il ladro. It also includes magnificent duets with two dream partners, Karine Deshayes and Nahuel Di Pierro. And who better to conduct the Orchestre de l'Opéra National Bordeaux Aquitaine than the accomplished Rossinian Marc Minkowski, who gives this music an inimitable sparkle?
Related Artists
Reviews