Filters
Rossini: Petite messe solennelle
Rossini: Petite messe solennelle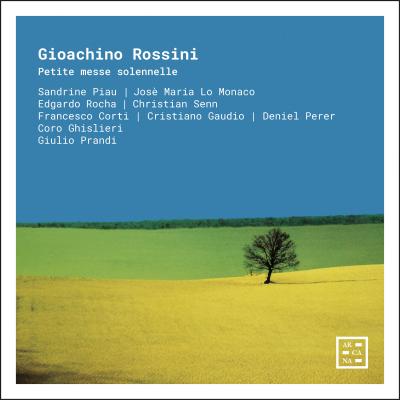 Inlay available for download
Booklet available for download
Petite messe solennelle: I. Kyrie. Kyrie eleison

Composer(s)

Gioachino Rossini

Artist(s)

Giulio Prandi

Cristiano Gaudio

Coro Ghislieri

Deniel Perer

Francesco Corti

Petite messe solennelle: I. Kyrie. Kyrie eleison

$2.30

Petite messe solennelle: II. Kyrie. Christe eleison

Composer(s)

Gioachino Rossini

Artist(s)

Giulio Prandi

Coro Ghislieri

Petite messe solennelle: II. Kyrie. Christe eleison

$2.30

Petite messe solennelle: III. Kyrie. Kyrie eleison

Composer(s)

Gioachino Rossini

Artist(s)

Giulio Prandi

Cristiano Gaudio

Coro Ghislieri

Deniel Perer

Francesco Corti

Petite messe solennelle: III. Kyrie. Kyrie eleison

$2.30

Petite messe solennelle: IV. Gloria. Gloria in excelsis Deo

Composer(s)

Gioachino Rossini

Artist(s)

Giulio Prandi

Cristiano Gaudio

Coro Ghislieri

Deniel Perer

Francesco Corti

Petite messe solennelle: IV. Gloria. Gloria in excelsis Deo

$2.30

Petite messe solennelle: V. Gloria. Et in terra pax hominibus

Composer(s)

Gioachino Rossini

Artist(s)

Giulio Prandi

Sandrine Piau

Coro Ghislieri

Deniel Perer

Francesco Corti

Petite messe solennelle: V. Gloria. Et in terra pax hominibus

$2.30

Petite messe solennelle: VI. Gloria. Gratias

Composer(s)

Gioachino Rossini

Artist(s)

Giulio Prandi

Christian Senn

Josè Maria Lo Monaco

Edgardo Rocha

Francesco Corti

Petite messe solennelle: VI. Gloria. Gratias

$2.30

Petite messe solennelle: VII. Gloria. Domine Deus

Composer(s)

Gioachino Rossini

Artist(s)

Giulio Prandi

Edgardo Rocha

Francesco Corti

Petite messe solennelle: VII. Gloria. Domine Deus

$2.30

Petite messe solennelle: VIII. Gloria. Qui tollis

Composer(s)

Gioachino Rossini

Artist(s)

Giulio Prandi

Sandrine Piau

Josè Maria Lo Monaco

Deniel Perer

Francesco Corti

Petite messe solennelle: VIII. Gloria. Qui tollis

$2.30

Petite messe solennelle: IX. Gloria. Quoniam

Composer(s)

Gioachino Rossini

Artist(s)

Giulio Prandi

Christian Senn

Francesco Corti

Petite messe solennelle: IX. Gloria. Quoniam

$3.40

Petite messe solennelle: X. Gloria. Cum Sancto Spiritu

Composer(s)

Gioachino Rossini

Artist(s)

Giulio Prandi

Cristiano Gaudio

Coro Ghislieri

Deniel Perer

Francesco Corti

Petite messe solennelle: X. Gloria. Cum Sancto Spiritu

$2.30

Petite messe solennelle: XI. Credo. Credo in unum Deum

Composer(s)

Gioachino Rossini

Artist(s)

Giulio Prandi

Sandrine Piau

Coro Ghislieri

Deniel Perer

Francesco Corti

Petite messe solennelle: XI. Credo. Credo in unum Deum

$2.30

Petite messe solennelle: XII. Credo. Crucifixus

Composer(s)

Gioachino Rossini

Artist(s)

Giulio Prandi

Sandrine Piau

Deniel Perer

Francesco Corti

Petite messe solennelle: XII. Credo. Crucifixus

$2.30

Petite messe solennelle: XIII. Credo. Et resurrexit

Composer(s)

Gioachino Rossini

Artist(s)

Giulio Prandi

Sandrine Piau

Coro Ghislieri

Deniel Perer

Francesco Corti

Petite messe solennelle: XIII. Credo. Et resurrexit

$2.30

Petite messe solennelle: XIV. Credo. Et vitam venturi sæculi

Composer(s)

Gioachino Rossini

Artist(s)

Giulio Prandi

Sandrine Piau

Coro Ghislieri

Deniel Perer

Francesco Corti

Petite messe solennelle: XIV. Credo. Et vitam venturi sæculi

$2.30

Petite messe solennelle: XV. Prélude religieux pendant l'Offertoire

Composer(s)

Gioachino Rossini

Artist(s)

Francesco Corti

Petite messe solennelle: XV. Prélude religieux pendant l'Offertoire

$3.40

Petite messe solennelle: XVI. Sanctus

Composer(s)

Gioachino Rossini

Artist(s)

Giulio Prandi

Sandrine Piau

Coro Ghislieri

Deniel Perer

Edgardo Rocha

Petite messe solennelle: XVI. Sanctus

$2.30

Petite messe solennelle: XVII. O salutaris

Composer(s)

Gioachino Rossini

Artist(s)

Giulio Prandi

Sandrine Piau

Francesco Corti

Petite messe solennelle: XVII. O salutaris

$2.30

Petite messe solennelle: XVIII. Agnus Dei

Composer(s)

Gioachino Rossini

Artist(s)

Giulio Prandi

Cristiano Gaudio

Coro Ghislieri

Deniel Perer

Francesco Corti

Petite messe solennelle: XVIII. Agnus Dei

$3.40
Total running time: 86 minutes.

Album information

Giulio Prandi presents a new edition of an essential masterpiece: Petite messe solennelle featuring three rare instruments roughly contemporary with the work, four illustrious soloists and the Coro Ghislieri.

This is the third recording to represent Giulio Prandi's interpretative research on the great Italian choral repertory, after the special and successful releases of works by Jommelli and Pergolesi, cornerstones of the golden age of the Neapolitan school. Faced with the challenge posed by Rossini's essential masterpiece, Prandi has chosen an original and courageous path, following deep reflection.

The new critical edition of the Rossini Foundation of Pesaro is used here for the first time in a recording studio; pianos by Érard and Pleyel, and a Débain harmonium have been selected to ensure an authentic, vital, luminous sound, guaranteed by the artistry of the keyboardist and professor at the Schola Cantorum Basiliensis Francesco Corti; four illustrious soloists have been engaged: Sandrine Piau, Jos  Maria Lo Monaco, Edgardo Rocha and Christian Senn.

Finally, the fundamental contribution of the Coro Ghislieri, an acknowledged world-class ensemble in early repertory, sets the seal on a recording of rare merit. 
Related Artists
Reviews