Filters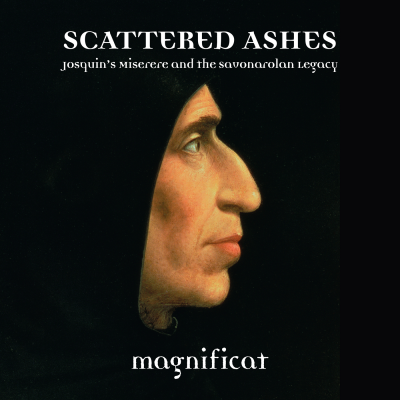 Inlay available for download
Booklet available for download
Miserere mei, Deus

Composer(s)

Josquin des Prez

Artist(s)

Philip Cave

Magnificat

Miserere mei, Deus

$6.50

Tribularer, si nescirem

Composer(s)

Giovanni Pierluigi da Palestrina

Artist(s)

Philip Cave

Magnificat

Tribularer, si nescirem

$3.70

Tristitia obsedit me

Composer(s)

Claude Le Jeune

Artist(s)

Philip Cave

Magnificat

Tristitia obsedit me

$2.30

Infelix ego

Composer(s)

Orlande de Lassus

Artist(s)

Philip Cave

Magnificat

Infelix ego

$3.25

Miserere mei, Domine

Composer(s)

Jean L'Héritier

Jean Lhéritier

Artist(s)

Philip Cave

Magnificat

Miserere mei, Domine

$3.70

In te, Domine, speravi

Composer(s)

Nicolas Gombert

Artist(s)

Philip Cave

Magnificat

In te, Domine, speravi

$3.70

Tristitia obsedit me

Composer(s)

Jacobus Clemens non Papa

Artist(s)

Philip Cave

Magnificat

Tristitia obsedit me

$3.70

Infelix ego

Artist(s)

Philip Cave

Magnificat

Infelix ego

$4.90
Total running time: 84 minutes.




Album information

Magnificat's 25th anniversary recording, Scattered Ashes, features contrasting and parallel works of great passion inspired by the meditations of the infamous Dominican friar Girolamo Savonarola.

These Latin settings by eight great vocal composers of the sixteenth century display a variety of scoring, textures and harmonic language that is mirrored in their intensity and attention to detail.

Josquin's Miserere, referred to as 'epic', 'massive', 'courageous' and 'bold' with similarities in stature and significance frequently drawn between the music of Josquin and Beethoven, opens the programme. Josquin's musical architecture, and his sensitivity to the text, combine to produce a work of astonishing delicacy, with kaleidoscopic twists and turns, rich and subtle use of texture, and variety exploiting and illustrating the text with a heartfelt empathy. Both challenging and thrilling to sing, Josquin's Miserere perfectly demonstrates why Magnificat's world-class reputation for clarity, flawless intonation and purity of tone is second to none.
Related Artists
Reviews