Filters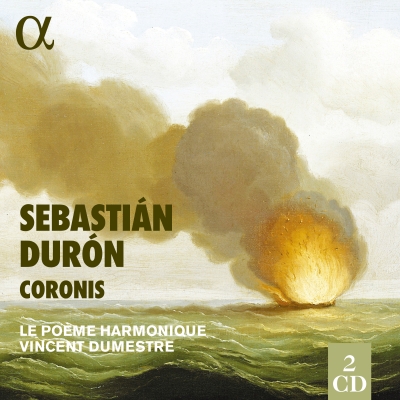 Inlay available for download
Booklet available for download
Corrente Italiana

Composer(s)

Juan Bautista Cabanilles

Artist(s)

Vincent Dumestre

Corrente Italiana

$2.30

Coronis, Jornada primera: No. 1, Al monte, a la selva

Composer(s)

Sebastián Durón

Artist(s)

Vincent Dumestre

Coronis, Jornada primera: No. 1, Al monte, a la selva

$2.30

Coronis, Jornada primera: No. 2, Dioses, piedad

Composer(s)

Sebastián Durón

Artist(s)

Vincent Dumestre

Victoire Bunel

Olivier Fichet

Anthéa Pichanick

Coronis, Jornada primera: No. 2, Dioses, piedad

$2.30

Coronis, Jornada primera: No. 3, Con venatorias voces la maleza

Composer(s)

Sebastián Durón

Artist(s)

Vincent Dumestre

Victoire Bunel

Anthéa Pichanick

Coronis, Jornada primera: No. 3, Con venatorias voces la maleza

$2.30

Coronis, Jornada primera: No. 4, Pero qué horrible son

Composer(s)

Sebastián Durón

Artist(s)

Vincent Dumestre

Victoire Bunel

Ana Quintans

Coronis, Jornada primera: No. 4, Pero qué horrible son

$2.30

Coronis, Jornada primera: No. 5, Cielos, que airados

Composer(s)

Sebastián Durón

Artist(s)

Vincent Dumestre

Ana Quintans

Coronis, Jornada primera: No. 5, Cielos, que airados

$2.30

Coronis, Jornada primera: No. 6, A Donde, fugitivo iman de mis deseos

Composer(s)

Sebastián Durón

Artist(s)

Vincent Dumestre

Victoire Bunel

Isabelle Druet

Anthéa Pichanick

Coronis, Jornada primera: No. 6, A Donde, fugitivo iman de mis deseos

$2.30

Coronis, Jornada primera: No. 7, Suelta, homicida

Composer(s)

Sebastián Durón

Artist(s)

Vincent Dumestre

Isabelle Druet

Ana Quintans

Coronis, Jornada primera: No. 7, Suelta, homicida

$2.30

Coronis, Jornada primera: No. 8, Gran valor de mujer

Composer(s)

Sebastián Durón

Artist(s)

Vincent Dumestre

Victoire Bunel

Olivier Fichet

Isabelle Druet

Anthéa Pichanick

Coronis, Jornada primera: No. 8, Gran valor de mujer

$2.30

Coronis, Jornada primera: No. 9, No prosigas, si no quieres

Composer(s)

Sebastián Durón

Artist(s)

Vincent Dumestre

Victoire Bunel

Isabelle Druet

Ana Quintans

Coronis, Jornada primera: No. 9, No prosigas, si no quieres

$2.30

Coronis, Jornada primera: No. 10, Dioses, Piedad

Composer(s)

Sebastián Durón

Artist(s)

Vincent Dumestre

Ana Quintans

Coronis, Jornada primera: No. 10, Dioses, Piedad

$2.30

Coronis, Jornada primera: No. 11, Al ver que de mi horror

Composer(s)

Sebastián Durón

Artist(s)

Vincent Dumestre

Isabelle Druet

Coronis, Jornada primera: No. 11, Al ver que de mi horror

$2.30

Coronis, Jornada primera: No. 12, Venid monteros, venid zagales

Composer(s)

Sebastián Durón

Artist(s)

Vincent Dumestre

Isabelle Druet

Coronis, Jornada primera: No. 12, Venid monteros, venid zagales

$2.30

Coronis, Jornada primera: No. 13, Que dolor, que pesar

Composer(s)

Sebastián Durón

Artist(s)

Vincent Dumestre

Victoire Bunel

Olivier Fichet

Anthéa Pichanick

Coronis, Jornada primera: No. 13, Que dolor, que pesar

$2.30

Coronis, Jornada primera: No. 14, Que fiero horror

Composer(s)

Sebastián Durón

Artist(s)

Vincent Dumestre

Cyril Auvity

Coronis, Jornada primera: No. 14, Que fiero horror

$2.30

Coronis, Jornada primera: No. 15, Ah de misero albergo

Composer(s)

Sebastián Durón

Artist(s)

Vincent Dumestre

Cyril Auvity

Ana Quintans

Coronis, Jornada primera: No. 15, Ah de misero albergo

$2.30

Coronis, Jornada primera: No. 16, Vuestro llanto humilde pretendare

Composer(s)

Sebastián Durón

Artist(s)

Vincent Dumestre

Cyril Auvity

Coronis, Jornada primera: No. 16, Vuestro llanto humilde pretendare

$2.30

Coronis, Jornada primera: No. 17, Muera el sol

Composer(s)

Sebastián Durón

Artist(s)

Vincent Dumestre

Victoire Bunel

Cyril Auvity

Ana Quintans

Anthea Pichanick

Olivier Fichet

Caroline Meng

Coronis, Jornada primera: No. 17, Muera el sol

$2.30

Coronis, Jornada primera: No. 18, Al arma rigores

Composer(s)

Sebastián Durón

Artist(s)

Vincent Dumestre

Marielou Jacquard

Coronis, Jornada primera: No. 18, Al arma rigores

$2.30

Coronis, Jornada primera: No. 19, Qué desdicha

Composer(s)

Sebastián Durón

Artist(s)

Vincent Dumestre

Victoire Bunel

Cyril Auvity

Anthea Pichanick

Ana Quintans

Coronis, Jornada primera: No. 19, Qué desdicha

$2.30

Coronis, Jornada segunda: No. 1, Passacalle, Jácara

Composer(s)

Sebastián Durón

Artist(s)

Vincent Dumestre

Coronis, Jornada segunda: No. 1, Passacalle, Jácara

$2.30

Coronis, Jornada segunda: No. 2, Al dios de los mares

Composer(s)

Sebastián Durón

Artist(s)

Vincent Dumestre

Coronis, Jornada segunda: No. 2, Al dios de los mares

$2.30

Coronis, Jornada segunda: No. 3, Misera Tracia

Composer(s)

Sebastián Durón

Artist(s)

Vincent Dumestre

Victoire Bunel

Cyril Auvity

Anthea Pichanick

Olivier Fichet

Ana Quintans

Coronis, Jornada segunda: No. 3, Misera Tracia

$2.30

Coronis, Jornada segunda: No. 4, Encienda la llama

Composer(s)

Sebastián Durón

Artist(s)

Vincent Dumestre

Ana Quintans

Coronis, Jornada segunda: No. 4, Encienda la llama

$2.30

Coronis, Jornada segunda: No. 5, Coronis, Jornada segunda infelice

Composer(s)

Sebastián Durón

Artist(s)

Vincent Dumestre

Cyril Auvity

Coronis, Jornada segunda: No. 5, Coronis, Jornada segunda infelice

$2.30

Coronis, Jornada segunda: No. 6, Llore de Tracia en mi desgracia

Composer(s)

Sebastián Durón

Artist(s)

Vincent Dumestre

Cyril Auvity

Coronis, Jornada segunda: No. 6, Llore de Tracia en mi desgracia

$2.30

Coronis, Jornada segunda: No. 7, Ni las plantas, ni las fuentes

Composer(s)

Sebastián Durón

Artist(s)

Vincent Dumestre

Marielou Jacquard

Ana Quintans

Coronis, Jornada segunda: No. 7, Ni las plantas, ni las fuentes

$2.30

Coronis, Jornada segunda: No. 8, Porque vean los que aleves

Composer(s)

Sebastián Durón

Artist(s)

Vincent Dumestre

Victoire Bunel

Marielou Jacquard

Anthea Pichanick

Olivier Fichet

Ana Quintans

Coronis, Jornada segunda: No. 8, Porque vean los que aleves

$2.30

Coronis, Jornada segunda: No. 9, Llore y sienta

Composer(s)

Sebastián Durón

Artist(s)

Vincent Dumestre

Victoire Bunel

Ana Quintans

Coronis, Jornada segunda: No. 9, Llore y sienta

$2.30

Coronis, Jornada segunda: No. 10, No temáis, no lloréis

Composer(s)

Sebastián Durón

Artist(s)

Vincent Dumestre

Victoire Bunel

Caroline Meng

Anthea Pichanick

Marielou Jacquard

Olivier Fichet

Ana Quintans

Coronis, Jornada segunda: No. 10, No temáis, no lloréis

$2.30

Coronis, Jornada segunda: No. 11, Decidme, plantas

Composer(s)

Sebastián Durón

Artist(s)

Vincent Dumestre

Isabelle Druet

Coronis, Jornada segunda: No. 11, Decidme, plantas

$2.30

Coronis, Jornada segunda: No. 12, Favor, dioses, Piedad, cielos

Composer(s)

Sebastián Durón

Artist(s)

Vincent Dumestre

Victoire Bunel

Olivier Fichet

Anthea Pichanick

Marielou Jacquard

Isabelle Druet

Ana Quintans

Coronis, Jornada segunda: No. 12, Favor, dioses, Piedad, cielos

$2.30

Coronis, Jornada segunda: No. 13, Aunque los dioses, los incendios

Composer(s)

Sebastián Durón

Artist(s)

Vincent Dumestre

Isabelle Druet

Ana Quintans

Coronis, Jornada segunda: No. 13, Aunque los dioses, los incendios

$2.30

Coronis, Jornada segunda: No. 14, No he de escuchar

Composer(s)

Sebastián Durón

Artist(s)

Vincent Dumestre

Cyril Auvity

Marielou Jacquard

Isabelle Druet

Ana Quintans

Coronis, Jornada segunda: No. 14, No he de escuchar

$2.30

Coronis, Jornada segunda: No. 15, Yo muero, ¿qué es esto?

Composer(s)

Sebastián Durón

Artist(s)

Vincent Dumestre

Isabelle Druet

Coronis, Jornada segunda: No. 15, Yo muero, ¿qué es esto?

$2.30

Coronis, Jornada segunda: No. 16, De fiera gazapera hemos librado

Composer(s)

Sebastián Durón

Artist(s)

Vincent Dumestre

Victoire Bunel

Anthéa Pichanick

Coronis, Jornada segunda: No. 16, De fiera gazapera hemos librado

$2.30

Coronis, Jornada segunda: No. 17, Qué simplón, que insolente

Composer(s)

Sebastián Durón

Artist(s)

Vincent Dumestre

Victoire Bunel

Anthéa Pichanick

Coronis, Jornada segunda: No. 17, Qué simplón, que insolente

$2.30

Coronis, Jornada segunda: No. 18, Menandro, ¿sabes qué voy temiendo?

Composer(s)

Sebastián Durón

Artist(s)

Vincent Dumestre

Victoire Bunel

Anthea Pichanick

Marielou Jacquard

Cyril Auvity

Isabelle Druet

Ana Quintans

Coronis, Jornada segunda: No. 18, Menandro, ¿sabes qué voy temiendo?

$2.30

Coronis, Jornada segunda: No. 19, No, señor, porque Tritón

Composer(s)

Sebastián Durón

Artist(s)

Vincent Dumestre

Victoire Bunel

Marielou Jacquard

Caroline Meng

Isabelle Druet

Anthéa Pichanick

Coronis, Jornada segunda: No. 19, No, señor, porque Tritón

$2.30

Coronis, Jornada segunda: No. 20, Ya, sacros cielos

Composer(s)

Sebastián Durón

Artist(s)

Vincent Dumestre

Isabelle Druet

Coronis, Jornada segunda: No. 20, Ya, sacros cielos

$2.30

Coronis, Jornada segunda: No. 21, Yo en venganza

Composer(s)

Sebastián Durón

Artist(s)

Vincent Dumestre

Victoire Bunel

Caroline Meng

Anthea Pichanick

Cyril Auvity

Ana Quintans

Coronis, Jornada segunda: No. 21, Yo en venganza

$2.30

Coronis, Jornada segunda: No. 22, Es, espumas, a lidar

Composer(s)

Sebastián Durón

Artist(s)

Vincent Dumestre

Caroline Meng

Marielou Jacquard

Coronis, Jornada segunda: No. 22, Es, espumas, a lidar

$2.30

Coronis, Jornada segunda: No. 23, Atented, parad

Composer(s)

Sebastián Durón

Artist(s)

Vincent Dumestre

Brenda Poupard

Coronis, Jornada segunda: No. 23, Atented, parad

$2.30

Coronis, Jornada segunda: No. 24, Ya, inmortales dioses

Composer(s)

Sebastián Durón

Artist(s)

Vincent Dumestre

Ana Quintans

Coronis, Jornada segunda: No. 24, Ya, inmortales dioses

$2.30

Coronis, Jornada segunda: No. 25, Premie mi amor

Composer(s)

Sebastián Durón

Artist(s)

Vincent Dumestre

Victoire Bunel

Anthea Pichanick

Brenda Poupard

Olivier Fichet

Ana Quintans

Coronis, Jornada segunda: No. 25, Premie mi amor

$2.30

Coronis, Jornada segunda: No. 26, Viendome despreciado

Composer(s)

Sebastián Durón

Artist(s)

Vincent Dumestre

Victoire Bunel

Cyril Auvity

Marielou Jacquard

Anthea Pichanick

Brenda Poupard

Ana Quintans

Coronis, Jornada segunda: No. 26, Viendome despreciado

$2.30
Total running time: 98 minutes.

Album information

Le Poème Harmonique's new recording of Sebastián Durón's Coronis provides a unique opportunity to discover a forgotten Baroque operatic treasure: the zarzuela. 

This recording showcases the key dramatic and musical genre of the Spanish Golden Age. Sumptuous choruses, poignant arias and folksongs blend in a rich and spectacular narrative, whose music was falsely attributed to Antonio Literes before Sebastián Durón (1660-1716) was acknowledged as its composer in 2009!

Another peculiarity of the work is that it is sung by seven sopranos, who are even given the roles of Apollo, Neptune and the monster Triton. Only the part of an old man, the seer Proteus, is assigned to a tenor. Ana Quintans in the title role, Isabelle Druet, Anthea Pichanick, Caroline Meng and Cyril Auvity are among the cast of this colourful zarzuela, whose modern stage premiere in 2019 enjoyed great success.
Related Artists
Reviews