Filters
Sibelius: Symphonies Nos. 3 & 5 Pohjola's Daughter
Sibelius: Symphonies Nos. 3 & 5 Pohjola's Daughter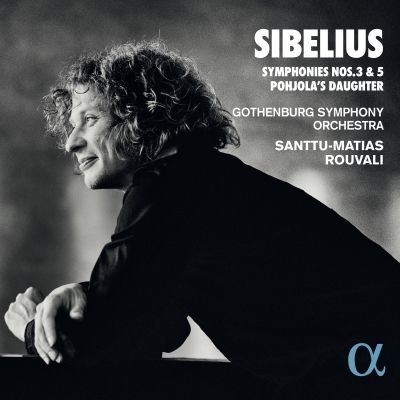 Inlay available for download
Booklet available for download
Symphony No. 3 in C Major, Op. 52: I. Allegro moderato

Composer(s)

Jean Sibelius

Artist(s)

Santtu-Matias Rouvali

Gothenburg Symphony Orchestra

Symphony No. 3 in C Major, Op. 52: I. Allegro moderato

$3.40

Symphony No. 3 in C Major, Op. 52: II. Andantino con moto, quasi allegretto

Composer(s)

Jean Sibelius

Artist(s)

Santtu-Matias Rouvali

Gothenburg Symphony Orchestra

Symphony No. 3 in C Major, Op. 52: II. Andantino con moto, quasi allegretto

$3.40

Symphony No. 3 in C Major, Op. 52: III. Moderato - Allegro ma non tanto

Composer(s)

Jean Sibelius

Artist(s)

Santtu-Matias Rouvali

Gothenburg Symphony Orchestra

Symphony No. 3 in C Major, Op. 52: III. Moderato - Allegro ma non tanto

$3.40

Symphony No. 5 in E-Flat Major, Op. 82 (1919 Version): I. Tempo molto moderato

Composer(s)

Jean Sibelius

Artist(s)

Santtu-Matias Rouvali

Gothenburg Symphony Orchestra

Symphony No. 5 in E-Flat Major, Op. 82 (1919 Version): I. Tempo molto moderato

$4.60

Symphony No. 5 in E-Flat Major, Op. 82 (1919 Version): II. Andante mosso, quasi allegretto

Composer(s)

Jean Sibelius

Artist(s)

Santtu-Matias Rouvali

Gothenburg Symphony Orchestra

Symphony No. 5 in E-Flat Major, Op. 82 (1919 Version): II. Andante mosso, quasi allegretto

$3.40

Symphony No. 5 in E-Flat Major, Op. 82 (1919 Version): III. Allegro molto

Composer(s)

Jean Sibelius

Artist(s)

Santtu-Matias Rouvali

Gothenburg Symphony Orchestra

Symphony No. 5 in E-Flat Major, Op. 82 (1919 Version): III. Allegro molto

$3.40

Pohjola's Daughter, Op. 49

Composer(s)

Jean Sibelius

Artist(s)

Santtu-Matias Rouvali

Gothenburg Symphony Orchestra

Pohjola's Daughter, Op. 49

$4.60
Total running time: 75 minutes.


Album information

Finnish conductor Santtu-Matias Rouvali and his Gothenburg Symphony Orchestra present the third instalment of their phenomenally successful Sibelius series.

After the critical success of the first two volumes of the complete Sibelius symphonies (Gramophone Editor's Choice, Preis der deutschen Schallplattenkritik, Diapason d'or, FFFF Télérama etc. ), Santtu-Matias Rouvali and the Gothenburg Symphony Orchestra introduce us to the 'green' side of Sibelius who, suffering from health problems and financial worries, moved to the shores of Lake Tuusula just before writing his Third Symphony. His output was powerfully inspired by nature. In April 1915, when the world was in chaos, he wrote in his diary of the appearance of sixteen swans over the lake and noted down their cry, which inspired the great horn theme of the Fifth Symphony's finale.

In contrast, Finland's folkloric poetry was the inspiration for his symphonic fantasy Pohjola's Daughter, which completes the programme.
Related Artists
Reviews