Filters
Artist
Concerto Mediterraneo
Gianna Fratta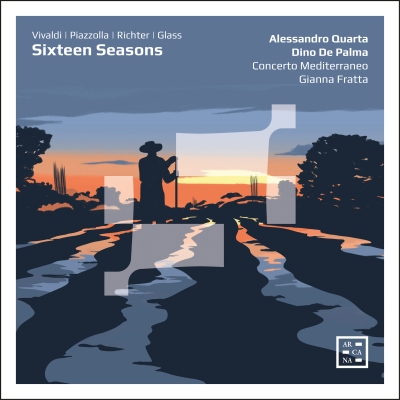 Inlay available for download
Booklet available for download
Violin Concerto in E Major, RV 269 "La primavera": I. Allegro

Composer(s)

Antonio Vivaldi

Artist(s)

Alessandro Quarta

Gianna Fratta

Concerto Mediterraneo

Violin Concerto in E Major, RV 269 "La primavera": I. Allegro

$2.30

Violin Concerto in E Major, RV 269 "La primavera": II. Largo e pianissimo sempre

Composer(s)

Antonio Vivaldi

Artist(s)

Alessandro Quarta

Gianna Fratta

Concerto Mediterraneo

Violin Concerto in E Major, RV 269 "La primavera": II. Largo e pianissimo sempre

$2.30

Violin Concerto in E Major, RV 269 "La primavera": III. Allegro pastorale

Composer(s)

Antonio Vivaldi

Artist(s)

Alessandro Quarta

Gianna Fratta

Concerto Mediterraneo

Violin Concerto in E Major, RV 269 "La primavera": III. Allegro pastorale

$2.30

Violin Concerto in G Minor, RV 315 "L'estate": I. Allegro non molto

Composer(s)

Antonio Vivaldi

Artist(s)

Alessandro Quarta

Gianna Fratta

Concerto Mediterraneo

Violin Concerto in G Minor, RV 315 "L'estate": I. Allegro non molto

$2.30

Violin Concerto in G Minor, RV 315 "L'estate": II. Adagio e piano - Presto e forte

Composer(s)

Antonio Vivaldi

Artist(s)

Alessandro Quarta

Gianna Fratta

Concerto Mediterraneo

Violin Concerto in G Minor, RV 315 "L'estate": II. Adagio e piano - Presto e forte

$2.30

Violin Concerto in G Minor, RV 315 "L'estate": III. Presto

Composer(s)

Antonio Vivaldi

Artist(s)

Alessandro Quarta

Gianna Fratta

Concerto Mediterraneo

Violin Concerto in G Minor, RV 315 "L'estate": III. Presto

$2.30

Violin Concerto in F Major, RV 293 "L'autunno": I. Allegro

Composer(s)

Antonio Vivaldi

Artist(s)

Alessandro Quarta

Gianna Fratta

Concerto Mediterraneo

Violin Concerto in F Major, RV 293 "L'autunno": I. Allegro

$2.30

Violin Concerto in F Major, RV 293 "L'autunno": II. Adagio molto

Composer(s)

Antonio Vivaldi

Artist(s)

Alessandro Quarta

Gianna Fratta

Concerto Mediterraneo

Violin Concerto in F Major, RV 293 "L'autunno": II. Adagio molto

$2.30

Violin Concerto in F Major, RV 293 "L'autunno": III. Allegro

Composer(s)

Antonio Vivaldi

Artist(s)

Alessandro Quarta

Gianna Fratta

Concerto Mediterraneo

Violin Concerto in F Major, RV 293 "L'autunno": III. Allegro

$2.30

Violin Concerto in F minor, RV 297 "L'inverno": I. Allegro non molto

Composer(s)

Antonio Vivaldi

Artist(s)

Alessandro Quarta

Gianna Fratta

Concerto Mediterraneo

Violin Concerto in F minor, RV 297 "L'inverno": I. Allegro non molto

$2.30

Violin Concerto in F minor, RV 297 "L'inverno": II. Largo

Composer(s)

Antonio Vivaldi

Artist(s)

Alessandro Quarta

Gianna Fratta

Concerto Mediterraneo

Violin Concerto in F minor, RV 297 "L'inverno": II. Largo

$2.30

Violin Concerto in F minor, RV 297 "L'inverno": III. Allegro

Composer(s)

Antonio Vivaldi

Artist(s)

Alessandro Quarta

Gianna Fratta

Concerto Mediterraneo

Violin Concerto in F minor, RV 297 "L'inverno": III. Allegro

$2.30

Las Cuatro Estaciones Porteñas: I. Otoño Porteño

Composer(s)

Astor Piazzolla

Artist(s)

Alessandro Quarta

Gianna Fratta

Concerto Mediterraneo

Las Cuatro Estaciones Porteñas: I. Otoño Porteño

$3.40

Las Cuatro Estaciones Porteñas: II. Invierno Porteño

Composer(s)

Astor Piazzolla

Artist(s)

Alessandro Quarta

Gianna Fratta

Concerto Mediterraneo

Las Cuatro Estaciones Porteñas: II. Invierno Porteño

$3.40

Las Cuatro Estaciones Porteñas: III. Primavera Porteña

Composer(s)

Astor Piazzolla

Artist(s)

Alessandro Quarta

Gianna Fratta

Concerto Mediterraneo

Las Cuatro Estaciones Porteñas: III. Primavera Porteña

$2.30

Las Cuatro Estaciones Porteñas: IV. Verano Porteño

Composer(s)

Astor Piazzolla

Artist(s)

Alessandro Quarta

Gianna Fratta

Concerto Mediterraneo

Las Cuatro Estaciones Porteñas: IV. Verano Porteño

$2.30

Recomposed by Max Richter. Vivaldi - The Four Seasons: I. Spring 1

Artist(s)

Gianna Fratta

Concerto Mediterraneo

Dino De Palma

Recomposed by Max Richter. Vivaldi - The Four Seasons: I. Spring 1

$2.30

Recomposed by Max Richter. Vivaldi - The Four Seasons: II. Spring 2

Artist(s)

Gianna Fratta

Concerto Mediterraneo

Dino De Palma

Recomposed by Max Richter. Vivaldi - The Four Seasons: II. Spring 2

$2.30

Recomposed by Max Richter. Vivaldi - The Four Seasons: III. Spring 3

Artist(s)

Gianna Fratta

Concerto Mediterraneo

Dino De Palma

Recomposed by Max Richter. Vivaldi - The Four Seasons: III. Spring 3

$2.30

Recomposed by Max Richter. Vivaldi - The Four Seasons: IV. Summer 1

Artist(s)

Gianna Fratta

Concerto Mediterraneo

Dino De Palma

Recomposed by Max Richter. Vivaldi - The Four Seasons: IV. Summer 1

$2.30

Recomposed by Max Richter. Vivaldi - The Four Seasons: V. Summer 2

Artist(s)

Gianna Fratta

Concerto Mediterraneo

Dino De Palma

Recomposed by Max Richter. Vivaldi - The Four Seasons: V. Summer 2

$2.30

Recomposed by Max Richter. Vivaldi - The Four Seasons: VI. Summer 3

Artist(s)

Gianna Fratta

Concerto Mediterraneo

Dino De Palma

Recomposed by Max Richter. Vivaldi - The Four Seasons: VI. Summer 3

$2.30

Recomposed by Max Richter. Vivaldi - The Four Seasons: VII. Autumn 1

Artist(s)

Gianna Fratta

Concerto Mediterraneo

Dino De Palma

Recomposed by Max Richter. Vivaldi - The Four Seasons: VII. Autumn 1

$2.30

Recomposed by Max Richter. Vivaldi - The Four Seasons: VIII. Autumn 2

Artist(s)

Gianna Fratta

Concerto Mediterraneo

Dino De Palma

Recomposed by Max Richter. Vivaldi - The Four Seasons: VIII. Autumn 2

$2.30

Recomposed by Max Richter. Vivaldi - The Four Seasons: IX. Autumn 3

Artist(s)

Gianna Fratta

Concerto Mediterraneo

Dino De Palma

Recomposed by Max Richter. Vivaldi - The Four Seasons: IX. Autumn 3

$2.30

Recomposed by Max Richter. Vivaldi - The Four Seasons: X. Winter 1

Artist(s)

Gianna Fratta

Concerto Mediterraneo

Dino De Palma

Recomposed by Max Richter. Vivaldi - The Four Seasons: X. Winter 1

$2.30

Recomposed by Max Richter. Vivaldi - The Four Seasons: XI. Winter 2

Artist(s)

Gianna Fratta

Concerto Mediterraneo

Dino De Palma

Recomposed by Max Richter. Vivaldi - The Four Seasons: XI. Winter 2

$2.30

Recomposed by Max Richter. Vivaldi - The Four Seasons: XII. Winter 3

Artist(s)

Gianna Fratta

Concerto Mediterraneo

Dino De Palma

Recomposed by Max Richter. Vivaldi - The Four Seasons: XII. Winter 3

$2.30

Violin Concerto No. 2, "The American Four Seasons": I. Prologue

Artist(s)

Gianna Fratta

Concerto Mediterraneo

Dino De Palma

Violin Concerto No. 2, "The American Four Seasons": I. Prologue

$2.30

Violin Concerto No. 2, "The American Four Seasons": II. Movement 1

Artist(s)

Gianna Fratta

Concerto Mediterraneo

Dino De Palma

Violin Concerto No. 2, "The American Four Seasons": II. Movement 1

$2.30

Violin Concerto No. 2, "The American Four Seasons": III. Song No. 1

Artist(s)

Gianna Fratta

Concerto Mediterraneo

Dino De Palma

Violin Concerto No. 2, "The American Four Seasons": III. Song No. 1

$2.30

Violin Concerto No. 2, "The American Four Seasons": IV. Movement 2

Artist(s)

Gianna Fratta

Concerto Mediterraneo

Dino De Palma

Violin Concerto No. 2, "The American Four Seasons": IV. Movement 2

$3.40

Violin Concerto No. 2, "The American Four Seasons": V. Song No. 2

Artist(s)

Gianna Fratta

Concerto Mediterraneo

Dino De Palma

Violin Concerto No. 2, "The American Four Seasons": V. Song No. 2

$2.30

Violin Concerto No. 2, "The American Four Seasons": VI. Movement 3

Artist(s)

Gianna Fratta

Concerto Mediterraneo

Dino De Palma

Violin Concerto No. 2, "The American Four Seasons": VI. Movement 3

$2.30

Violin Concerto No. 2, "The American Four Seasons": VII. Song No. 3

Artist(s)

Gianna Fratta

Concerto Mediterraneo

Dino De Palma

Violin Concerto No. 2, "The American Four Seasons": VII. Song No. 3

$2.30

Violin Concerto No. 2, "The American Four Seasons": VIII. Movement 4

Artist(s)

Gianna Fratta

Concerto Mediterraneo

Dino De Palma

Violin Concerto No. 2, "The American Four Seasons": VIII. Movement 4

$3.40
Total running time: 148 minutes.
Album information

After its rediscovery in the second half of the 20th century, Vivaldi's Four Seasons has become so popular that it has become a model of inspiration for similar collections that have the same subject matter, use similar instrumental forces and, often, are commissioned to be played alongside the original. 

Issued in conjunction with the thirtieth anniversary of the death of Astor Piazzolla (4 July 1992), Sixteen Seasons brings together on disc for the first time the four most famous Four Seasons: hence alongside Vivaldi's Italian concertos, also the Argentinian Cuatro Estaciones Porteñas of Piazzolla (in the version by Leonid Desyatnikov, a composer of Ukrainian origin), The American Four Seasons of Philip Glass, and the "Vivaldi recompositions" of British Max Richter.

To guide us through these seasons – which are spread over different continents, climates and musical styles – is Concerto Mediterraneo, an ensemble made up of musicians from all over Italy and directed by Gianna Fratta, while the eclectic Alessandro Quarta shares the solo violin role with Dino De Palma. The liner notes by historian Alessandro Vanoli and meteorologist Luca Mercalli complete a project that also stands as a reflection on the profound relationship between man and the alternation of the seasons and the role played by climate change from Vivaldi's day to the present.
Related Artists