Filters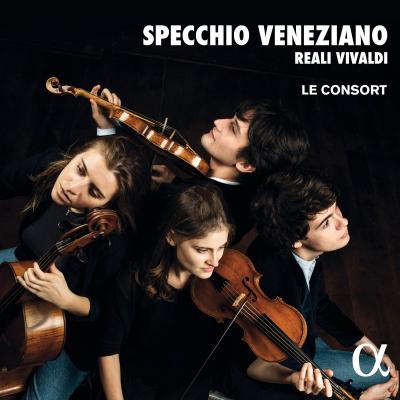 Inlay available for download
Booklet available for download
Prelude (Improvisation)

Artist(s)

Victor Julien-Laferrière

Le Consort

Prelude (Improvisation)

$2.30

Sinfonia XII, "Folia": Thème

Composer(s)

Giovanni Battista Reali

Artist(s)

Victor Julien-Laferrière

Le Consort

Sinfonia XII, "Folia": Thème

$2.30

Sinfonia XII, "Folia": Variations 1 & 2 (Andante) - Variations 3-7

Composer(s)

Giovanni Battista Reali

Artist(s)

Victor Julien-Laferrière

Le Consort

Sinfonia XII, "Folia": Variations 1 & 2 (Andante) - Variations 3-7

$2.30

Sinfonia XII, "Folia": Variation 8

Composer(s)

Giovanni Battista Reali

Artist(s)

Victor Julien-Laferrière

Le Consort

Sinfonia XII, "Folia": Variation 8

$2.30

Sinfonia XII, "Folia": Variations 9-16

Composer(s)

Giovanni Battista Reali

Artist(s)

Victor Julien-Laferrière

Le Consort

Sinfonia XII, "Folia": Variations 9-16

$2.30

Sinfonia II in D Minor: I. Grave e staccato

Composer(s)

Giovanni Battista Reali

Sinfonia II in D Minor: I. Grave e staccato

$2.30

Sinfonia II in D Minor: II. Vivace

Composer(s)

Giovanni Battista Reali

Sinfonia II in D Minor: II. Vivace

$2.30

Sinfonia II in D Minor: III. Grave

Composer(s)

Giovanni Battista Reali

Sinfonia II in D Minor: III. Grave

$2.30

Sinfonia II in D Minor: V. Allegro

Composer(s)

Giovanni Battista Reali

Sinfonia II in D Minor: V. Allegro

$2.30

Sinfonia IV in D Major: I. Grave

Composer(s)

Giovanni Battista Reali

Artist(s)

Victor Julien-Laferrière

Le Consort

Sinfonia IV in D Major: I. Grave

$2.30

Sinfonia IV in D Major: II. Allegro

Composer(s)

Giovanni Battista Reali

Artist(s)

Victor Julien-Laferrière

Le Consort

Sinfonia IV in D Major: II. Allegro

$2.30

Sinfonia IV in D Major: III. Grave

Composer(s)

Giovanni Battista Reali

Sinfonia IV in D Major: III. Grave

$2.30

Sinfonia IV in D Major: IV. Allegro

Composer(s)

Giovanni Battista Reali

Sinfonia IV in D Major: IV. Allegro

$2.30

Trio Sonata in G Minor, RV 73: I. Preludio. Grave

Composer(s)

Antonio Vivaldi

Trio Sonata in G Minor, RV 73: I. Preludio. Grave

$2.30

Trio Sonata in G Minor, RV 73: II. Allemanda. Allegro

Composer(s)

Antonio Vivaldi

Trio Sonata in G Minor, RV 73: II. Allemanda. Allegro

$2.30

Trio Sonata in G Minor, RV 73: III. Adagio

Composer(s)

Antonio Vivaldi

Trio Sonata in G Minor, RV 73: III. Adagio

$2.30

Trio Sonata in G Minor, RV 73: IV. Capriccio. Allegro

Composer(s)

Antonio Vivaldi

Trio Sonata in G Minor, RV 73: IV. Capriccio. Allegro

$2.30

Trio Sonata in G Minor, RV 73: V. Gavotta. Allegro

Composer(s)

Antonio Vivaldi

Trio Sonata in G Minor, RV 73: V. Gavotta. Allegro

$2.30

Sinfonia I in D Minor: I. Grave

Composer(s)

Giovanni Battista Reali

Sinfonia I in D Minor: I. Grave

$2.30

Sinfonia I in D Minor: II. Allegro

Composer(s)

Giovanni Battista Reali

Sinfonia I in D Minor: II. Allegro

$2.30

Sinfonia I in D Minor: III. Grave

Composer(s)

Giovanni Battista Reali

Sinfonia I in D Minor: III. Grave

$2.30

Sinfonia I in D Minor: IV. Allegro

Composer(s)

Giovanni Battista Reali

Sinfonia I in D Minor: IV. Allegro

$2.30

Cello Sonata in E Minor, RV 40: Largo

Composer(s)

Antonio Vivaldi

Artist(s)

Victor Julien-Laferrière

Le Consort

Cello Sonata in E Minor, RV 40: Largo

$2.30

Sinonia X in A Major: I. Grave

Composer(s)

Giovanni Battista Reali

Sinonia X in A Major: I. Grave

$2.30

Sinonia X in A Major: II. Allegro

Composer(s)

Giovanni Battista Reali

Sinonia X in A Major: II. Allegro

$2.30

Sinonia X in A Major: III. Grave

Composer(s)

Giovanni Battista Reali

Artist(s)

Victor Julien-Laferrière

Le Consort

Sinonia X in A Major: III. Grave

$2.30

Sinonia X in A Major: IV. Allegro

Composer(s)

Giovanni Battista Reali

Sinonia X in A Major: IV. Allegro

$2.30

Trio Sonata in F Major, RV 68: Andante

Composer(s)

Antonio Vivaldi

Trio Sonata in F Major, RV 68: Andante

$2.30

Sinfonia IX in D Minor: I.Grave

Composer(s)

Giovanni Battista Reali

Sinfonia IX in D Minor: I.Grave

$2.30

Sinfonia IX in D Minor: II. Allegro

Composer(s)

Giovanni Battista Reali

Sinfonia IX in D Minor: II. Allegro

$2.30

Sinfonia IX in D Minor: III. Grave

Composer(s)

Giovanni Battista Reali

Sinfonia IX in D Minor: III. Grave

$2.30

Sinfonia IX in D Minor: IV. Allegro

Composer(s)

Giovanni Battista Reali

Sinfonia IX in D Minor: IV. Allegro

$2.30

Concerto in D Major, BWV 972: Larghetto

Composer(s)

Johann Sebastian Bach

Concerto in D Major, BWV 972: Larghetto

$2.30

Trio Sonata in D Minor, RV 63 "Follia": Thème

Composer(s)

Antonio Vivaldi

Trio Sonata in D Minor, RV 63 "Follia": Thème

$2.30

Trio Sonata in D Minor, RV 63 "Follia": Variation 1 (Andante)

Composer(s)

Antonio Vivaldi

Trio Sonata in D Minor, RV 63 "Follia": Variation 1 (Andante)

$2.30

Trio Sonata in D Minor, RV 63 "Follia": Variation 2-6 (Allegro)

Composer(s)

Antonio Vivaldi

Trio Sonata in D Minor, RV 63 "Follia": Variation 2-6 (Allegro)

$2.30

Trio Sonata in D Minor, RV 63 "Follia": Variation 7

Composer(s)

Antonio Vivaldi

Trio Sonata in D Minor, RV 63 "Follia": Variation 7

$2.30

Trio Sonata in D Minor, RV 63 "Follia": Variation 8 (Adagio)

Composer(s)

Antonio Vivaldi

Trio Sonata in D Minor, RV 63 "Follia": Variation 8 (Adagio)

$2.30

Trio Sonata in D Minor, RV 63 "Follia": Variation 9 (Vivace) & Variation 10 (Allegro)

Composer(s)

Antonio Vivaldi

Trio Sonata in D Minor, RV 63 "Follia": Variation 9 (Vivace) & Variation 10 (Allegro)

$2.30

Trio Sonata in D Minor, RV 63 "Follia": Variation 11 (Larghetto)

Composer(s)

Antonio Vivaldi

Trio Sonata in D Minor, RV 63 "Follia": Variation 11 (Larghetto)

$2.30

Trio Sonata in D Minor, RV 63 "Follia": Variations 12 & 13 (Allegro)

Composer(s)

Antonio Vivaldi

Trio Sonata in D Minor, RV 63 "Follia": Variations 12 & 13 (Allegro)

$2.30

Trio Sonata in D Minor, RV 63 "Follia": Variation 14 (Adagio) & Variations 15-19 (Allegro)

Composer(s)

Antonio Vivaldi

Trio Sonata in D Minor, RV 63 "Follia": Variation 14 (Adagio) & Variations 15-19 (Allegro)

$2.30
Total running time: 67 minutes.






Album information

Le Consort presents Specchio Veneziano, a programme that compares and contrasts two composers from the city of the Doges.

The Venetian mirror is a programme that compares and contrasts two Venetian composers: on the one hand the celebrated Vivaldi, on the other a virtual unknown, Giovanni Battista Reali, who was born there in 1681, three years after Vivaldi, and died in 1751, ten years after his illustrious colleague. A violinist himself, he composed trio sonatas, including a very spectacular Folia, which Théotime Langlois de Swarte, Sophie de Bardonnèche, Hanna Salzenstein and Justin Taylor juxtapose with Vivaldi's Folia, alongside other highly virtuosic pieces, many of them complete rediscoveries, since half of this programme has never been recorded before.

Cellist Victor Julien-Laferrière makes a special guest appearance.
Related Artists
Reviews