Filters
Stravinsky: The Soldier's Tale
Stravinsky: The Soldier's Tale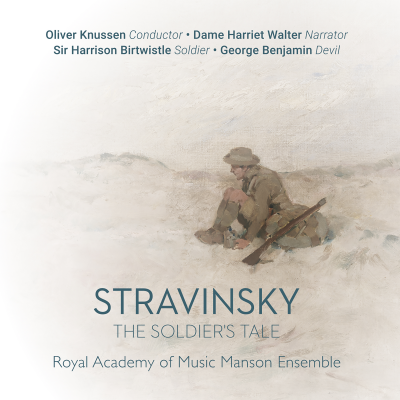 Inlay available for download
Booklet available for download
Fanfare for a New Theatre

Composer(s)

Igor Stravinsky

Artist(s)

Oliver Knussen

Royal Academy of Music Manson Ensemble

Fanfare for a New Theatre

$2.30

Canon ad honorem Igor Stravinsky

Composer(s)

Peter Maxwell Davies

Artist(s)

Oliver Knussen

Royal Academy of Music Manson Ensemble

Canon ad honorem Igor Stravinsky

$2.30

Chorale from a Toy Shop - for Igor Stravinsky (2016 Version for Winds)

Composer(s)

Harrison Birtwistle

Artist(s)

Oliver Knussen

Royal Academy of Music Manson Ensemble

Chorale from a Toy Shop - for Igor Stravinsky (2016 Version for Winds)

$2.30

Chorale from a Toy Shop - for Igor Stravinsky (2016 Version for Strings)

Composer(s)

Harrison Birtwistle

Artist(s)

Oliver Knussen

Royal Academy of Music Manson Ensemble

Chorale from a Toy Shop - for Igor Stravinsky (2016 Version for Strings)

$2.30

The Soldier's Tale, Part I: I. Introduction. The Soldier's March

Composer(s)

Igor Stravinsky

Charles-Ferdinand Ramuz

Artist(s)

Oliver Knussen

Dame Harriet Walter, Sir Harrison Birtwistle

Royal Academy of Music Manson Ensemble

The Soldier's Tale, Part I: I. Introduction. The Soldier's March

$2.30

The Soldier's Tale, Part I: II. Music for Scene 1. Airs by a Stream

Composer(s)

Igor Stravinsky

Charles-Ferdinand Ramuz

Artist(s)

Oliver Knussen

George Benjamin, Dame Harriet Walter, Sir Harrison Birtwistle

Royal Academy of Music Manson Ensemble

The Soldier's Tale, Part I: II. Music for Scene 1. Airs by a Stream

$2.30

The Soldier's Tale, Part I: III. Reprise. The Soldier's March

Composer(s)

Igor Stravinsky

Charles-Ferdinand Ramuz

Artist(s)

Oliver Knussen

Dame Harriet Walter

Royal Academy of Music Manson Ensemble

The Soldier's Tale, Part I: III. Reprise. The Soldier's March

$2.30

The Soldier's Tale, Part I: IV. Music for Scene 2. Pastorale

Composer(s)

Igor Stravinsky

Charles-Ferdinand Ramuz

Artist(s)

Oliver Knussen

George Benjamin, Sir Harrison Birtwistle

Royal Academy of Music Manson Ensemble

The Soldier's Tale, Part I: IV. Music for Scene 2. Pastorale

$2.30

The Soldier's Tale, Part I: V. Music for the End of Scene 2

Composer(s)

Igor Stravinsky

Charles-Ferdinand Ramuz

Artist(s)

Oliver Knussen

Dame Harriet Walter

Royal Academy of Music Manson Ensemble

The Soldier's Tale, Part I: V. Music for the End of Scene 2

$2.30

The Soldier's Tale, Part I: VI. Reprise. Airs by a Stream

Composer(s)

Igor Stravinsky

Charles-Ferdinand Ramuz

Artist(s)

Oliver Knussen

Dame Harriet Walter, Sir Harrison Birtwistle

Royal Academy of Music Manson Ensemble

The Soldier's Tale, Part I: VI. Reprise. Airs by a Stream

$2.30

The Soldier's Tale, Part I: VII. Music for Scene 3. Airs by a Stream

Composer(s)

Igor Stravinsky

Artist(s)

Oliver Knussen

Royal Academy of Music Manson Ensemble

The Soldier's Tale, Part I: VII. Music for Scene 3. Airs by a Stream

$2.30

The Soldier's Tale, Part II. I. Reprise. The Soldier's March

Composer(s)

Igor Stravinsky

Charles-Ferdinand Ramuz

Artist(s)

Oliver Knussen

Dame Harriet Walter

Royal Academy of Music Manson Ensemble

The Soldier's Tale, Part II. I. Reprise. The Soldier's March

$2.30

The Soldier's Tale, Part II. II. Royal March

Composer(s)

Igor Stravinsky

Charles-Ferdinand Ramuz

Artist(s)

Oliver Knussen

George Benjamin, Dame Harriet Walter, Sir Harrison Birtwistle

Royal Academy of Music Manson Ensemble

The Soldier's Tale, Part II. II. Royal March

$3.40

The Soldier's Tale, Part II. III. Little Concert

Composer(s)

Igor Stravinsky

Charles-Ferdinand Ramuz

Artist(s)

Oliver Knussen

Dame Harriet Walter

Royal Academy of Music Manson Ensemble

The Soldier's Tale, Part II. III. Little Concert

$2.30

The Soldier's Tale, Part II. IV. Three Dances. Tango

Composer(s)

Igor Stravinsky

Artist(s)

Oliver Knussen

Royal Academy of Music Manson Ensemble

The Soldier's Tale, Part II. IV. Three Dances. Tango

$2.30

The Soldier's Tale, Part II. V. Three Dances. Waltz

Composer(s)

Igor Stravinsky

Artist(s)

Oliver Knussen

Royal Academy of Music Manson Ensemble

The Soldier's Tale, Part II. V. Three Dances. Waltz

$2.30

The Soldier's Tale, Part II. VI. Three Dances. Ragtime

Composer(s)

Igor Stravinsky

Artist(s)

Oliver Knussen

Royal Academy of Music Manson Ensemble

The Soldier's Tale, Part II. VI. Three Dances. Ragtime

$2.30

The Soldier's Tale, Part II. VII. The Devil's Dance

Composer(s)

Igor Stravinsky

Artist(s)

Oliver Knussen

Royal Academy of Music Manson Ensemble

The Soldier's Tale, Part II. VII. The Devil's Dance

$2.30

The Soldier's Tale, Part II. VIII. Little Chorale

Composer(s)

Igor Stravinsky

Artist(s)

Oliver Knussen

Royal Academy of Music Manson Ensemble

The Soldier's Tale, Part II. VIII. Little Chorale

$2.30

The Soldier's Tale, Part II. IX. The Devil's Song

Composer(s)

Igor Stravinsky

Charles-Ferdinand Ramuz

Artist(s)

Oliver Knussen

George Benjamin

Royal Academy of Music Manson Ensemble

The Soldier's Tale, Part II. IX. The Devil's Song

$2.30

The Soldier's Tale, Part II. X. Great Chorale

Composer(s)

Igor Stravinsky

Charles-Ferdinand Ramuz

Artist(s)

Oliver Knussen

Dame Harriet Walter

Royal Academy of Music Manson Ensemble

The Soldier's Tale, Part II. X. Great Chorale

$2.30

The Soldier's Tale, Part II. XI. Triumphal March of the Devil

Composer(s)

Igor Stravinsky

Artist(s)

Oliver Knussen

Royal Academy of Music Manson Ensemble

The Soldier's Tale, Part II. XI. Triumphal March of the Devil

$2.30

Double Canon (Raoul Dufy in memoriam)

Composer(s)

Igor Stravinsky

Artist(s)

Oliver Knussen

Royal Academy of Music Manson Ensemble

Double Canon (Raoul Dufy in memoriam)

$2.30

Epitaphium für das Grabmal des Prinzen Max Egon zu Fürstenberg

Composer(s)

Igor Stravinsky

Artist(s)

Oliver Knussen

Royal Academy of Music Manson Ensemble

Epitaphium für das Grabmal des Prinzen Max Egon zu Fürstenberg

$2.30

Tombeau - in memoriam Igor Stravinsky

Composer(s)

Harrison Birtwistle

Artist(s)

Oliver Knussen

Royal Academy of Music Manson Ensemble

Tombeau - in memoriam Igor Stravinsky

$2.30

Canon in memoriam Igor Stravinsky

Composer(s)

Peter Maxwell Davies

Artist(s)

Oliver Knussen

Royal Academy of Music Manson Ensemble

Canon in memoriam Igor Stravinsky

$2.30
Total running time: 70 minutes.


Album information

The fifth recording from the talented students of London's Royal Academy pairs Stravinsky's The Soldier's Tale with music by Harrison Birtwistle and Peter Maxwell Davies. Named in The Sunday Times' '100 Best Albums of 2017' list and Kate Molleson's Top 20 Classical Albums of 2017 in The Herald. 

For his debut recording with Linn, conductor Oliver Knussen has assembled an impressive cast of contemporary composers for The Soldier's Tale: Harrison Birtwistle as the soldier and George Benjamin as the Devil, with actress Dame Harriet Walter as the narrator. The longest work on this disc, The Soldier's Tale mixes fiendishly difficult changes of time signature with Stravinsky's newly discovered love of jazz with melodies which echo his larger pre-war scores. It is also a work that demonstrates immense clarity and moving simplicity at times, and a sardonic wit at others.

With such a starry cast this recording will be of particular interest to those with an interest in contemporary music, especially considering the addition of two new Birtwistle world premiere versions of Chorale from a Toy Shop written specially for the recording.

The rest of the programme includes an exquisite Knussen arrangement of Maxwell Davies's Canon ad honorem Igor Stravinsky, intermixed with Stravinsky's own late commemorative miniatures.
Related Artists
Reviews